A Distant Echo, by George Clark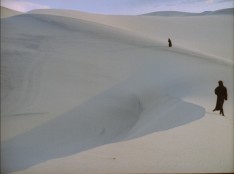 Los Angeles Filmforum presents
A Distant Echo, by George Clark
At the Spielberg Theatre at the Egyptian, 6712 Hollywood Blvd, Los Angeles, CA 90028
Filmmaker George Clark in person! US premiere!

Filmforum kicks off our 42nd year with our friend George Clark, who is returning to Los Angeles to present his feature film A Distant Echo.  Mythic, quiet, and beautifully shot on 35mm film in the deserts of California, Clark's film explores themes of culture, cultural excavation and appropriation, and the construction of history.  Playing with movement and light in natural settings, with a glorious score, layered with a dialogue of two explorers, the film re-enacts the negotiations of an archaeologist from Cairo with members of an Egyptian tribe who guard ancient culture hidden in tombs lost in the desert. The scenario for the film was adapted from the 1969 Egyptian film A Night of Counting the Years, directed by Shadi Abdel Salam, creating a layered story with echoes of ancient Egypt, reflections on the diversity of desert ecology, and recent archaeological digs for lost Hollywood film sets. Working in collaboration with the musician and composer Tom Challenger, a new choral composition was created and recorded for the film, drawing on traditional and modern acoustic techniques to reflect the shifting sands of the desert landscapes.

Trailer: https://vimeo.com/gclark/adistantecho-trailer

Tickets: $10 general; $6 for students/seniors; free for Filmforum members. Available in advance from Brown Paper Tickets at http://distantecho.bpt.me  or at the door.
 
George Clark is an artist and curator from the UK. His feature film A Distant Echo premiered at the Jihlava IDFF 2016 as part of the Opus Bonum competition. His short film "Sea of Clouds" / 雲海 (2016) made in Taiwan and structured around interview with artist Chen Chieh-jen premiered at BFI London Film Festival 2016. His solo exhibition A Planter's Art featured new film works and garden installation at Soulangh Cultural Park, Tainan. Prior to this he collaborated with various artists including Luke Fowler and Beatrice Gibson. His curatorial projects have focused on expanding histories of film and video practice globally. Through his work at Tate Modern (2013-2015), and in independent projects, he has explored histories of expanded cinema, ethnographic film, artists' film across Asia Pacific region and curated retrospectives of Luis Ospina, Julian Dashper, Chick Strand, Camille Henrot and Lav Diaz among others. www.georgeandclark.com
A Distant Echo
(UK / USA, 2016, 35mm transferred to HD, sound, colour, 82 min.)
Written and directed by George Clark
Music by Tom Challenger
Performed by Colne Valley Male Voice Choir, Conducted by Thom Meredith
Location sound by Lucas Quigley, Sound mix mastered by Alex Bonney
Script adapted from The Night of Counting the Years / Al-Mummia 1969 written and directed by Shadi Abdel Salam
Voices: Stuart Baxter, John Clark, Brian Hibbert, Michael Parkinson, John Smith, Ivan Smith and Jasmine Ellis