Deborah Stratman: Framed Views: The Illinois Parables and more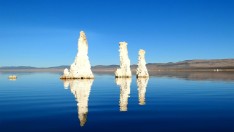 Los Angeles Filmforum and Rotations present
Deborah Stratman: Framed Views: The Illinois Parables and more
Thursday July 20, 2023, 7:30 pm
At 2220 Arts + Archives, 2220 Beverly Blvd., Los Angeles CA 90057
Free parking on Beverly Blvd and at the church lot across the street
In person: Deborah Stratman
Tickets: $15 general, $8 students/seniors, free for Filmforum members
https://link.dice.fm/Y1ae2c16ec8f
Masks are highly recommended at Filmforum shows - N95 or KN95 are available at the door
For more event information: www.lafilmforum.org, or 323-377-7238
Artist and filmmaker Deborah Stratman makes work that investigates issues of power, control and belief, exploring how places, ideas, and society are intertwined. She regards sound as the ultimate multi-tool and time to be supernatural. Recent projects have addressed freedom, surveillance, public speech, sinkholes, levitation, orthoptera, raptors, comets, evolution, extinction, exodus, sisterhood and faith. She's exhibited internationally at venues including MoMA (NY), Centre Pompidou (Paris), Hammer Museum (LA), Witte de With (Rotterdam), PS1 (NY), Tabakalera (San Sebastian), Austrian Film Museum (Vienna), Yerba Buena Center (SF), MCA (Chicago), Whitney Biennial (NY) and has done site-specific projects with venues including the Center for Land Use Interpretation, Temporary Services, Hallwalls, Mercer Union and Ballroom Marfa. Stratman's films have been featured widely at festivals and conferences including Sundance, Viennale, Berlinale, CPH:DOX, Oberhausen, True/False, TIFF, Locarno, Rotterdam, the Flaherty and Docs Kingdom. She is the recipient of Fulbright, Guggenheim and USA Collins Fellowships, an Alpert Award, Sundance Art of Nonfiction Award and grants from Creative Capital, Graham Foundation, Harpo Foundation and Wexner Center for the Arts. She lives in Chicago where she teaches at the University of Illinois.
She is in town to present two different programs. The other is at the Academy Museum on July 19: https://www.academymuseum.org/en/programs/detail/you-and-me-and-the-cosmos-makes-three-an-evening-with-deborah-stratman-01872ee6-3827-1dd4-be73-07647f127da6
The Illinois Parables
2016, 60 min, 16mm
A suite of Midwestern parables that question the historical role belief has played in ideology and national identity.
"...at once an experimental documentary, a work of historical excavation and an insistently moral ideological critique." - Manohla Dargis, New York Times, 2016
"Here, histories are no longer reduced to placards or lines on maps, but are active, collective, and, in a word, hopeful." - Brittany Stigler, Screen Slate, 2016
"...one of the most striking examples of documentary filmmaking you're likely to see anywhere this year." - Kieron Korless, BFI, 2016
An experimental documentary comprised of regional vignettes about faith, force, technology and exodus. Eleven parables relay histories of settlement, removal, technological breakthrough, violence, messianism and resistance, all occurring somewhere in the state of Illinois. The state is a convenient structural ruse, allowing its histories to become allegories that explore how we're shaped by conviction and ideology.
The film suggests links between technological and religious abstraction, placing them in conversation with governance. Locations are those where the boundaries between the rational and supernatural are tenuous. They are "thin places" where the distance between heaven and earth has collapsed, or more secularly, any place that bears a heavy past, where desire and displacement have lead us into or erased us from the land. What began as a consideration of religious freedom eventually led to sites where belief or invention triggered expulsion. The film utilizes reenactment, archival footage, observational shooting, inter-titles and voiceover to tell its stories and is an extension of previous works in which the director questioned foundational American tenants.
The Parables consider what might constitute a liturgical form. Not a sermon, but a form that questions what morality catalyzes, and what belief might teach us about nationhood. In our desire to explain the unknown, who or what do we end up blaming or endorsing?
World Premiere: Sundance, January 2016
Douglas Edwards Independent/Experimental Film/Video Prize – 42nd LA Film Critics Association Awards
The Stan Brakhage award at the 54th Ann Arbor Film Festival
Special Mention at the l'Alternativa Festival de Cinema Independent de Barcelona
Prix d'Aide a la Distribution Ciné + Award – EntreVues Belfort International Film Festival
Second Prize, Best International Documentary – Filmmaker Festival, Milan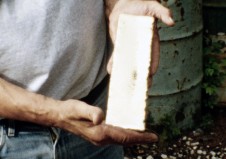 Optimism
2018, 14:43min, Super 8 to digital, LA Premiere!
Draw down the sun. Dig up the gold.
The urge to relieve a winter valley of permanent shadow and find fortune in alluvial gravel are part of a long history of desire and extraction in the far Canadian north. Cancan dancers, curlers, ore smelters, former city officials and a curious cliff-side mirrored disc congregate to form a town portrait. Shot in location in Dawson City, Yukon Territory.
Best Short Film: Punto de Vista Int'l Documentary Film Festival, Pamplona, Spain
Jury Special Mention: Kinodot Experimental Film Festival, St. Petersburg, Russia
"...a phantasmagoric evocation of Dawson as a rags-to-riches, Gold Rush–to–bust kind of town." - Ela Bittencourt, The Village Voice, 2018
"This form evokes a sort of secret code whose intensity I like because it seems to me that the "value" and the way in which it is assigned to certain things is essentially elusive."- Natasha Nedelkova, Cinema du réel blog
Mono Lake
Nancy Holt and Robert Smithson
1968-2004, 19:54 min, color, sound
Featuring Super 8 film footage and Instamatic slide images of artists Robert Smithson, Michael Heizer and Nancy Holt as they visited California's Mono Lake in July of 1968, this piece was edited by Holt in 2004. Mono Lake candidly captures the young artists as they explore the haunting landscape of one of the oldest and most distinctive lakes in North America. Heizer and Smithson are heard reading facts about the unique ecology, geology and natural phenomena of this alkaline lake. The voiceovers are set against filmed images and snapshots of the artists within the uncanny beauty of the lake's environment. Smithson is shown collecting cinders from the volcanic hills on the lake's shores, which were used to make his 1968 sculpture "Mono Lake Nonsite."
Mono Lake is a document of a unique natural environment, a "home movie" of the artists' 1968 road trip, and an intimate view of three seminal figures in the earth art movement as they interact with the Western landscapes that are so central to their work. Holt and Smithson originally planned to edit Mono Lake together. The project was subsequently put aside until 2004, when it was edited by Holt for the Robert Smithson Retrospective at the Museum of Contemporary Art in Los Angeles.
For the Time Being
2021, 6:40 min, HD video
Los Angeles premiere
A video letter to artist Nancy Holt, in homage to our shared interest in terminal lakes, framed views, monuments and time. Filmed on and around the Great Salt Lake, Mono Lake and Meteor Crater.
The title is taken from a piece Holt wrote for Robert Smithson in 1978 which reads in full: "For the time being, in the interim, in the course of time, from day to day, from hour to hour, until, in due time, and in the fullness of time, time endures, goes on, remains, persists, lasts, goes by, elapses, passes, flows, rolls on, flies, slips, slides, and glides by."
Made for "The letters that weren't and also are," by invitation of Garbiñe Ortega and Matías Piñeiro.