5973 Miles Away: Women's Exorcisms of Loss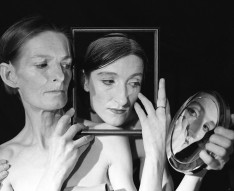 Los Angeles Filmforum presents
5973 Miles Away: Women's Exorcisms of Loss
Curated by Seok-Young Yang
Sunday August 6, 7:30 pm
At 2220 Arts + Archives, 2220 Beverly Blvd., Los Angeles CA 90057
In person: Xiao Zhang, abbi page, and curator Seok-Young Yang
Tickets: $15 general, $8 students/seniors, free for Filmforum members
https://link.dice.fm/x60ca1b49966
Masks are highly recommended at Filmforum shows - N95 or KN95 are available at the door
For more event information: www.lafilmforum.org or 323-377-7238
Los Angeles to Seoul is 5973 miles, but the distance of a loved one lost is so much further. When my father was mentally and physically suffering while I was in California and he was across the ocean, I learned that the idea of "grief" is neither simple nor easily dismissed. The feelings of sadness, anger, and guilt – in the face of pressure to "move on," – get imprinted in the body and in one's interactions with the world.
These women filmmakers have attempted to find corollaries in filmic spaces, ways of exorcizing some elements of the profound grief each has faced. These works invite us to the deep space of the body where emotional understanding is prioritized over intellectual thinking. The works that resonate with me the most are those that investigate a continuous process of grieving, not destined to have any type of resolution.
The program centers around British experimental filmmaker Sarah Pucill's work, Stages of Mourning, which exhibits her attempts to physically reenact and represent her partner who passed away from anorexia. Onyou Oh's Pyrotechnics elongates a discourse on cinema and loss of theater experience during the global pandemic by utilizing different forms of cameras with celluloid film. Celeste Olliveir's FATHER utilizes reenactment to exorcize the embodied pain coming from an intense father-daughter relationship. Jeong Yoon Ahn's I have never met you uses extreme close-up shots on photographs taken by her late sister, emphasizing the tactility of emotional pixelation and visual noise, from a sister which Ahn can no longer reach. Xiao Zhang's Tongue Film showcases loss of liquid from the female body. Water, directly associated with aliveness, the work brings ghostly souls on screen. The selected films' haptic realism imprints gestural memories and fades out the tormented marks on women's bodies. The film program will be accompanied by a poetry reading at its conclusion. abbi page will present a short reading of their several works, which center on black femme suffering and tie back to what each film is discussing. – Seok-Young Yang
About the Filmmakers
Sarah Pucill has been making 16mm films since 1990. Her films have shown as retrospectives at major museums and galleries internationally including Tate Modern and BFI Southbank and have received awards at international festivals. She lives in London and is a Reader at University of Westminster. Central to her work is a concern with mortality and the materiality of the filmmaking process. Much of her work appears within the restrictions of domestic spaces.
Onyou Oh | Born in South Korea and raised in the Philippines, Onyou Oh is a filmmaker whose works vary from abstract, experimental pieces to poetic, narrative shorts. She received her MFA in Film/Video from the California Institute of the Arts. Her films have been invited to and screened at various film festivals, including Jeonju International Film Festival, EXiS: Experimental Film & Video Festival in Seoul, and San Diego Underground Film Festival. She currently creates eclectic visual imagery from her independent studio, Luminous Flux.
Celeste Ollivier is a multidisciplinary artist, working in film, music, and installation. Motivated by Feminist theory, her art is focused on deconstruction and reformation.
Jeong Yoon Ahn deals with personal disasters and depressions. She produces video works by observing how people feel and express their fears of anonymous life and death and reconstructing them into her language. The Hymn of a Republic (2009) was screened at the International Film Festival Rotterdam and won the Seoul International New Media Festival's Rising Artist Award in 2010. Onlooker (2016) won the Korean EXiS Award at the Experimental Film & Video Festival in Seoul and was selected as the best independent film collection project by the Korean Film Archive in 2016.
Xiao Zhang is an artist-filmmaker from China living in Los Angeles. She received her BFA at Beijing Film Academy in 2020 and currently holds an MFA in Film/Video at CalArts. Her practice centers on personal poetics which derives from cross-generation memory and diaristic approaches. It continues by employing methods drawn from handcrafted celluloid film and expanded cinema. Her work often offers a complex fluctuation between material reality and subjective experience.
abbi page (they/she) is queer black femme writer and filmmaker, originally from outside of Atlanta, Georgia. They use multimedia writing and filmmaking as a way of expressing their understanding of, as Tiffany Lethabo King writes, "the unimaginable metaphysics of black livingness," particularly black queer femme livingness. Their work focuses on their body's relationship to time and materiality, flesh's occupation of a subjecthood, personhood and objecthood state of being, and the healing and trauma that can come from black maternal conceptions of linear and non-linear spacetime. They graduated from Brown University with a B.A. in Africana Studies and Literary Arts. They are currently pursuing their Inter School MFAs in Creative Writing and Film/Video at California Institute of the Arts. They are a recipient of the Truman Capote Literary Trust Fellowship and the Ethel Robinson Award as well as a member of Phi Beta Kappa. They are also members of the Haus of Glitter Performance Lab based in Providence, Rhode Island, which is a BIPOC and queer-affirming, feminist art collective.
Recommended Readings
Appetite: Why Women Want, by Caroline Knapp
Swallowing Practice, by Jeannie Park
Amado Africa, by Jenny Lee
Mourning Diary, by Roland Barthes
Journal D'un Corpse, by Daniel Pennac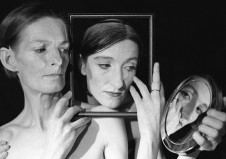 Stages of Mourning
By Sarah Pucill
2021, 16mm, 17 Min. LA Premiere
Ritualized through performance to camera, Stages of Mourning is Pucill's journey of bereavement. In as much as this is a meditation on coming to terms with loss, the film is an exploration of how our relationship with the dead is made different through film. The artist orders image fragments of her late lover and collaborator, Sandra Lahire. By trying to physically immerse herself into photographs and film footage or by restaging these, Pucill forms a continuous stream of a life of two lovers. Through this doubling and layering, illusions accumulate as if these were a product of a machine that didn't stop.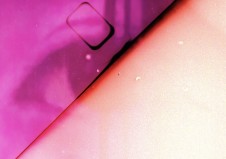 Pyrotechnics
By Onyou Oh
2023, HD, 11 Min.
"Pyrotechnics" is a vivid, textural experimental film that explores imaginary cinema spaces during a surreal time when all the theaters on the planet shut down. Born out of bits and pieces of sound and image the filmmaker had accumulated over a span of several years, the abstract yet diaristic and fictional audio-visual tapestry leads the audience to an abstract yet palpable experience of her dream theater.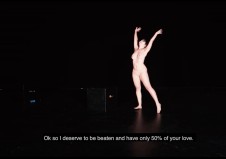 FATHER
By Celeste Ollivier
2022, HD, 11 Min, World Premiere
"FATHER" is an interpretive reenactment of a traumatic experience seen through an observational form. Movement-based, the film is concerned with the internalization of tarnished familial relationships.
I Have Never Met You
By Jeong Yoon Ahn
2018, HD, 20 Min. US Premiere
Jeong Yoon Ahn's "I have never met you" uses extreme close-up shots on photographs taken by her collaborator Misun's late sister, emphasizing the tactility of emotional pixelation and visual noise, which Misun can no longer reach.
Tongue Film
By Xiao Zhang
2022, 16mm to Digital, 7 Min., World premiere
Tongue film is an autobiographical 16 mm project exploring often-ignored, invisible disease aspects with unknown causes. The film sheds light on the complex interplay between physically unpredictable emergence and psychological distress through my partner's suffering from night sweats and my own sleeping experiences with urinary incontinence. It drives out a mediation of the confrontation with the uncontrolled body and leaked desires through celluloid hand-processing.
Wind-Up Teeth vii
By abbi page
2018, HD, 5 Min. with live reading, World premiere
abbi page's work in this program is a part of a series of poems and film poems called the "wind-up teeth" series; it comes from their work-in-progress multimedia poetry collection titled "A List of: Objects on My Windowsill/ Things I Wish I Was/ Odes to the Ghost of my motherself and/or MyBrother & I." page uses multiple forms and has pieces collide into each other in order to create overlays of incompossible worlds and times. The rush of metaphors, images, and syntax across poems in the collection creates a sort of sensual excess (Amber Jamila Musser) which allows emotional content to overflow its containers into other pieces; it is a surplus of intimacy and opacity, which permits us to think beyond black queer femininity and sensuality in relation to historical and contemporary violence on the black femme body but still acknowledge that violence and grief.