Womanhouse Now: Films and Experimental Shorts
Los Angeles Filmforum, Anat Egbi, and Los Angeles Nomadic Division present
Womanhouse Now: Films and Experimental Shorts
Sunday April 3, 2022, 1:00 pm doors open, Screening starts at 1:30 om
At 2220 Arts + Archives, 2220 W. Beverly Blvd., Los Angeles
Free parking on the street
In-person: Judith Dancoff, Cheri Gaulke, and Anat Ebgi Senior Director Stefano Di Paola
Tickets: $12 general, $5 students/seniors, $0 Filmforum members. $12 tickets can be purchased in advance at https://link.dice.fm/w684fc0231ac
In celebration of the fiftieth anniversary of Womanhouse a site specific installation and performance-space, Anat Ebgi Gallery in partnership with LAND (Los Angeles Nomadic Division) and LA Filmforum have organized an afternoon of films including Johanna Demetrakas 1974 documentary on the Womanhouse home alongside a set of experimental shorts from participating artists like Shawnee Wollenman, Judith Dancoff, Judy Chicago, and Cheri Gaulke. After the screening there will be a conversation moderated by Anat Ebgi Senior Director, Stefano di Paola. Guest panelist to be announced at a later date.

The exhibition is at Anat Egbi, 4859 Fountain Ave., Los Angeles CA until April 16, 2022.
https://anatebgi.com/cpt_exhibitions/womanhouse/
Review by Jori Finkel: https://www.theartnewspaper.com/2022/02/17/womanhouse-feminist-art-turns-50
Womanhouse
By Johanna Demetrakas
1974, 47 minutes, color, sound, 16mm (possibly screening digitally)
WOMANHOUSE is an historic documentary about one of the most important feminist cultural events of the 1970s. Judy Chicago (best-known as the creator of THE DINNER PARTY) and Miriam Shapiro rented an old Hollywood mansion and altered its interior through decor and set-pieces to "search out and reveal the female experience...the dreams and fantasies of women as they sewed, cooked, washed and ironed away their lives." WOMANHOUSE is a fascinating historical look at feminism, its reception in the 1970s, and the ever-important relationship between art and social change.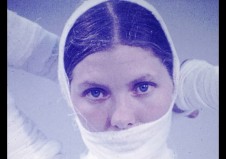 Dressing
By Shawnee Wollenman
1972, 12:47, digital
Judy Chicago & the California Girls
By Judith Dancoff
1974, 25 minutes, 16mm
https://judychicagoandthecaliforniagirls.com/
At the height of the 1970's Women's Movement, on the cusp of revolutionary change, American artist Judy Chicago began a unique experiment: to train only young women artists in an all-woman art program at Fresno State College. So many young women were going into art schools, Chicago states, so few coming out the other end as professional artists. The film "Judy Chicago & the California Girls" documents this first all-woman art program, in a compelling and candid portrait of a country and culture in the midst of great social change. Highlights include a visit by radical feminist theorist Ti-Grace Atkinson, Chicago's early performance pieces the "Cock Cunt Play" and the "Cunt Cheer", and Chicago's female-centered philosophy that shaped her later work. Some of Chicago's students who appear in the film and went on to become important artists in their own right include Faith Wilding, Suzanne Lacy, Nancy Youdelman and Vanalyne Green.
Women and Smoke
By Judy Chicago
1971-72, 15:13, screening digitally
Eclipse in the Western Palace
By Cheri Gaulke
1977, 5 minutes
Cheri Gaulke filmed this piece with a Sony PortaPak camera in her studio in Pasadena in 1977. At the time Gaulke was a student in the Feminist Studio Workshop at the Woman's Builidng and was subletting studio space from Barbara T. Smith. In the video a female body part appears to devour an army of high heels until she causes the eclipse of this Western form of torture with a warrior yell and by slamming her legs together. This is an early artwork that shows Gaulke's interest in women's feet and shoes as metaphors for mobility in society and as an opportunity to critique gender codes in fashion. Over the years Gaulke has created numerous works in video, sculpture, and performance art, including her Pacific Standard Time interactive installation at LACE called Peep Totter Fly (2011-12).
White Environment (White Cunt)
By Karen LeCocq
1970, 3 min. color, silent, filmed on super 8mm, screening digitally
I constructed a room 17' x 8' from 2x4s and sheet rock. The walks were painted white. The ceiling was a large stretched canvas over a 2" x 2" pine frame. Hanging from the curling were 129 pieces of clear nylon thread with 2" plastic discs attached at the end. I covered the floor with 4" polyurethane foam. The entrance measured 6'h x 3'w and was 4" thick polyurethane foam slit down the center. The viewer had to slip through the center to enter. In the 4 corners of the room I installed 4 crimson 15 watt lightbulbs that cast a warm rich glow. A small fan was installed to move the ceiling discs. The moving discs created a liquid motion. The concept behind the soft spongy floor, the liquid motion on the ceiling, the push in, expanding contracting entrance all dealt with my experience as a woman. I was allowing the viewer to enter inside me and enjoy my softness, my liquidness and my way of feeling.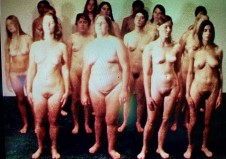 Blades of Grass (Women in The Wind)
By Karen LeCocq
1971, 3 min., color, silent, filmed on super 8mm, screening digitally
I gathered together 15 women who were willing to be filmed naked. I instructed them to close their eyes and gently rock back and forth and side to side in circles. I told them to imagine themselves as blades of grass gently blowing in the wind. Jan Lester was the camera person. There was a variety of body shapes and colors giving a very organic and natural appearance to the scene.