Juan Sebastián Bollaín: A Most Wanted Idea of Utopia, Program 1
Los Angeles Filmforum presents
Juan Sebastián Bollaín: A Most Wanted Idea of Utopia
Two programs of works never seen in the US
Online June 4-19
Live Conversation with guest curator Elena Duque on Sunday June 12, 1 pm Pacific Time
Tickets & program, Program 1: https://watch.eventive.org/juansebastianbollain/play/6284860ba681b800539e8bcf
(These include admission to program 2 as well!)
Tickets & program, Program 2:
https://watch.eventive.org/juansebastianbollain/play/628489813b236b00b5d28011
Register in advance for the conversation on June 12, free, here
After registering, you will receive a confirmation email containing information about joining the meeting.
JUAN SEBASTIÁN BOLLAÍN. A MOST WANTED IDEA OF UTOPIA
By Elena Duque
Self-taught filmmaker and architect, Juan Sebastián Bollaín has been making films since the 1960s, mixing his two study disciplines along the years in a series of films that reinvent the urbanism of the most traditional and religious city in Spain: Sevilla, Andalusia, the heart of the Spanish clichés, Holy Week and flamenco. At the end of the 1970s, using super 8 and various tricks and montage strategies, he made a series of imaginative visions of the city, delirious utopias full of humor, surrealist and poignant images, and lucid ideas that shake the core of the conceptions about the city. A cult figure of Spanish Cinema whose work has been recently digitized and restored by the Andalusian Cinematheque, a most wanted idea of utopia in these dystopian and strange times.
Born in Madrid in 1945 and transplanted to Seville when he was 9 years old, Bollaín took his first steps as a self-taught filmmaker at the age of 14, when he was given an 8mm camera. As he himself recalls, he started "inventing cinema" in the very act of filming, which led him to create his own visual language and procedures. Since then, cinema has been a big part of his life, from his psychoanalytical fiction films and the documentaries he made in his youth to the fiction features he made for television. At the same time, he developed a career as an architect and urban planner. Bollaín is a prolific author, whose work we wish to honor here with a selection of his films. We have curated a program featuring a series of films, mostly made in the '70s, and which represent a milestone in the history of Spanish cinema. In them, Bollaín's eagerness to experiment comes together with his unparalleled creative vision.
Notes by guest curator Elena Duque.
U.S. premieres!
Curated by Elena Duque
Newly subtitled films, premieres!
Sevilla tuvo que ser (Tetralogy "Dreaming of Seville" part 1)
Juan Sebastián Bollaín, 1979, 10 min. U.S. premiere!
Tetralogy "Dreaming of Seville" part 1
This foundational tetralogy shot in super 8 depicts a delirious and amazing Sevilla, in a subversive response to the living conditions in the city at the end of the '70s. Using various styles, such as mockumentary, avant garde and surrealist fiction and also more impressionistic visions, a compendium of what the city is and could be. Sevilla tuvo que ser is a "found" reportage of the American television telling to the world the progressive vision of Seville citizens: from the broadcast of the porn week in the billboards of the city to the monuments devoted to the "café con leche" (coffee with milk) and to the glass of beer.
Sevilla en tres niveles (Tetralogy "Dreaming of Seville" part 2)
Juan Sebastián Bollaín, 1979, 9 min.
Tetralogy "Dreaming of Seville" part 2
U.S. premiere!
Sevilla en tres niveles is also a fake reportage that depicts the illusory division in the city in three levels: the outsiders and criminals live in peace in the roofs of the city, the workers and capitalism slaves, stressed and fast, live at the street level. In the underground, there is a Seville of the past, with people of ancient times still living there.
Sevilla rota (Tetralogy "Dreaming of Seville" part 3)
Juan Sebastián Bollaín, 1979, 12 min.
Tetralogy "Dreaming of Seville" part 3
U.S. premiere!
Sevilla rota is a surrealist new wave-like fiction in which marvelous montages take us to a place where you can see the sea at turning a corner, or in which the cars circulate in the sidewalks and people are drinking in the middle of the street.
La ciudad en el recuerdo (Tetralogy "Dreaming of Seville" part 4)
Juan Sebastián Bollaín, 1979, 14 min.
Tetralogy "Dreaming of Seville" part 4
U.S. premiere!
Finally, La ciudad es el recuerdo begins as a "symphony of the city", showing its rhythms and light in poetic time lapses, ending with a tough critique on marketing and capitalism taking over the city.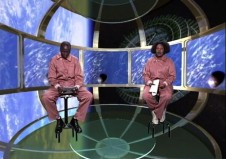 SEVILLA 2030
Juan Sebastián Bollaín, 2003, 28 min.
U.S. premiere!
Twenty years later, Bollaín comes back from an Ugandan satellite to revise the Utopian Seville he described in his tetralogy. In this new city everything can happen: turning the Seville Cathedral in an olympic pool, or living in a city in which citizens participate actively in making it the funniest and most liveable place in the world.