Lynne Sachs & Stephen Vitiello: Sound Engagements Program 2: Film About a Father Who...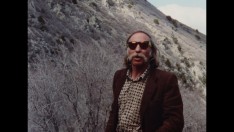 Los Angeles Filmforum presents
Lynne Sachs & Stephen Vitiello: Sound Engagements
Part 2: Film About a Father Who...
Films Screening February 12-22, 2021
Live Q&A with Lynne Sachs on Friday, February 19, 7:00 pm PST (10:00 pm EST).
Conversation with Lynne Sachs and Stephen Vitiello moderated by musician and music critic Sasha Frere-Jones on Sunday February 21, 5:00 pm PST (8:00 pm EST)
Online via Los Angeles Filmforum
Trailer: https://vimeo.com/493503297
Filmforum is delighted to kick off 2021 by welcoming back our friend Lynne Sachs with her new film and several past works, all of which have had music composed by Sound Artist Stephen Vitiello.
"In collaborating on the soundtracks for my films, Stephen Vitiello somehow recognizes the interior sounds of objects and releases them for us to hear. Together his music and his sound designs push audiences toward a new way of experiencing cinema." - Lynne Sachs
In these two programs, Los Angeles Filmforum explores the seven-year collaborative relationship between filmmaker Lynne Sachs and sound artist Stephen Vitiello.
Admission will include receiving links to both Zoom conversations!
Over a period of 35 years between 1984 and 2019, filmmaker Lynne Sachs shot 8 mm and 16mm film, videotape and digital images of her father, Ira Sachs Sr., a bon vivant and pioneering businessman from Park City, Utah. Film About a Father Who is her attempt to understand the web that connects a child to her parent and a sister to her siblings.
With a nod to the Cubist renderings of a face, Sachs' cinematic exploration of her father offers simultaneous, sometimes contradictory, views of one seemingly unknowable man who is publicly the uninhibited center of the frame yet privately ensconced in secrets. With this meditation on fatherhood and masculinity, Sachs allows herself and her audience to see beneath the surface of the skin, beyond the projected reality. As the startling facts mount, she discovers more about her father than she had ever hoped to reveal.
Click here for a recent interview with Lynne Sachs by George Robinson
Film About a Father Who is distributed by Cinema Guild, and has its own virtual cinema admission charge.
Ticketing: Tickets will be available Tuesday February 9. $12 general admission; $8 for members, through Cinema Guild. at

Viewing is available for 72 hours after you pay for the ticket through Cinema Guild.
We will email members with the code for the $8 admission.
The other four films are covered by another admission, which is on a sliding scale, available at https://www.lafilmforum.org/schedule/winter-2021/lynne-sachs-four-films-with-stephen-vitiello/, and which takes you to a screening room set up by Canyon Cinema. Both admissions will provide you a link as well to a conversation that we are hosting via Zoom on Sunday February 21 with Sachs, Vitiello, and moderator Sasha Frere-Jones.
Special Thanks to Brett Kashmere, Canyon Cinema, Tom Sveen, Cinema Guild.
Biographies:
Lynne Sachs is a filmmaker and a poet born in Memphis, Tennessee but living in Brooklyn, New York. Her work explores the intricate relationship between personal observations and broader historical experiences by weaving together text, collage, painting, politics and layered sound design. Strongly committed to a dialogue between cinematic theory and practice, she searches for a rigorous play between image and sound, pushing the visual and aural textures in her work with every new project. Her work ranges from the very personal, as in her early experiments that are reminiscent of Bruce Connor's found footage films and Chris Marker's essay films, to documentary, as in her film on the Catonsville Nine's antiwar-activism in Investigation of a Flame. Lynne discovered her love of filmmaking while living in San Francisco where she worked closely with film artists Craig Baldwin, Bruce Conner, Barbara Hammer, George Kuchar, and Trinh T. Min-ha. Between 1994 and 2006, she produced five essay films that took her to Vietnam, Bosnia, Israel, Italy and Germany — sites affected by international war — where she looked at the space between a community's collective memory and her own subjective perceptions.
Sachs has made 35 films, which have screened at the New York Film Festival, Sundance, Oberhausen, Viennale, BAMCinemaFest, Vancouver Film Festival, DocLisboa and many others nationally and internationally. They have also been exhibited at the Museum of Modern Art, the Whitney Museum of American Art, Walker Art Center, Wexner Center for the Arts and other venues. The Buenos Aires International Festival of Independent Cinema, Festival International Nuevo Cine in Havana, China Women's Film Festival and Sheffield Documentary Festival have all presented retrospectives of Lynne's films. She received a 2014 Guggenheim Fellowship in the Arts. In 2019, Tender Buttons Press published Lynne's first collection of poetry, Year by Year Poems. Lynne lives in Brooklyn with filmmaker Mark Street. Together, they have two daughters, Maya and Noa Street-Sachs. www.lynnesachs.com.
Electronic musician and sound artist Stephen Vitiello transforms incidental atmospheric noises into mesmerizing soundscapes that alter our perception of the surrounding environment. He has composed music for independent films, experimental video projects and art installations, collaborating with such artists as Nam June Paik, Tony Oursler and Dara Birnbaum. Solo and group exhibitions include MASS MoCA, The High Line, NYC, and the Museum of Modern Art. Solo exhibitions include All Those Vanished Engines, MASS MoCA, North Adams, MA (2011-(ongoing)); A Bell For Every Minute, The High Line, NYC (2010-2011); More Songs About Buildings and Bells, Museum 52, New York (2011); and Stephen Vitiello, The Project, New York (2006). Vitiello has performed nationally and internationally, at locations such as the Tate Modern, London; the San Francisco Electronic Music Festival; The Kitchen, New York; and the Cartier Foundation, Paris. In 2011, ABC-TV, Australia produced the documentary Stephen Vitiello: Listening With Intent. Awards include Creative Capital (2006) and a Guggenheim Fellowship (2011-2012). Vitiello is a professor of Kinetic Imaging at Virginia Commonwealth University. He lives and works in Richmond, Virginia. https://www.stephenvitiello.com/
Sasha Frere-Jones is a writer and musician from New York.
----------------------
Los Angeles Filmforum screenings are supported by the Los Angeles County Board of Supervisors through the Los Angeles County Department of Arts & Culture, the Department of Cultural Affairs, City of Los Angeles, the National Endowment for the Arts, the Mike Kelley Foundation for the Arts, the Wilhelm Family Foundation, and the Academy of Motion Picture Arts & Sciences. We also depend on our members, ticket buyers, and individual donors.
Los Angeles Filmforum is the city's longest-running organization dedicated to weekly screenings of experimental film, documentaries, video art, and experimental animation. 2021 is our 46th year.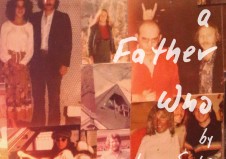 Film About a Father Who
2020, 8mm, 16mm, VHS, Hi8, MiniDV, Digital / HD Color, Sound, 74 min.
Distributed by Cinema Guild
Written/Directed by Lynne Sachs
Photographed between 1965 – 2019 by: Lynne Sachs, Ira Sachs, Jr., and Ira Sachs, Sr.
Editing: Rebecca Shapass
Music by Stephen Vitiello
Sound Collages and Mix: Kevin. T. Allen
"Since I began making films in the mid-1980s, I've been collecting images, recording sounds and writing text for a film about my father. It took me three decades to complete the film, and so many things have happened in that period. Life goes on, and each day brings surprises, joys and disappointments. In 2020, I premiered Film About a Father Who, the third film in what ultimately became a trilogy (including States of UnBelonging, 2005, and The Last Happy Day, 2009) of essay films that explore the degree by which one human being can know another.
Film About a Father Who is my portrait of my father Ira Sachs, a bohemian entrepreneur living in the mountains of Utah. My father has always chosen the alternative path in life, a path that has brought unpredictable adventures, nine children with six different women, brushes with the police and a life-long interest in trying to do some good in the world. It is also a film about the complex dynamics that conspire to create a family. There is nothing really nuclear about all of us, we are a solar system comprised of nine planets revolving around a single sun, a sun that nourishes, a sun that burns, a sun that each of us knows is good and bad for us. Somehow, we accept and celebrate the consequences." From a director's statement by Lynne Sachs