Weimar Variations: Experimentation/Abstraction
The American Cinematheque, the LA Phil, and Los Angeles Filmforum present
Weimar Variations: Experimentation/Abstraction
Saturday, February 29, 2020, 5:30 pm
At the Spielberg Theatre at the Egyptian, 6712 Hollywood Blvd., Los Angeles
http://americancinemathequecalendar.com/content/experimentationabstraction
Free screening!  Live Music!
This event is free with RSVP to:
https://www.eventbrite.com/e/89358245919
Please arrive early; RSVP is not a guarantee of admission. Seating is first come, first served to RSVP holders after doors open. Between films, guests will be admitted as seats become available.
Situated between the end of World War I and Hitler's assumption of power, the Weimar Republic (1919-1933) was an era characterized by unprecedented social freedoms as well as economic hardship. While commonly associated with German Expressionism and narrative film, Weimar cinema is considered equally influential in the realm of the avant-garde. From Dadaist art to city symphonies to abstract experiments with animated shapes and colors, Weimar cinema constantly broke new ground. Our program offers a sampling of its styles, including Walter Ruttmann's landmark film BERLIN, SYMPHONY OF A GREAT CITY, and illustrates its lasting impact on modern cinema both in the art world and beyond.
85 minutes.
More on the Weimar Republic Festival at the LA Phil and elsewhere:
https://www.laphil.com/concerts-and-events/the-weimar-republic-festival-19-20/
"Lichtspiel Opus III"
Dir. Walter Ruttmann (1924, 4 min.) The penultimate segment in Ruttmann's series of groundbreaking animated experiments features a score composed by Hanns Eisler, which will be expanded at Walt Disney Concert Hall's Blue Ribbon Garden as a 12-channel sound installation by Susan Philipsz.
"Ghosts Before Breakfast"
Dir. Hans Richter) (1928, 9 min. This eerie short is a famous Dadaist montage of everyday items inexplicably coming to life. With live musical accompaniment by Michael Mortilla. https://silentology.wordpress.com/2016/05/11/thoughts-on-ghosts-before-breakfast-1928/
untitled
Dir. Oliver Laric (2014, 6 min.) The multimedia artist's untitled animated short recalls the avant-garde stylizations of Weimar cinema.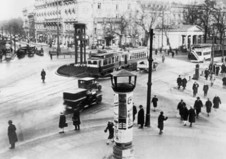 BERLIN, SYMPHONY OF A GREAT CITY
Dir. Walter Ruttmann
1927, 64 min.
One of the groundbreaking works of Weimar (and world) cinema, Walter Ruttmann's BERLIN, SYMPHONY OF A GREAT CITY is an impressive rhythmic collage of cinematic effects and documentary material. Predating Dziga Vertov's famous MAN WITH A MOVIE CAMERA by two years, the film elicits comparisons with the Soviet montage aesthetic but develops its own editing principles, which align more with music and symphony than traditional forms of cinematic expression. Ruttmann takes his audience through a single day in Berlin with a series of five acts, each of which present a stunning portrait of everyday life at the peak of the Weimar Republic. Few films capture the rhythm and energy of the life of a city as does this unforgettable "city symphony." With live musical accompaniment by Michael Mortilla.