The 57th Ann Arbor Film Festival Touring Program #1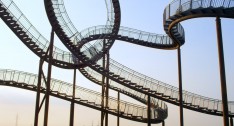 Los Angeles Filmforum at the Egyptian presents
The 57th Ann Arbor Film Festival Touring Program #1
Sunday, January 12, 2019, 7:30 pm
At the Spielberg Theatre at the Egyptian, 6712 Hollywood Blvd., Los Angeles CA 90028
Filmmaker Jordan Wing in person (schedule permitting)
Come see some of the best experimental films of 2018 and 2019, in this touring program with highlights from the Ann Arbor Film Festival.
Established in 1963, the Ann Arbor Film Festival is the oldest avant-garde and experimental film festival in North America. The six-day festival presents 40 programs with more than 200 artist films from over 20 countries of all lengths and genres, including experimental, animation, documentary, narrative, hybrid, and performance based works. The 58th Festival will take place March 24-29, 2020 at the historic Michigan Theater in Ann Arbor, Michigan. Film submissions for the 58th festival are accepted from July 1st through September 30th, 2019.
The Ann Arbor Film Festival is a pioneer of the traveling film festival concept, having launched an annual tour program in 1964. The AAFF selects films from the past year's festival to screen in art house theaters, museums, universities, cinematheques, and media art centers. All filmmakers participating on the tour are paid to screen their work, providing direct support to these independent artists.
Digital program 1 includes nine contemporary experimental, animated, documentary, and narrative videos, including The Divine Way by Illaria Di Carlo, La Mesa by Adrian Garcia Gomez, Mom's Clothes by Jordan Wong, Screen by Christoph Girardet and Matthias Müller, As Above, So Below by Cooper Holoweski, Leafcutters by Catherine Chalmers, We Were Hardly More Than Children by Cecelia Condit, Phantom Ride Phantom by Siegfried A. Fruhauf, and 2Missed Calls by LNZ Arturo.
Note the change in ticketing for our events at the Egyptian Theatre. Advance paid tickets will be reserved through the American Cinematheque site; Filmforum members will reserve through Brown Paper Tickets. At the theatre on the night of the show, tickets will be available through the Egyptian Theatre ticket window.
Tickets: $12 general; $8 students (with ID)/seniors; $8 for American Cinematheque members; free for Filmforum Members. Paid tickets available in advance through the American Cinematheque from Fandango at XXX or at the door.
Filmforum member tickets available through Brown Paper Tickets at https://57thaafftour.bpt.me or at the door.
Fandango Sales:
Please note that student/senior tickets are not available online. Please bring your student ID and/or California ID or license to the box office to receive the discount.
Filmforum members will reserve in advance through Brown Paper Tickets. All Filmforum member reservations will be administered to by Filmforum.
At the theatre on the night of the show, tickets will be available for purchase from the Egyptian Theatre box office. Filmforum members will pick up their tickets from the box office as well. The list will close four hours prior to show time. Available Filmforum member tickets will be available at the box office on the day of the event
The box office opens 90 minutes prior to showtime. More information about American Cinematheque ticketing can be found here: http://www.americancinematheque.com/information/
For more information: www.lafilmforum.org or 323-377-7238.
----------------------
Los Angeles Filmforum screenings are supported by the Los Angeles County Board of Supervisors through the Los Angeles County Department of Arts & Culture and the Department of Cultural Affairs, City of Los Angeles, and the Wilhelm Family Foundation. We also depend on our members, ticket buyers, and individual donors.
Los Angeles Filmforum is the city's longest-running organization dedicated to weekly screenings of experimental film, documentaries, video art, and experimental animation. 2020 is our 45th year.
Coming Soon to Los Angeles Filmforum:
Jan 12, 2020 - The 57th Ann Arbor Film Festival Touring Program #1
Jan 16, 2020 - Los Angeles Filmforum at MOCA presents Danny Lyon: Wanderer
Jan 19, 2020 - Highlights from the Oberhausen Film Festival
Memberships available, $75 single, $125 dual, or $40 single student
Contact us at lafilmforum@yahoo.com.
Find us online at http://lafilmforum.org.
Become a fan on Facebook and follow us on Twitter @LosAngFilmforum!
The Divine Way (La Via Divina)
By Ilaria Di Carlo
Berlin, Germany | 2018 | 15 min.
Los Angeles Premiere!
"The path to paradise begins in hell" – Dante Alighieri Loosely based on Dante's Divine Comedy, The Divine Way takes us along on the protagonist's epic descent through an endless labyrinth of staircases. As the woman journeys deeper, the staircases mutate, and she is trapped and pulled into their dangerous landscape, conducting us through more than 50 magnificent locations.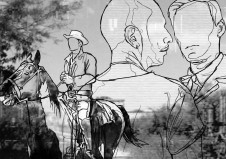 La Mesa
By Adrian Garcia Gomez
New York, NY | 2018 | 10 min.
La Mesa explores the intersections of memory, identity, and queer desire. Stories of a childhood in rural Mexico, as told by the filmmaker's father, are interwoven with queered reenactments featuring the filmmaker as the romantic lead opposite the male actors of the old Mexican films and American Westerns from his childhood.
Mom's Clothes
By Jordan Wong
Los Angeles, CA | 2018 | 6 min.
The filmmaker presents a nonfiction reflection on being out of the closet. "It has taken me a long time to be as comfortable as I am through navigating forms of intimacy, gender, and self-worth. It doesn't always get better, but you're beautiful however you decide to present – including the choice of garments you decide to wear." – JW
Screen
By Christoph Girardet and Matthias Müller
Hannover, Germany | 2018 | 17 min.
Los Angeles Premiere!
"While he mused on the effect of the flowing sands, he was seized from time to time by hallucinations in which he himself began to move with the flow." – Kōbō Abe Liminal zones. Floating particles. Fire, water, earth, air. Voices of fictional characters: sometimes suggestive, sometimes strict, leading the viewer away from the here and now. Who's talking? The relationship between the hypnotized subject and the hypnotist is mirrored in the spectator's relationship to the screen.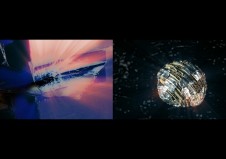 As Above, So Below
By Cooper Holoweski
Detroit, MI | 2017 | 9 min.
As Above, So Below is a two-channel video that uses everyday objects to depict parallels between the cosmic and subatomic realms as well as the relationship between the commonplace and the divine. It draws from the notion of macrocosm/microcosm as originated by the 16th-century theologian Robert Fludd as well as the 1977 Ray and Charles Eames film Powers of Ten.
Leafcutters
By Catherine Chalmers
Osa Peninsula, Costa Rica | 2017 | 18 min.
Los Angeles Premiere!
Leafcutters is a unique collaboration with millions of wild ants. Focusing on four supposedly unique human traits – language, ritual, war and art – the narrative aims to blur the boundaries between culture and nature.  Another tremendous creation from Catherine Chalmers.
We Were Hardly More Than Children
By Cecelia Condit
Milwaukee, WI | 2019 | 9 min.
Los Angeles Premiere!
A film that tells an epic tale of abortion as lived by two women on a perilous journey through a world that has little concern for their survival.
Phantom Ride Phantom
By Siegfried A. Fruhauf
Vienna, Austria | 2017 | 10 min.
Los Angeles Premiere!
From a "simple" camera pan...through a journey into a ghostly realm...to a veritable trip: Phantom Ride Phantom carries out these three steps with cinematographic verve and technical finesse
2MissedCalls
By LNZ
Brooklyn, NY | 2017 | 5 min.
LNZ's body gets uploaded to the Internet and floats through some of her past memories and psychological spaces from growing up during a digital communications revolution.