Dangerous Erotics: A Tribute to Carolee Schneemann, 4:00 pm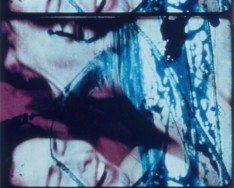 FILM AT REDCAT PRESENTS
Dangerous Erotics: A Tribute to Carolee Schneemann
Saturday, February 29, 2020, 4:00 and 8:30 pm
At REDCAT, 631 West 2nd Street, Los Angeles CA 90012
Co-sponsored by the CalArts School of Music and Los Angeles Filmforum
In person: Peggy Ahwesh, Maggie Nelson, Lauren Pratt and Kenneth White
https://www.redcat.org/event/her-dangerous-erotics-tribute-carolee-schneemann
REDCAT celebrates the life and work of Carolee Schneemann, one of the great artists of the 20th century, with a panel discussion and selection of her films and videos. Schneemann's performances, films, paintings and installations were at the center of world art culture from 1960 until her death in 2019. Unrelenting in confronting traditional roles and taboos imposed upon women, Schneemann defiantly embraced female sexuality and physicality with a power and immediacy that remains groundbreaking. Her early investigations into gender and "forbidden aspects of the female experience" (C.S.) laid the groundwork for much feminist art of the 1980s and 90s. The program will feature music by James Tenney, her long-term partner and collaborator.
"In 1963, to use my body as an extension of my painting-constructions," she later said, "was to challenge and threaten the psychic territorial power lines by which women were admitted to the Art Stud Club." — Carolee Schneemann
A genius of gesture, word, image, sensuality, and vitality, Carolee Schneemann died at 6 pm on March 6, 2019 in her beloved 18th century Huguenot house in Tillson, New York, surrounded by her cat (and the spirits of so many others) and the comfort of friendships and lovers she had known for decades. Over a lifetime of making art, pleasure, provocations, home, more art and always art—her emotional exactitude and generosity touched the earth, the art world, and the lives of countless human and nonhuman intimates and strangers. — The Brooklyn Rail
"A feminist visionary and one of the most influential artists of the late 20th century." — The New York Times
"Prior to Schneemann, the female body in art was mute and functioned almost exclusively as a mirror of masculine desire." — Jan Avgikos, Artforum
"The magnitude of Schneemann's influence is undeniable… When she describes her body as a pleasurable weapon, a missile she sends into our repressive culture to blow it apart, Madonna's in-your-face eroticism immediately comes to mind." — Jane Harris, Plexus
"Carolee Schneemann was a visionary. She challenged taboos and was undaunted by censorship, including cancelled screenings of her 1967 film Fuses, bans on imagery documenting her 1975 performance Interior Scroll, and attacks on her later political work… Her language is the visceral, yet intensely political, language of the body, of gesture, of sensuality and eroticism. Even today, she remains radical." — Joy Garnett, National Coalition Against Censorship
"Carolee spent 45 of the 60 active years of her professional career creating work with intensity and integrity, a feminist artist before the art world knew of such a thing…. She shared her ardent attention to the erotics of creative living, her art summing up the intensity of her approach to friends, lovers, cats and her creative practice all meshed into one great life work." — Amelia Jones, The Guardian 
Tickets: $12 general; $9 for REDCAT and Current Filmforum members
Available for presale at https://web.ovationtix.com/trs/pr/1023333
Filmforum members contact us at lafilmforum@yahoo.com for the discount code.
Programs
4:00pm: Screening
Selected films and videos by Carolee Schneemann.
5:00pm: Panel
Peggy Ahwesh, Maggie Nelson, Lauren Pratt and Kenneth White, will discuss intersections between Schneemann's life and work, her radical aesthetics, and her revolutionary stance as a woman artist working within a misogynist culture.
7:00pm-8:15pm: Schneeman Videos in REDCAT'S Lobby

Performance documents:Snows (1967/2009, 20:24 min.) Up To And Including Her Limits (1976, 29 min.), Fresh Blood (1983, 11 min.) and Ask the Goddess (1991, 8:24 min.).
The Artist:
Carolee Schneemann's pioneering work ranges across disciplines, encompassing painting, performance, film and video. Her early and prescient investigations into themes of gender and sexuality, identity and subjectivity, as well as the cultural biases of art history, laid the groundwork for much work of the 1980s and '90s. Her bold challenges to taboo and tradition can be seen as inspiring and influencing artists as varied as Paul McCarthy, Valie Export, the Guerrilla Girls, Tracy Emin and Karen Finley.
   While she is often described as a performance artist, Schneemann first studied painting, and that training informed the course of all her subsequent work. It can be seen in her continuing identification as a painter and a formalist, in her attention to art-historical figures such as Cézanne, and in the hand-coloring and mark-making to which she subjected the surface of some of her films. However, the effect of her early experience with painting was also reactive and negative; she recognized, as a woman in the early 1960s working in a male-dominated medium, that "the brush belonged to abstract expressionist male endeavor. The brush was phallic."
   This realization coincided with an explosion of new artistic forms, and while Schneemann would never give up painting, she turned her attention to the downtown New York avant-garde's locus of film, dance, theater, and performance. Her involvement with this scene, including work with the Judson Dance Theater and time spent at Warhol's Factory, as well as participation in events such as Robert Morris's Site (1964), in which she appeared onstage as Manet's Olympia, proved crucial to her own concept of what she would call "kinetic theater."
   Although she had experimented with performance as early as 1960, her work in this vein went public with the notorious 1964 action and film Meat Joy. This "celebration of flesh as material," replete with naked bodies, raw fish, chickens, and sausages, was contemporaneous with the sensationalist Viennese Aktionist group, and, at least superficially, shared some of the concerns of those artists, who referred to her as their "crazy sister." However, rather than pursuing their interests in the scatological and the morbid, Schneemann presented Meat Joy as an "erotic rite," foregrounding human sexuality and Dionysian ecstasy with a powerful and subversively affirmative spirit.
   Schneemann's undaunted spirit asserted itself even more explicitly a year later in her "anti-porn" collage-film, Fuses, conceived of as a response to work by her friend, the experimental filmmaker Stan Brakhage. The film challenged dominant modes of interpretation, and was also a provocation to both the avant-garde film establishment and the feminist movement.
   This go-it-alone criticality is one of the major strands of Schneemann's work. When critiqued for her interest in sexuality and use of her body as medium, she always offered an unapologetic defense, pointing out, for example, "If I am a token, I'll be a token to be reckoned with." Her insistence on integrating the form and content of her art can be seen as quite radical in that it collapses work and life, thought and flesh and nature and. For Schneemann, the focus on the "experiential erotic body" is a method of empowerment, and an antidote to what she sees as a tendency of feminist art historians to discuss female sexuality exclusively as a male construction.
   Schneemann's project, then, is in ways concerned with reclaiming those signifiers, actions, and ideas that have historically been denied women, and, to a lesser degree, artists in general. Her work should not solely be viewed as feminist, although she is certainly a pioneer in that area. Rather, her focus has also been on countering traditional art historical accounts, and in mapping what she calls "Istory," in an attempt to see "where the taboos and censorious conventions are embedded aesthetically." This tendency to identify what has been deemed sacred and what has been declared obscene can be seen in works like Art is Reactionary (1987), and in her research into historic artifacts as far-flung as Victorian art-books and Neolithic cave drawings.
   Born in 1939 in Fox Chase, Pennsylvania, Schneemann received a B.A. from Bard College and an M.F.A. from the University of Illinois, and holds Honorary Doctor of Fine Arts degrees from the California Institute of the Arts and the Maine College of Art. Her work has been exhibited throughout the world, at institutions including the Museum of Contemporary Art, Los Angeles; the Whitney Museum of American Art, New York; Centre Pompidou, Paris; Centro de Arte Reina Sofía, Madrid; The Museum of Modern Art, New York; National Film Theatre, London; Tate Liverpool, UK, and PPOW Gallery, New York.
   In 1997, a pioneering retrospective of Schneemann's work entitled Carolee Schneemann — Up To And Including Her Limits was held at the New Museum of Contemporary Art, New York. A subsequent retrospective of over forty works was exhibited in 2010 at the Samuel Dorsky Museum of Art, State University of New York at New Paltz, and traveled to The Henry Art Gallery, Seattle, and Krannert Art Museum, Champagn, Illinois. Schneemann received a Lifetime Achievement Award from the College Art Association, an Anonymous Was A Woman award, the Ono Lennon Courage Award, and a USA Rockefeller grant, among others. In 2017, she was awarded the Venice Biennale "Golden Lion" for Lifetime Achievement.
   Schneemann's published books include Cezanne, She Was A Great Painter (1976); Early and Recent Work (1983); More Than Meat Joy: Complete Performance Works and Selected Writings (1979), Imaging Her Erotics — Essays, Interviews, Projects (2002). She taught at many institutions, including New York University, California Institute of the Arts, Bard College, and the School of the Art Institute of Chicago.
   Carolee Schneemann lived in New Paltz, New York until her death in 2019.
The Panelists:
Over the last twenty years, Peggy Ahwesh has produced one of the most heterogeneous bodies of work in the field of experimental film and video. A true bricoleur, her tools include narrative and documentary styles, improvised performance and scripted dialogue, synch-sound film, found footage, digital animation, and crude Pixelvision video. Using this range of approaches, she has extended the project initiated by 1960s and '70s American avant-garde film, and has augmented that tradition with an investigation of cultural identity and the role of the subject.
     Peggy Ahwesh was born in 1954 and received her B.F.A. from Antioch College. Her work has shown at the Solomon R. Guggenheim Museum, New York; Yerba Buena Center for the Arts, San Francisco; the Balie Theater, Amsterdam; the Filmmuseum, Frankfurt; the Rotterdam International Film Festival, Rotterdam; Museu d'Art Contemporani Barcelona (MACBA), Barcelona; the Wexner Center for the Arts, Columbus, Ohio; the Whitney Museum of American Art, New York; The Museum of Modern Art, New York; Microscope Gallery, New York and Anat Ebgi, Los Angeles, among other venues.
Poet, scholar, and nonfiction writer Maggie Nelson is often described as genre crossing or hybrid. She has noted her interest in poet Eileen Myles's idea of "vernacular scholarship," adding, "I need to talk back, or talk with, theorists and philosophers in ordinary language, to dramatize how much their ideas matter to me in my everyday life." Nelson's book Bluets (2009) is perhaps her most well known work mix of scholarship and poetry. Nelson's other collections of poetry include Something Bright, Then Holes (2007), Jane: A Murder (2005), The Latest Winter (2003), and Shiner (2001), which was a finalist for a Norma Farber First Book Award. She is the author of an account of sexual violence and the media, The Red Parts: A Memoir (2007), and a critical work on the New York School poets, Women, the New York School, and Other True Abstractions (2007). Nelson's critical study of aesthetics and cruelty, The Art of Cruelty: A Reckoning (2011), was named a New York Times Notable Book of the Year. Her genre-bending memoir The Argonauts (2015) was a finalist for the National Books Critics Circle Award.  Nelson's in-depth appreciation of Schneemann's life and art can be found in The New Yorker online: https://www.newyorker.com/books/page-turner/the-re-enchantment-of-carolee-schneemann
Lauren Pratt worked closely with Carolee Schneemann in New York City during the early 1980s, and the two remained close throughout Schneemann's life. She worked as Carolee's archivist, manager, and agent, traveled with her, had lots of fun with her, and performed with her at C.W. Post College and The Limelight. Introduced to James Tenney by Carolee in 1987, she married him the following year, and acted as Jim's manager and agent for the next nineteen years. Since his death in 2006 she has co-edited his first collection of writings, From Scratch (U. Illinois Press), and executive produced the premiere recording of his Changes: 64 Studies for 6 Harps (New World). In addition to overseeing completion of his scores and preparation of his papers for the York University Archives, she is preparing a second collection of Tenney's writings. She is the Associate Producer for Music at REDCAT and the in-house producer for many CalArts music events, and she coordinates the music career program in the Herb Alpert School of Music at CalArts.
Kenneth White is Assistant Professor of Film Studies in the Cinema Department at the State University of New York at Binghamton. He is editor of the books Carolee Schneemann: Unforgivable (Black Dog, 2015) and, with Annette Michelson, Michael Snow: October File (MIT Press, 2019). He is an editor of Millennium Film Journal, the bi-annual periodical of moving image art criticism, history, and theory, published by the Millennium Film Workshop, and edited the special issue focusing on Carolee Schneemann (Fall, 2011). He is a member of the board of directors of the Carolee Schneemann Foundation. White was educated at Syracuse University (BFA Art Media Studies 2005) and Stanford University (PhD Art History and Film Studies 2015). He was a participant in the Whitney Museum of American Art Independent Study Program in 2013-2014 (Critical Studies) and 2014-2015 (Studio). He was Faculty of Curatorial Studies in the Whitney Program before joining Binghamton's Cinema Department. White is at work on a history of American media art of the late Vietnam War era entitled Hyperventilation Syndrome: Media Cultures, Control Societies—ca. 1970.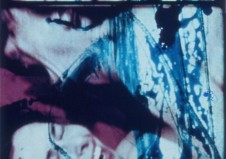 Fuses
(1964–67/2007, 29:37 min., 16mm, color, silent)
With Carolee Schneemann, James Tenney and Kitch

Schneemann's self-shot erotic film remains a controversial classic. The notorious masterpiece... [is] a silent celebration in color of heterosexual lovemaking. The film unifies erotic energies within a domestic environment through cutting, superimposition and layering of abstract impressions scratched into the celluloid itself... Fuses succeeds perhaps more than any other film in objectifying the sexual streamings of the body's mind. — The Guardian, London
"Made in increments between 1964 and 1967, Fuses is a beautiful, complex work, among Ms. Schneemann's most moving achievements. Like much of her art, it bridges interior and exterior worlds: we see the lovers in their darkened bedroom and we see a rural landscape in changing seasons beyond the window. It's hard to follow: organically, it's here, then it's there. But the flow, metaphoric and visual, is rich. And like so much of her art, the dynamic is fundamentally collaborative, shared." — Holland Cotter, The New York Times
"Pornography is an anti-emotional medium, in content and intent, and its lack of emotion renders it wholly ineffective for women. This absence of sensuality is so contrary to female eroticism that pornography becomes, in fact, anti-sexual. Schneemann's film, by contrast, is devastatingly erotic, transcending the surfaces of sex to communicate its true spirit, its meaning as an activity for herself and, quite accurately, women in general. Significantly, Schneemann conceives the film as shot through the eyes of her cat — the impassive observer whose view of human sexuality is free of voyeurism and ignorant of morality.
In her attempt to reproduce the whole visual and tactile experience of lovemaking as a subjective phenomenon, Schneemann spent some three years marking on the film, baking it in the oven, even hanging it out the window during rainstorms on the off chance it might be struck by lightning. Much as human beings carry the physical traces of their experiences, so this film testifies to what it has been through and communicates the spirit of its maker. The red heat baked into the emulsion suffuses the film, a concrete emblem of erotic power." — B. Ruby Rich, Chicago Art Institute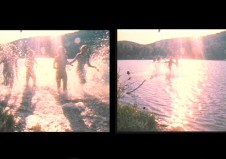 Water Light/Water Needle (Lake Mah Wah, NJ)
(1966, 11:13 min., 16 mm film on HD video, color, sound)
Schneemann's classic 1966 aerial "Kinetic Theatre" work was first staged at St. Mark's Church in the Bowery, with eight performers moving to a score of randomized encounter on layers of rigged ropes and pulleys. One of two video documents of this early and influential performance, this version is enacted outdoors in trees and across the surface of a lake, in sequences directed by Schneemann.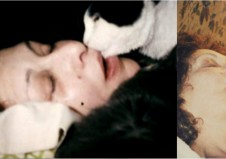 Infinity Kisses — The Movie
(2008, 9:18 min., HD video, color, sound)
Infinity Kisses - The Movie completes Schneemann's exploration of human and feline sensual communication. It incorporates extracts of the original 124 self-shot 35mm color slide photo sequence, Infinity Kisses, in which the expressive self-determination of the ardent cat was recorded over an eight-year period. Infinity Kisses — The Movie recomposes these images into a video, in which each dissolving frame is split between its full image and a hugely enlarged detail.
Vulva's School
(1995, 7:15 min., color, sound)
A performance in which Schneemann personifies an irrepressible vulva, which engages two animal hand puppets in a clamorous deconstruction of sexual bias in French semiotics, Marxism, patriarchal religions and physical taboos. — Electronic Arts Intermix