Small, Real: Observation and the Mundane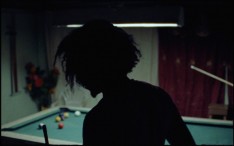 Los Angeles Filmforum at MOCA presents
Small, Real: Observation and the Mundane
Thursday, January 10, 2018, 7:00pm
At MOCA Grand Avenue, Ahmanson Theater, 250 S. Grand Ave., Los Angeles
Filmmakers Huey Amaru, Cleon Arrey, Sarah Ibrahim, and Shabier Kirchner in person
One Day at a Time: Manny Farber and Termite Art is inspired by artist Manny Farber's call for an art of "both observing and being in the world." Presented in conjunction with Kahlil Joseph's film Fly Paper, which is the subject of a companion exhibition at MOCA Pacific Design Center, this program presents experimental film and video works that employ the constituent parts of Joseph's practice, namely observation, musicality, and a documentary impulse. Works by Sarah Ibrahim, Shabier Kirchner, Cleon Arrey, Micah Ariel Watson, and Huey Amaru acutely capture the material, immaterial, and in between with intimate actualizations of Black life. Fragments and representations of the mundane become transcendent in their devotion to the ordinary and articulation of care.
Tickets: $15 general; $10 for seniors; $8 for students with ID; free for Filmforum and MOCA members. Available in advance from Brown Paper Tickets at https://www.brownpapertickets.com/event/3923890 or at the door.

For more information: www.lafilmforum.org or 323-377-7238, https://www.moca.org/program/filmforum-at-moca-small-real-observation-and-the-mundane , 213/621-1745 or education@moca.org
Huey Amaru was born and raised on the Southside of Chicago. He completed his BA at Columbia College Chicago in Cultural Studies. He works as an international teaching artist and a cultural arts educator and is a member of Kinfolk Collective. His artistic disciplines include music composition, performance, photography, and installation art. Heavily influenced by queerness, race, gender, class, sexuality, politics, and Afro-diasporic relations, he believes in arts' ability to transform the world and raise consciousness.
Cleon Arrey, director/cinematographer, is a first-generation African American, born and raised in the deserts of Arizona. The video camera was introduced to him in high school, where he spent his early years documenting bicycle culture and skateboarding, before later moving to Los Angeles to pursue a career in visual storytelling. His work looks to shine light on, and raise conversations about identity, heritage, history and specifically, how these dynamics affect the Pan-African community. In 2018 he authored his first film, TWO PARTS BLACK, and since then has received multiple awards and screened the film at various film festivals around the United States including BlackStar Film Festival.
With an Indonesian-Kuwaiti father and black American mother, Sarah Ibrahim's diverse environment instilled in her an inherent responsibility to widen representation in art and media. To complicate the prevailing white, heteronormative narrative, she received her bachelor's in Magazine Journalism at Syracuse University and is earning a Film/Video MFA at CalArts and allows both to inform her practice. Whether through journalism, music, video art, animation, or film, her work is a testament to subversion: her documentary short UM MY NAME IS about black trans artist Zaire Cummings; and an ongoing series EACH AND EVERY SHADE about the experiences of colorism and internalized racism within Sarah's family.
Shabier Kirchner, born and raised in the Caribbean islands Antigua and Barbuda, travels the world as cinematographer and was selected as one of the 10 Cinematographers to Watch by Variety (April 2018). He works on chosen features – Bull, Only You, Skate Kitchen, Sollers Point – commercials, and shoots his own projects at home. Dadli is Shabier's first work as director.
Jheanelle Brown is a film curator, producer, and arts educator based in Los Angeles. Her curatorial practice is committed to honoring, expanding, and empowering Blackness in visual and filmic media. Her specific interests are oriented around experimental and non-fiction film and video, the relationship between musicality and cinema, political film and media, and West Indian cinema.  She is currently co-curator for Black Radical Imagination and an associate programmer for Los Angeles Filmforum. Jheanelle is a graduate of USC's Cinema & Media Studies MA program.
----------------------
Los Angeles Filmforum at MOCA furthers MOCA's mission to question and adapt to the changing definitions of art and to care for the urgency of contemporary expression with bimonthly screenings of film and video organized and co-presented by Los Angeles Filmforum—the city's longest-running organization dedicated to weekly screenings of experimental film, video, documentary, and animation.
Education Programs at MOCA, including Contemporary Art Start and Sunday Studio, and the MOCA Teen Program, are generously supported by The Hearst Foundations, Banc of California, MOCA Projects Council, the Los Angeles County Board of Supervisors through the Los Angeles County Arts Commission, City of Los Angeles Department of Cultural Affairs, The Capital Group Companies Charitable Foundation, Edison International, Joseph Drown Foundation, The Rosalinde and Arthur Gilbert Foundation, Satterberg Foundation, Dwight Stuart Youth Fund, Michael Asher Foundation, The Kenneth T. and Eileen L. Norris Foundation, The Rhonda S. Zinner Foundation, The Winnick Family Foundation, and​ Pazia Bermudez-Silverman.
Los Angeles Filmforum is supported by the Los Angeles County Board of Supervisors through the Los Angeles County Arts Commission and the Department of Cultural Affairs, City of Los Angeles. We also depend on our members, ticket buyers, and individual donors.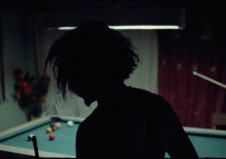 Dadli
By Shabier Kirchner
Los Angeles Premiere!
2018, video, color, sound, 14 minutes
Tiquan, a 13-year-old Antiguan, recounts bits of his daily life in his small village and community.
In The Way
By Sarah Ibrahim
Los Angeles Premiere!
2018, video, color, sound, 1 minute
An experimental film in the form of a visual poem that explores the existential anxieties of a person who looks for relief (in spirituality, in escape)—but fails to find it.
40th & State
By Micah Ariel Watson
Los Angeles Premiere!
2018, 16mm film transferred to video, black and white, sound, 14 minutes
In the wake of the brutal 1955 lynching of Emmett Till, an entire church is left to grieve. What happens when mourning becomes political and fighting becomes spiritual? 40th & State is an experimental requiem for lost Black life and exploration of the Pentecostal church.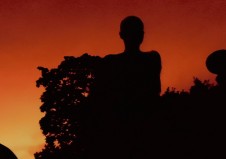 Daydreams
By Huey Amaru
Los Angeles Premiere!
2018, video, color, sound, 31 minutes
Daydreams is a visual collage of moments, fragments and memories that seek to play on the poetics of Black life and illuminate the magnificent in the mundane. Part biomythography part random scattered memories and part reimagined life. The emotional tapestry of visual melodies that seek to bring cinematic meditation to the viewers that is both reflective and transformative. Daydreams is an excerpt of a series of shorts.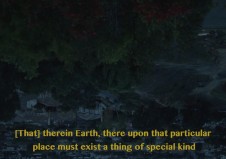 Two Parts Black
By Cleon Arrey
2018, video, color, sound, 6 minutes
An imperfect attempt to depict the two worlds I navigate; the world my family has created for me and the world that exists beyond my mother's door. It's an exploration and celebration of black bodies in an inverted-world.