Various Positions: Works from Double Negative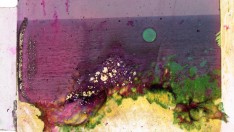 Los Angeles Filmforum presents
Various Positions: Works from Double Negative
Sunday, February 11, 2017, 7:30 pm
At the Spielberg Theatre at the Egyptian, 6712 Hollywood Blvd., Los Angeles CA 90028
Introduced by Filmmaker and Double Negative member Daïchi Saïto!
INFO: www.www.lafilmforum.org ,  323-377-7238
Tickets: $10 general; $6 students/seniors; free for Filmforum members.  Available in advance at https://bpt.me/3321463 or at the door.
Filmforum welcomes filmmaker Daïchi Saïto from Montreal in the first of two programs.  Saïto is part of Double Negative, a Montreal-based film collective dedicated to the creation and dissemination of experimental cinema. This first program with Saïto showcases a selection of films made by present and past members of the collective.  Founded in 2004 and run without external funding, Double Negative maintains a shared studio space for analog filmmaking in the Mile End neighborhood of Montreal. Its activities over the years have contributed to the renewed interest in celluloid in the local artistic community.  It's a remarkable array of hand-crafted celluloid-based films.
Daïchi Saïto's visit made possible by a generous grant from the Mike Kelley Foundation for the Arts.
There will be a separate screening featuring Daïchi Saïto's own films at REDCAT on Monday February 12, at 8:30 pm.  See www.redcat.org for more details.
Total Running Time: 75 minutes
Daïchi Saïto - Biography
Originally from Japan, Daïchi Saïto studied literature and philosophy in the U.S. and Hindi and Sanskrit in India before turning to filmmaking in Montreal. In 2004, Saïto co-founded Double Negative, an artist collective dedicated to the exhibition and production of experimental cinema. His work has been widely exhibited in film festivals, museums, galleries and cinematheques worldwide, including: Tate Modern; Centre Pompidou; Austrian Film Museum; Serralves Museum of Contemporary Art; George Eastman Museum; Viennale; International Film Festival Rotterdam; New York Film Festival's "Views from the Avant-Garde"; Toronto International Film Festival's "Wavelengths," among others. In 2010, his film Trees of Syntax, Leaves of Axis won the Best of the Festival Award at the 48th Ann Arbor Film Festival and the Jury Grand Prize at the 16th Media City Film Festival. The film was recently selected to be one of the "150 Essential Works in Canadian Cinema History" by TIFF. In 2016, his latest film Engram of Returning won the Tiger Award for Short Films at the 45th International Film Festival Rotterdam, the Best Experimental Film Award at the 54th Ann Arbor Film Festival and the Best Experimental Documentary Award at the 20th Jihlava International Documentary Film Festival. His films are distributed by Light Cone in Paris and CFMDC in Toronto and in the collections of the Austrian Film Museum, the Slovenian Cinematheque and the Academy Film Archive. Besides his artistic practice, Saïto has been active in curating programmes of experimental film and video and was Co-Director, with Malena Szlam, of CinemaSpace at the Segal Centre for Performing Arts in Montreal. Saïto has taught cinema at NSCAD University in Halifax, Escuela Internacional de Cine y TV de San Antonio de los Baños (EICTV) in Cuba, Concordia University in Montreal and the State University of New York at Binghamton, where he currently teaches. In 2013, his book Moving the Sleeping Images of Things Towards the Light (bilingual edition in English and French) was published by Le laps in Montreal.
---------------------------
This program is supported by the Los Angeles County Board of Supervisors through the Los Angeles County Arts Commission; the Department of Cultural Affairs, City of Los Angeles. We also depend on our members, ticket buyers, and individual donors.
Los Angeles Filmforum is the city's longest-running organization dedicated to weekly screenings of experimental film, documentaries, video art, and experimental animation. 2018 is our 43rd year.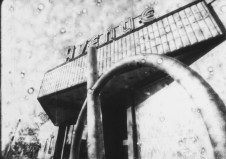 Where We Stand
Lindsay McIntyre, 2014, 16mm, b&w, sound, 5 min.
Where We Stand is a haunting portrait of theaters shot on handmade 16mm iodo-bromide emulsion. With a strong commitment to retaining the language of film, Where We Stand takes a good hard look at the fragile future of films made on film in this digital age.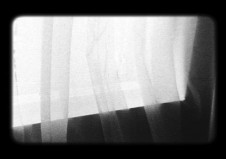 Patience
Mike Rollo, 2006, Super 8, b&w, silent, 2:30 min.
Patiently, a soft breeze enters.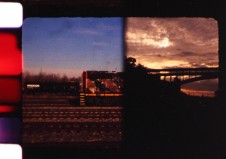 Roundtrip
Philippe Leonard, 2014, 16mm, color, silent, 3 min.
A diptych filmed on a journey between Montreal and New York City. My last roll of Ektachrome to commemorate an important day when two became unified in the act of giving.
Parallax
Christopher Becks, 2008, 16mm, color, silent, 6 min.
"For the program notes for his film Parallax, Christopher Becks provides three dictionary definitions of the term – all of which centre on the notion of displacement. A conceit, certainly, but an apt one for this visually jarring travel film shot over three continents. Becks' seemingly disjointed editing creates unexpected, confounding and constantly shifting rhythms that gain meaning through accumulation. Where most travel films aim for creating pictorial beauty or a "sense of a place", Becks seems interested in conveying the feeling of disorientation or lack of sync with one's surroundings that travelers can have. Stranger in a strange land might be too obvious: Becks does allow for moments of respite and recognition between headlong rushes forward. Finally, though, it's a masterful take on being out of place."  --- Patrick Friel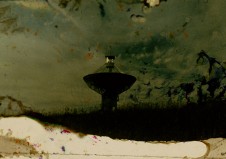 Quiet Zone
Karl Lemieux and David Bryant, 2015, 35mm, color, sound, 14 min.
Through the use of complex imagery and sound, filmmakers Karl Lemieux and David Bryant take us deep into the world of those who suffer from electromagnetic hypersensitivity. Combining elements of documentary, film essay and experimental film, Quiet Zone defies genres, weaving together an unusual story in which sound and image distort reality to make the distress of these "wave refugees" palpable.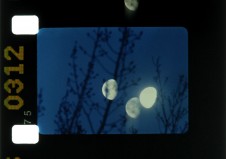 Lunar Almanac
Malena Szlam, 2013, 16mm, color, silent, 4 min.
"Lunar Almanac initiates a journey through magnetic spheres with its staccato layering of single-frame, long exposures of a multiplied moon. Shot in 16mm Ektachrome and hand processed, the film's artisanal touches are imbued with nocturnal mystery." —Andréa Picard, TIFF Wavelengths, 2014
Lunar Almanac traces a series of notations that record the observational points of the lunar cycle. Using single-frame and long-exposure photography, the unaltered, in-camera editing accumulates over 4000 layered field views of half-moons, new moons, and full moons, that flit across the screen with a frenetic energy, illuminating nocturnal reveries that pull at the tides as much as our dreams.
Traces
Erin Weisgerber, 2014, 16mm, b&w, sound, 5 min.
Trace
n.
1.
A visible mark, such as a footprint, made or left by the passage of a person, animal, or thing.
b.  Evidence or an indication of the former presence or existence of something; a vestige.
2.  A barely perceivable indication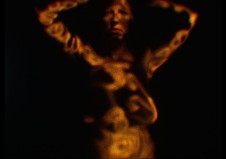 Relucesco
Shannon Lynn Harris, 2015, Super 8, color, silent, 3 min.  
Light painted on the body; light reflected on emulsion. 
P.O.P.
Eduardo Menz, 2013, Super 8, b&w, silent, 3 min.
Film portraits that capture a different state of mind.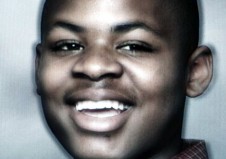 Fracas
Eduardo Menz, 2007, Digital8, color, sound, 4 min.
The juxtaposition of children's school portraits with the anxious voices of an elementary spelling bee reveals a haunting reality of innocence that has vanished. In this experimental documentary, found images are repurposed to create an emotionally compelling montage that lingers long after the film ends.
Granular Film - Beirut
Charles-André Coderre, 2016, 35mm, color, sound, 6 min.
Reminiscence of a trip in Beirut. The sea, the palm trees, the buildings melt when my eyelids begin to close. My memories now have a separate life of their own. 
The Broken Altar
Mike Rollo, 2013, 35mm, color, sound, 19:30 min.
The Broken Altar is a portrait of open-air theaters documented under the strange light of day, emptied of the once present hum of human voices, radioed-in soundtracks and tires on gravel. Scripting the landscape and exploring the residue of a cinematic history, The Broken Altar forms a sculptural treatment of the architectural artifacts of these abandoned and barren spaces: speaker boxes rise from tall grass like grave markers and the screens themselves are monumental, sepulchral in their peeling whiteness.