The End(s) of Remembrance: Two Films on Holocaust Memory, by Sergei Loznitsa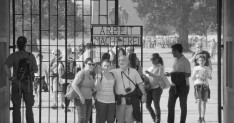 At the James Bridges Theater, UCLA School of Theater, Film, and Television, Melnitz 1409, Los Angeles, CA 90024
Sergei Loznitsa in Person!  LA premieres! NOTE THE CHANGE IN LOCATION.  FREE.
Tickets: This screening is free and open to the public.  Parking and directions below.

With the generous support of the Mike Kelley Foundation for the Arts, Filmforum continues its multi-venue Los Angeles retrospective of the work of Ukrainian filmmaker, Sergei Loznitsa, with the screening of two films that ponder the horizon, the limits, and the disconcerting spectacle of Holocaust memory in the present day. Though widely renowned in Europe, Loznitsa's pioneering work remains largely unfamiliar to American audiences. We are honored to welcome Loznitsa to the James Bridges Theater for the Los Angeles premieres of both his latest feature-length documentary, Austerlitz, and his 2014 documentary short, The Old Jewish Cemetery. The screenings will be followed by a discussion with the director himself, moderated by UCLA post-Soviet cultural scholar, David MacFadyen.
Steeped in the traditions of Russian avant-garde documentary, Loznitsa's films are no less attentive to the modernism of Tarkovsky, Guerman, and Sokurov, among others. Yet to reduce him to an avatar of earlier movements or other styles is to overlook the discreet, sui generis innovation of his work. Austerlitz and The Old Jewish Cemetery are emblematic in this regard. Each documentary, on its surface, seems a patient observation of life as it transpires, devoid of commentary save the implacable, voiceless insistence of the frame. Both, however, achieve their intellectual, emotional, and ethical force through the astute accumulation of meticulous, interlocking compositions, which quietly disturb the only apparently innocuous surface of everyday life.
In addition to the Mike Kelley Foundation, Filmforum thanks the following entities for their generous co-sponsorship of this event: the UCLA Department of World Arts and Culture/Dance; the UCLA Center of European and Russia Studies; the UCLA School of Theater, Film, and Television; the UCLA Department of Slavic, East European, and Eurasian Languages and Cultures; and the International Documentary Association.
Michael Sicinski's review of Austerlitz in Cinema Scope: http://cinema-scope.com/cinema-scope-online/austerlitz-sergei-loznitsa-germany-wavelengths/
Peter Bradshaw's review of Austerlitz in The Guardian: https://www.theguardian.com/film/2016/nov/21/austerlitz-review-holocaust-tourism-documentary-sergei-loznitsa
Interview with Loznitsa in Variety: http://variety.com/2016/film/festivals/sergei-loznitsa-art-life-new-film-a-gentle-creature-idfa-1201923368/
Sergei Loznitsa was born September 5th, 1964 in the city of Baranovitchi, in Belarus. At that time Belarus was part of the Soviet Union. Later Loznitsa's family moved to Kiev, Ukraine, where Loznitsa finished high school. In 1987 graduated from the Kiev Polytechnic with a degree in Applied Mathematics. In 1987-1991 Sergei worked as a scientist at the Kiev Institute of Cybernetics, specializing in artificial intelligence research. He also worked as a translator from Japanese. In 1997 Loznitsa graduated from the Russian State Institute of Cinematography (VGIK) in Moscow, where he studied feature filmmaking.

Sergei Loznitsa has been making documentary films since 1996, and he has directed 16 award-winning documentaries. Sergei Loznitsa's montage film "BLOCKADE" (2005) is based on the archive footage of besieged Leningrad. Loznitsa's feature debut "MY JOY" (2010) premiered in the main competition at the Festival de Cannes, and was followed by "IN THE FOG", which premiered in the competition of the 65th Festival de Cannes in May 2012, where it was awarded FIPRESCI prize.

In 2013 Sergei Loznitsa launched a film production and distribution company
ATOMS & VOID. Sergei continues to work in both documentary and feature genres. His feature length documentary "MAIDAN", depicting the Ukrainian revolution of 2013/2014 was also premiered at the Festival de Cannes. His latest feature-length documentary AUSTERLITZ looks at tourists negotiating the traumatic sites of Nazi concentration camps.  Loznitsa is currently producing his next feature film, "BABI YAR" which will narrate the events that took place in Kiev during the first months of Nazi occupation of the USSR. http://loznitsa.com
James Bridges Theater Directions and Parking:
Parking for this event is an $8 flat rate in Pay-by-Plate spaces in Parking Structure 3, on the north end of the UCLA campus

ARRIVING FROM SOUTH:
- Head North on Hilgard Ave
- Turn left on Wyton Dr.
- Turn right on Charles E. Young Dr. E
- Enter Parking Structure 3, South Entrance (first on left)

ARRIVING FROM NORTH (Sunset Blvd)
- Turn South on Hilgard Ave
- Turn right on Charles E. Young Dr. E
- Enter Parking Structure 3, South Entrance (second on right)

PARK, PAY, GO
- Park in any space (except: those marked with posted permit restrictions: Blue, X, etc)
- Pay-by-Plate: pay at Pay Station using vehicle license plate number
- Flat rate: $8.00
- Head to James Bridges Theater:
> From ground level of Structure 3, enter the underpass
> From street level, cross Charles E. Young Dr. N, proceed down steps
> Walk straight alongside Melnitz Hall (on your left).
> When you reach the entrance plaza, enter through glass doors on left into Theater lobby
> Bridges Theater doors on right as you enter lobby
For map and additional information: http://www.tft.ucla.edu/facilities/james-bridges-theater/
The Old Jewish Cemetery
2014, Latvia/Netherlands, b/w, sound, 16mm screened from DCP, 20 mins. Production: ATOMS & VOID, www.facebook.com/atomsvoid
"Riga. Tourists and local drunks wander through a sleepy afternoon, children play on the grass, and a tram lazily crisscrosses through everything that happens. Sergei Loznitsa, one of the most precise and sensitive observers of the Eastern European region, explores the locus of a defunct Jewish cemetery, observing the people and the somewhat torpid street activity, and capturing the contemporary life of a place where burials were still conducted during the Second World War. Factual commentary is suppressed in favor of contemplating the changes to a seemingly uninteresting place whose atmosphere has been softened by the everyday." (http://loznitsa.com/)
Austerlitz
2016, Germany, b/w, sound, DCP, 94 min.
Though the title might suggest an homage to the late W.G. Sebald's final novel—if not an "adaptation," as the filmmaker himself has suggested—Loznitsa's latest documentary is more precisely the vehicle for a dialogue (with Sebald and the viewer alike) about the nature of Holocaust memory and the paradoxes of memory tourism in our current age of high Narcissism. Filmed over various days at the site of the Sachsenhausen concentration camp in Oranienberg, Germany, Austerlitz places itself amidst the visiting summer throngs, in shorts, t-shirts, and tennis shoes, brandishing their selfie sticks and fondling their audio guides as they pose beneath the wrought iron gate ("Arbeit macht frei") and wander the sterilized grounds of a former death camp. With neither commentary nor judgement, the camera frames and observes, allowing the banality and mundanity to speak for themselves (at times above the cacophony of tour guides speaking in multiple languages), only to emerge, at last, as a complex, unsettling spectacle.