Straub-Huillet: Short films of reflections and passages
Los Angeles Filmforum presents
Straub-Huillet: Short films of reflections and passages
At the Echo Park Film Center, 1200 N. Alvarado St., Los Angeles CA 90026
LA premieres! Thomas Beard in person.
Note the change from our regular location.

Jean-Marie Straub and Danièle Huillet formed one of the most intense, challenging and controversial collaborations in the history of cinema.  Straub (French, b. 1933) and Huillet (French, 1936–2006) were inseparable partners from 1954 until Huillet's death, working intimately on every aspect of film production, from scriptwriting to direction to editing.  Straub-Huillet created highly personal film interpretations of profoundly ambitious art: stories by Böll, Kafka, Duras and Pavese; poems by Dante, Mallarmé and Hölderlin; a long-forgotten Corneille play, an essay by Montaigne, a film by D. W. Griffith, a painting by Cézanne, an unfinished opera by Schöenberg; and the biography of Johann Sebastian Bach as told through the (fictionalized) letters of his wife Anna Magdalena.  They sought to make what Straub called "an abstract-pictorial dream" while remaining rigorously sensitive to the letter and spirit of the text, and to the relationship between sound and image.  At the same time, all of Straub-Huillet's films are political, whether obliquely, in reflecting on the lessons of history and advancing a Marxist analysis of capitalism and class struggle; or overtly, in considering ancient and contemporary forms of imperialism, militarism and resistance, from Ancient Rome to colonial Egypt to wartime Germany.  They aspire to nothing short of a revolution in political consciousness, especially among workers and peasants, the colonized and the exploited.  
At 83, Straub continues to make films that never waver from his commitment to the subversion of all forms of cinematic convention, whether through the use of direct sound, disjunctive editing, amateur actors and a foregrounding of the natural landscape; fragmentary and elliptical narratives spoken in various languages; Brechtian estrangement; on-location shooting of ancient texts in contemporary, anachronistic settings (for example, on the ground where the Circus Maximus once stood); and a privileging of musical and poetic rhythms and structures over the decorative, the spectacular, the psychological and the satirical.  Dialogue is shorn of emotion, and images are deliberately unflashy.  "The work we have to do," Straub insists, "is to make films which radically eliminate art, so that there is no equivocation."
Tonight we present three recent short films made by Jean-Marie Straub, A Tale of Michel de Montaigne  (2012); Concerning Venice (2013), and Dialogue of Shadows (2012)
This program is adapted from the 2016 retrospective organized by Joshua Siegel, Curator of Film, Museum of Modern Art.  Program notes by Joshua Siegel.
Special thanks: Barbara Ulrich; Joshua Siegel—MoMA; Thomas Beard—Light Industry; Sally Shafto; Paul Malcolm & KJ Reith, UCLA Film & Television Archive; ; Bruce Hainley—Art Center College of Design; Alan Longino,  Miguel Abreu Gallery.
Thomas Beard is a founder and director of Light Industry, a cinema in Brooklyn, New York, as well a Programmer at Large for the Film Society of Lincoln Center. He has organized screenings for Artists Space, the Centre Pompidou, Harvard Film Archive, the Museum of Modern Art, Tate Modern, and Yale Union, among other venues, and in 2010 he co-curated the film program for the Whitney Biennial. His writing has appeared in Artforum, The Believer, Film Comment, frieze, Texte zur Kunst, and Triple Canopy. Currently he is overseeing a touring retrospective of films by Jean-Marie Straub and Danièle Huillet.

Tickets: $10 general admission; $6 students (with ID)/seniors; free for Filmforum members.
Tickets available at http:bpt.me/2882097 or at the door
For more event information: www.lafilmforum.org, or 323-377-7238
More Straub-Huillet coming in March!
Tuesday March 7, 2017, 7:30 pm – at Art Center College of Design – Free admission
The Bridegroom, The Actress, and The Pimp (1968, 23 min.) and From the Cloud to the Resistance (1978, 105 min.). Special guest Thomas Beard
https://www.artcentermfa.net/news-events/event/thomas-beard-presents-straub-huillet/
Saturday March 25, 2017, 7:30 pm – at Art Center College of Design – Free admission
Too Early/Too Late (1981, 100 min.). Special guest Sally Shafto
https://www.artcentermfa.net/news-events/event/straub-huillet-screening/
Sunday March 26, 2017, 7:30 pm –at Los Angeles Filmforum
3 more short films. Special guest Sally Shafto
A Tale of Michel de Montaigne
(2012, DCP, color, 34 min.)
(Un conte de Michel de Montaigne)
Film by Jean-Marie Straub, with Barbara Ulrich
Text: Michel de Montaigne, "De l'exercitation" (book 2, chapter 6) in Essais.
Left for dead in a freak horse accident, Montaigne reflects on many things, among them the nature of consciousness and the soul, reason and automatism, waking and dreaming, the self and the other.
The Essay II/6 is the most dazzling example of Montaigne's method, whose aim is no longer to develop the subject into the world, but, on the contrary, the world into the subject. The salutary totality of what is to be sought is there – the "whole form of the human condition". It is the form of man to come.
Concerning Venice [History Lessons]
(2013, DCP, color, French with English subtitles, 23 min.)
(À propos de Venise)
Film by Jean-Marie Straub, with Barbara Ulrich
Based on The Death of Venice, by Maurice Barrès.
Waters lap gently against the shore as Barbara Ulrich recites Maurice Barrès's essay about the past glories and tenuous fate of the Most Serene Republic, its once faithful and cosmopolitan but now indolent citizens, its visitors both famous (Chateaubriand, Goethe, Napoleon) and ordinary, its courtesans and pigeons, its solidity and dazzling immateriality.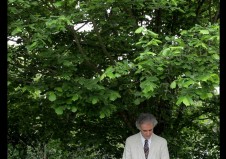 Dialogue of Shadows
(2013, DCP, 28 min.)
(Dialogue d'ombres)
Film by Danièle Huillet and Jean-Marie Straub
Text: Dialogue d'ombres, by George Bernanos, 1928
Straub's testament of love was made seven years after the 2006 death of his partner and collaborator Danièle Huillet, and nearly 60 years after they met in Paris and planned to adapt this short story by Georges Bernanos (the author of Diary of a Country Priest and Mouchette). In the film, two lovers are separated by physical distance but intimately bound by Bach's Cantata 140 ("Sleepers Wake"), a conspiring of their own voices, and a mutual sense of wounded pride and yearning for "the supreme grace…to love ourselves in all simplicity."