Maidan, by Sergei Loznitsa
Maidan, by Sergei Loznitsa
At the Cal Arts Bijou Theatre. 24700 McBean Pkwy, Valencia, CA 91355
Sergei Loznitsa in person! LA premiere!
NOTE THE CHANGE FROM OUR NORMAL DAY
Free and open to the public!
Sergei Loznitsa is one of the most heralded filmmakers in Europe, but is still little known in America.  Generously supported by the Mike Kelley Foundation for the Arts, Filmforum presents Loznitsa in Los Angeles for his first time, for in-person screenings at Filmforum, UCLA, Cal Arts, and Cinefamily.  This is the third night of the series, featuring the award-winning film Maidan.  Directed by acclaimed filmmaker Sergei Loznitsa, Maidan chronicles the civil uprising that toppled the government of Ukrainian president Victor Yanukovich and has since developed into an international crisis between Russia and the West. Filmed in stunning long takes, sans commentary, Maidan is a record of a momentous historical event and an extraordinary study of the popular uprising as a social, cultural and philosophical phenomenon.
Educated originally in mathematics, Loznitsa redirected his life to filmmaking after the fall of the Soviet Union, and has been producing a series of documentaries since the mid-1990s looking at life in a wide array of places and events: portraits of small towns, fishing communities in Siberia, recoveries of political unrest, tourists in Nazi concentration camps. He's been the subject of a retrospective at the International Documentary Festival of Amsterdam (IDFA), often considered the leading doc festival in Europe.  In recent years he has been working in scripted narrative films as well, making two films that have premiered at Cannes.  
Interview with Loznitsa in Variety: http://variety.com/2016/film/festivals/sergei-loznitsa-art-life-new-film-a-gentle-creature-idfa-1201923368/
Coming up in the series:
Wednesday March 1, 7:30 pm – The Event, at Cinefamily
http://www.cinefamily.org/films/special-events-march-2017/#the-event-w-director-sergei-loznitsa-in-person
In addition to the Mike Kelley Foundation for the Arts, Filmforum thanks the following entities for their support of this series: the UCLA Department of World Arts and Culture/Dance; the UCLA Center of European and Russia Studies; the UCLA School of Theater, Film, and Television; the UCLA Department of Slavic, East European, and Eurasian Languages and Cultures; Cal Arts; Cinefamily; and the International Documentary Association.
Sergei Loznitsa was born September 5th, 1964 in the city of Baranovitchi, in Belarus. At that time Belarus was part of the Soviet Union. Later Loznitsa's family moved to Kiev, Ukraine, where Loznitsa finished high school. In 1987 graduated from the Kiev Polytechnic with a degree in Applied Mathematics. In 1987-1991 Sergei worked as a scientist at the Kiev Institute of Cybernetics, specializing in artificial intelligence research. He also worked as a translator from Japanese. In 1997 Loznitsa graduated from the Russian State Institute of Cinematography (VGIK) in Moscow, where he studied feature filmmaking.

Sergei Loznitsa has been making documentary films since 1996, and he has directed 16 award-winning documentaries. Sergei Loznitsa's montage film "BLOCKADE" (2005) is based on the archive footage of besieged Leningrad. Loznitsa's feature debut "MY JOY" (2010) premiered in the main competition at the Festival de Cannes, and was followed by "IN THE FOG", which premiered in the competition of the 65th Festival de Cannes in May 2012, where it was awarded FIPRESCI prize.

In 2013 Sergei Loznitsa launched a film production and distribution company ATOMS & VOID. Sergei continues to work in both documentary and feature genres. His feature length documentary "MAIDAN", depicting the Ukrainian revolution of 2013/2014 was also premiered at the Festival de Cannes. His latest feature-length documentary AUSTERLITZ looks at tourists negotiating the traumatic sites of Nazi concentration camps.  Loznitsa is currently producing his next feature film, "BABI YAR" which will narrate the events that took place in Kiev during the first months of Nazi occupation of the USSR. http://loznitsa.com
---------------------------
This program is supported by the Mike Kelley Foundation for the Arts; the Los Angeles County Board of Supervisors through the Los Angeles County Arts Commission; the Department of Cultural Affairs, City of Los Angeles; and Bloomberg Philanthropies. We also depend on our members, ticket buyers, and individual donors.
Los Angeles Filmforum is the city's longest-running organization dedicated to weekly screenings of experimental film, documentaries, video art, and experimental animation. 2017 is our 42nd year.
Feb 27 – Sergei Loznitsa in person at UCLA – Austerlitz
Feb 28 – Sergei Loznitsa in person at Cal Arts – Maidan
Mar 1 – Sergei Loznitsa in person at Cinefamily – The Event
Mar 5 – Films by Straub & Huillet at the Echo Park Film Center
Memberships available, $70 single, $115 dual, or $50 single student
Contact us at lafilmforum@yahoo.com.
Find us online at http://lafilmforum.org.
Become a fan on Facebook and follow us on Twitter @LosAngFilmforum!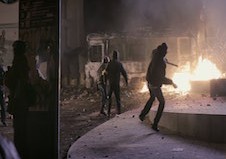 Maidan
Maidan
2014, The Netherlands, DCP, 1.85:1, 131 minutes
In Ukrainian with English Subtitles
Trailer: https://vimeo.com/109284715
Beginning in November 2013, when hundreds of thousands of Ukrainian citizens gathered in Kiev's Independence Square (Maidan) to protest Yanukovich's refusal to establish closer ties with the West, Loznitsa and his cameraman were there, capturing the peaceful rallies, demonstrations, speeches and songs.
As Loznitsa notes, "The euphoric atmosphere of the early days of Maidan felt so comforting and empowering that it felt like being in a maternal womb. Never before have I seen or experienced such solidarity, camaraderie and such an authentic spirit of freedom. It was amazing to see so many volunteers working together in such a harmony and with such zeal. Everybody seemed to be busy: guarding Maidan, helping out in the kitchens, providing medical assistance, performing on the stage of Maidan, coordinating volunteers. The night of December 19th, St Nicholas's feast, felt like a medieval folk carnival – a free spirit of the nation, awakening from a long sleep."
In January 2014, following an ultimatum from the government to disperse, riot police stormed the square. Maidan captures the bloody street battles that erupted, the fires that raged throughout the night, and the make-shift funerals for the dead. Eschewing the conventions of traditional talking heads documentaries, Maidan plunges the viewer into the middle of this revolution for a startling and immediate portrait of an awakening nation, rediscovering its identity.