Jesse Jones and Seamus Harahan: Irish artists on Northern Ireland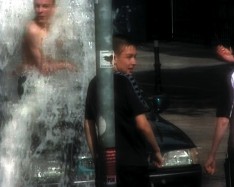 Sunday, March 6, 2016, 7pm
Los Angeles Filmforum presents
Jesse Jones and Seamus Harahan: Irish artists on Northern Ireland presented by Mariah Garnett
The Spielberg Theatre at the Egyptian, 6712 Hollywood Blvd., Los Angeles CA 90028
In person: Mariah Garnett!
Acclaimed artist and filmmaker Mariah Garnett has spent the greater part of 2015 working in Belfast, Northern Ireland. In this screening, Garnett brings to Los Angeles Filmforum recent digital videos by Irish artists from both sides of the border whose work depicts, directly and indirectly, the effects of the conflict in Northern Ireland on its population. Although vastly different in style—ranging from lyrical first-person photography to geographically displaced theatrical reenactment—the videos in this program use art as a means to make the effects of the conflict perceptible and felt. Garnett will be present to introduce and discuss the program.
Tickets: $10 general, $6 students/seniors; free for Filmforum members.
Available in advance from Brown Paper Tickets at http://bpt.me/2507673 or at the door.
Biographies:
Seamus Harahan was a director of Catalyst Arts Belfast from 1996-98. His work was featured in Assembly, A survey of Recent Artists' Flms and Video in Britain 2008-13 at Tate Britain, London. Cold Open received the Jury Award at Ann Arbor Film Festival, Michigan, in 2014. He represented Northern Ireland in the 51st Venice Biennale in 2005 and received a Paul Hamlyn Award for Artists in 2009. He was artist in residence at Centre Culturel Irlandais, Paris, in spring 2015. He lives and works in Belfast and is represented in London by Gimpel Fils. In 2015 he received the Jarman Award.
Born in Dublin in 1978, Jesse Jones creates works that primarily take the form of film and video. She explores historical instances of communal culture and resistance that resonate with contemporary society and politics. Her practice uses devices such drive-in cinemas, film, music and performance in order to explore popular culture as a site of shared collective social consciousness. Jones has recently had solo-exhibitions at Artsonje Seoul, Spike Island, Bristol, The Hugh Lane Gallery, Dublin, and REDCAT, Los Angeles, as well as projects at The New Museum, New York, and Serpentine Cinema, London. She is currently in the production phase of Prosperity, which is the artist's largest project to date and consists of a multi-disciplinary collaborative public art commission in Dublin which aims to deconstruct the idea of prosperity in Ireland's post boom economy.
Acknowledgements:
This program is supported by the Bloomberg Philanthropies; Los Angeles County Board of Supervisors through the Los Angeles County Arts Commission; and the Department of Cultural Affairs, City of Los Angeles. We also depend on our members, ticket buyers, and individual donors.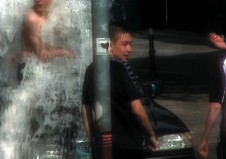 Digital Videos by Seamus Harahan
Seamus Harahan's video, installation, film, and sound based practice engages directly with place. His starting point is not the making of art; instead his strategy is to forget and just film the social and cultural environment around him. Harahan uses his video camera - a relatively accessible and moderately affordable technology - to take hand-held, seemingly amateur footage, the contents of this footage, locating himself and locating others, through found activity occurring around him. The main subject is often the urban environment, its incidental detail and fugitive nature. Music is a vital element in all of Harahan's works, with songs used as soundtracks or informing the composition, title or duration of individual pieces. The artist takes songs from an eclectic range of sources, including reggae and hip hop as well as English and Irish traditional music.
The Other North, by Jesse Jones
2013, Digital Video, color, sound, 59 minutes
The Other North developed from Jones' research in 2012 and 2013 in South Korea and the Korean Demilitarised Zone (DMZ), the strip of land that divides the Korean peninsula and acts as a 'buffer' between North and South. Jones' experiences in Korea led to an exploration of archival footage from Northern Ireland dating from the late 1960s to the 1990s. The Other North evolved from research into a film called The Steel Shutter, 1974, which documents a "conflict resolution therapy session" held by American psychologist Carl Rogers in the early 1970s with individuals from various political and socio-economic backgrounds in Northern Ireland. Using transcripts of these therapy sessions as scripts to be performed by actors as verbatim theatre, Jones re-stages the event in Korea, re-enacting the film with eleven Korean actors.

The transfer of the historical narrative of Northern Ireland to a Korean context aims to create a Brechtian estrangement; a vacillation between the self and the other. Through its simultaneous presentation of the vernacular and uncanny, The Other North provides an opportunity to consider the effects of cultural, political, and national divisions, and their influence on individuals beyond geographic, political and psychological borders.