Wie man sieht (As You See) – In memory of filmmaker Harun Farocki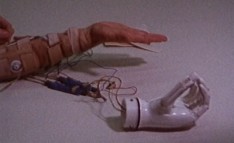 The Goethe-Institut Los Angeles and Los Angeles Filmforum present
Wie man sieht (As You See) –
In memory of filmmaker Harun Farocki
Wednesday February 11, 2015, 7:00 pm
Screening 5: Wie man sieht (As You See)
Film Series
Wednesdays, January 14th through March 4th 2015
Goethe-Institut Los Angeles, 5750 Wilshire Blvd. Suite 100, Los Angeles, CA 90036
German with English subtitles
Free admission, but RSVP needed, by email to rsvp@losangeles.goethe.org or the 323.525.3388
Harun Farocki – the director whose perspicacious cinematic essays analyzed the new media world – died in July 2014.  With his radical way of looking at things Farocki strove to endow images with their own form of self-will, to expose their political and cultural coding.

Farocki lived and worked in Berlin as a filmmaker, artist and writer. His essay and observational films question the production and perception of images, decoding film as a medium and examining how audiovisual culture is related to history, politics, technology and war.
His projects have been shown in festivals and solo, group and retrospective exhibitions worldwide at important events and international institutions, including the 2010 São Paulo Biennial, Documenta X and XXII in Kassel, Tate Modern in London, MACBA in Barcelona, Museum Ludwig in Cologne and the Jeu de Paume in Paris.
All films in this series are in German with English Subtitles, unless otherwise noted.
For more event information: info@losangeles.goethe.org, or +1 323 5253388
Tickets: Free, but please RSVP due to limited seating, by email to rsvp@losangeles.goethe.org or the 323.525.3388
$1 validated parking (for events only) on weekdays after 6:00 pm and all day on weekends in the Wilshire Courtyard West underground garage-P1.
 Special Thanks to Daniel Chaffey of the Goethe-Institut Los Angeles and Lucas Quigley for organizing this series.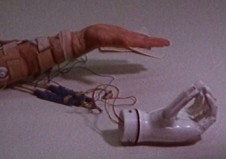 Wie man sieht (As You See)
1986, 72 min., color and b/w, German with English subtitles. Digital.
My film As You See is an action-filled feature film. It reflects upon girls in porn magazines to whom names are ascribed and about the nameless dead in mass graves, upon machines that are so ugly that coverings have to be used to protect the workers' eyes, upon engines that are too beautiful to be hidden under the hoods of cars, upon labor techniques that either cling to the notion of the hand and the brain working together or want to do away with it.
My film As You See is an essay film. The contemporary opinion industry is like a huge mouth, or maybe a paper shredder. I compose a new text out of these scraps and thus stage a paper-chase.
My film is made up of many details and creates a lot of image-image and word-image and word-word relationships among them. So there's a lot to chew on. I searched for and found a form in which once can make a little money go a long way. (Harun Farocki)