Recycled Cinema with Roger Beebe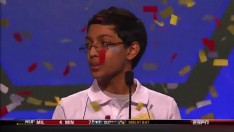 Recycled Cinema with Roger Beebe
At the Spielberg Theatre at the Egyptian, 6712 Hollywood Blvd., Los Angeles CA 90028
Filmmaker Roger Beebe and musician Cody Hennessy in person!
Filmforum is delighted to welcome filmmaker philosopher Roger Beebe to our small confines with some of his expansive media works. With this show, Roger says
"I'm thinking about all of these films and videos as being related—through some notion of "foundness"—to the detritus of multinational capital, whether that's in the form of the built landscape of the strip mall and its omnipresent signage (The Strip Mall Trilogy, AAAAA Motion Picture) or a more fully "mediated" landscape of mass media representations (Historia Calamitatum, [sic] series, Dirty Harry and the Hendersons.) I've increasingly been thinking about the continuity between the found footage film and all the other kinds of films I've made, where even shooting feels like just another way of re-presenting the world as found."
The evening includes a live-scored two-projector performance of AAAAA Motion Picture, and also the dual-projector film TB TX Dance -- it's gonna be quite a show!
Tickets: $10 general, $6 students/seniors; free for Filmforum members. Available by credit card in advance from Brown Paper Tickets at http://bpt.me/1294204 or at the door.
Roger Beebe is an Associate Professor in the Department of Art at the Ohio State University. He has screened his films at hundreds of venues including the CBS Jumbotron in Times Square and McMurdo Station in Antarctica (and Rotterdam, Sundance, MoMA, etc.). He has won numerous honors and awards including a 2013 MacDowell Colony residency, a 2009 Visiting Foreign Artists Grant from the Canada Council for the Arts, a 2006 Individual Artist Grant from the State of Florida, and Best Experimental Film at the 2006 Chicago Underground Film Festival. Beebe is also a film programmer: he ran Flicker, a festival of small-gauge film in Chapel Hill, NC, from 1997-2000 and was the founder and Artistic Director of FLEX, the Florida Experimental Film Festival from 2004-2014.
Cody Hennesy is a freeform DJ on KALX 90.7FM and a librarian at UC Berkeley. He makes up music sometimes too.
---------------
This program is supported by the Los Angeles County Board of Supervisors through the Los Angeles County Arts Commission; the Department of Cultural Affairs, City of Los Angeles; and the Mike Kelley Foundation for the Arts. Additional support generously provided by American Cinematheque. We also depend on our members, ticket buyers, and individual donors.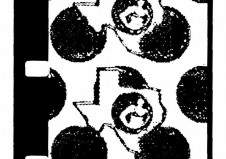 TB TX DANCE
(2006, 2:30, 16mm x 2)
From the Lunchfilm series: curator Mike Plante takes a filmmaker out to lunch and then gets a film for the cost of the meal in trade. Some rules are written on a napkin: Reference dance. Reference Texas. Have an autograph in it. Mention Toni Basil. Made on a black-and-white laser printer with the soundtrack also created by the image as it passes the projector's exciter lamp.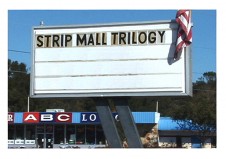 The Strip Mall Trilogy
(2001, 9:10, super 8mm)
"The Strip Mall Trilogy" is a series of three city symphonies that attempt to liberate color, sound, and form from the sprawling consumerist landscape of postmodern America.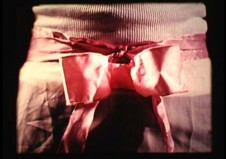 A Woman, A Mirror
(2001, 15:00, 16mm)
As its subtitle says, "A Woman, A Mirror" is a "Portrait of a Girl, Abstracted and Containing Moments of Reflection on the Relationship between Women and Air Transportation." It combines disparate elements-- images of Women in the Air Force in WWII, dance movement, a speech given by Amelia Earhart, illustrations of flight maneuvers--to explore the complex interconnections of different discourses of gendered technology.
Dirty Harry and the Hendersons
(1998, 3:13, digital video)
A found footage video that critiques both the rogue cop that I learned to love in my youth and the happy nuclear family with their barely concealed murderous desires. Edited on linear tape.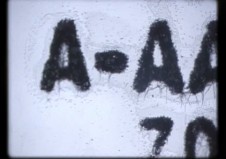 AAAAA Motion Picture
(2010, 11:00, 16mm x 2)
LIVE SOUNDTRACK BY CODY HENNESY.
The Manhattan phone book has 14 pages of companies jockeying to be at the start of the alphabetical listings. Capitalism triumphs over linguistic richness yet again. Our challenge: to learn how to write poetry when there's only one letter left.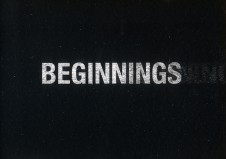 Beginnings
(2009, 5:00, digital audio)
Los Angeles premiere!
My lazy man's Biblical concordance.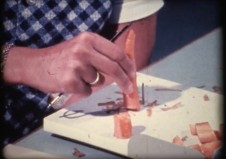 [sic] series
(2015, 5:00, 16mm)
Los Angeles premiere!
My contribution to the "perfect film" tradition. Three disparate fragments re-presented exactly as found.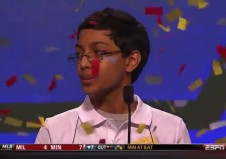 Historia Calamitatum (The Story of My Misfortunes), Part 2: The Crying Game
(2014, 21:00, HD video)
Los Angeles premiere!
It's all right to cry. Sometimes it's better than all right.