Dark Sides of Intimacy, with Charles Atlas
Sunday March 15, 2015, 7:30 pm
Los Angeles Filmforum presents
Dark Sides of Intimacy with Charles Atlas 
At the Spielberg Theatre at the Egyptian, 6712 Hollywood Blvd., Los Angeles CA 90028
Charles Atlas in person!
Charles Atlas has been a pioneering figure in film and video for over four decades, extending the limits of his medium and forging new territory in a far-reaching range of genres, stylistic approaches, and techniques. Over the years he has made media/dance works, multi-channel video installations, feature-length documentaries, video art works for television, and live electronic performances.
Atlas' practice is firmly rooted in the moving image, and he is most famous for works that blur the line between experimental dance documentation and performance for the camera. 
Throughout his career, he has consistently fostered collaborative relationships, working intimately with such artists and performers as Leigh Bowery, Michael Clark, Douglas Dunn, Marina Abramovic, Yvonne Rainer, Mika Tajima/New Humans, Antony & The Johnsons, and most notably Merce Cunningham, for whom he served as filmmaker-in-residence for a decade from the early 1970s through 1983.  Tonight, the violence of love. The pain of heartbreak. Filmmaker Charles Atlas's two dark comedies take on death, love, lust and violence through humor, eroticism and pathos.
For more event information: www.lafilmforum.org, or 323-377-7238           
Tickets: $10 general, $6 students/seniors; free for Filmforum members.  Available by credit card in advance from Brown Paper Tickets at http://bpt.me/1332642 or at the door.
This screening is part of ATLAS IN LA, a nine-day festival of film screenings of work by internationally exhibited filmmaker Charles Atlas, which will occur March 10th-19th at eight venues around Los Angeles. The festival will kick-off with Atlas taking the stage at the Hammer Museum to discuss his career as a collaborator, filmmaker and video artist. The programming for each venue will align with its mission and scope. The programs at Echo Park Film Center and Los Angeles Filmforum focus on narrative driven experimental film, while the films at 356 Mission, Cal Arts, Human Resources and Park View focus more on Atlas relationship to the collaboration with choreographers and dancers. The series of films shown at ONE Archives will situate itself within their mission to engage with queer history. Accompanying his screening his screening at 356 Mission/Ooga Booga will be a book release of Charles Atlas' first monograph, published by Prestel.  Full details at http://atlasinla.tumblr.com/  
Events include:
March 10 – Hammer Museum
March 11 – ONE ARCHIVES
March 13 – 356 S. Mission/Ooga Twooga
March 14 & 16 – Human Resources
March 15 – Los Angeles Filmforum
March 17 – Cal Arts
March 19 – Echo Park Film Center
March 1 – April 5 – Exhibition on view at Park View
Charles Atlas' practice is firmly rooted in the moving image, and he is most famous for works that blur the line between experimental dance documentation and performance for the camera. In his 40-year career, he has produced dance films, experimental videos and documentary features. Atlas has collaborated extensively with other artists, dancers and choreographers, including Marina Abramovic, Antony and the Johnsons, Leigh Bowery, Michael Clark, Merce Cunningham, and Yvonne Rainer. Atlas has exhibited internationally at Tate Modern, Centre Pompidou, De Hallen, South London Gallery, SALT Istanbul, Walker Art Center, and he has been included in four Whitney Biennials including 2012, but his work has rarely screened in Los Angeles. ATLAS IN LA is opportunity to expose the city of Los Angeles to many more of Atlas' films and videos.
Charles Atlas was born in St. Louis, MO in 1949; he has lived and worked in New York City since the early 1970s. His work has been exhibited and is in the permanent collections of such institutions as Tate Modern, London; the Museum of Modern Art, New York; the Centre Pompidou, Paris; the Institute of Contemporary Art/Boston; Hamburger Bahnhof – Museum für Gegenwart, Berlin; the Whitney Museum of American Art, New York; and the New Museum, New York, among many others.
ATLAS IN LA is organized by Paul Pescador.
Images and content courtesy of the artist, Electronic Arts Intermix and Luhring Augustine, New York.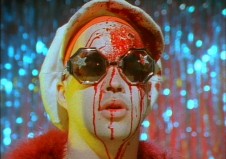 Son of Sam and Delilah
Son of Sam and Delilah
Charles Atlas, 1991, USA, color, sound, 26 min.
Son of Sam and Delilah, takes place in New York City 1988. A time of raging homophobia, a killer on the loose, and disco dancing till dawn as performers struggle to survive. This film is an entertaining amalgam of cross-cut scenes featuring New York performance luminaries including John Kelly, Hapi Phace and DANCENOISE. A metaphor for the AIDS crisis, Son of Sam and Delilah is a dark vision of an America where life is cheap and even the moments of tenderness have a life threatening edge.
Superhoney
Charles Atlas, 1994, Denmark, color, sound, 51 min.

Superhoney a futuristic danse macabre, in which Atlas creates a fully realized cyber-gothic world, rife with both erotic and physical danger. We follow our heroine on her travels through a world inhabited by libidinal robots, human profligates, statuesque hairdressers and a bevy of other intriguing individuals. Her stylized and blank-faced nonchalance mirror the performative passion and violence, which surrounds her. Atlas unhinges his own well-developed aesthetic in order to more fully explore the interplay between ambivalence and pleasure.