Cauleen Smith: The Way Out Is the Way Two
Thursday, March 12, 2015, 7:00 pm
MOCA, 250 South Grand Avenue, Los Angeles, CA 90012
In person: Cauleen Smith
The Way Out Is the Way Two: Fourteen Short Films About Chicago and Sun Ra is a feature-length constellation of experimental psychogeographic films on Sun Ra, improvisation, and creative music. Revolving around cosmic jazz composer Sun Ra's time in Chicago, from 1945-1961, this lyrical, sci-fi, history lesson moves freely between quasi-narrative, documentary, and performance practices. These frequent jumps between idioms create a vibrating tension, oscillating between art and life, joy and mourning, hope and paranoia. Smith will be in attendance to discuss her work.
Tickets: $12 general admission; $7 students with valid ID
Tickets available in advance at http://www.brownpapertickets.com/event/258310
FREE for MOCA and Los Angeles Filmforum members; must present current membership card to claim free tickets
INFO 213/621-1745 or education@moca.org
Cauleen Smith is an interdisciplinary artist whose work reflects upon the everyday possibilities of the imagination. Though operating in multiple materials and arenas, Smith roots her work firmly within the discourse of mid-twentieth century experimental film. Drawing from structuralism, third world cinema, and science fiction, Smith makes things that deploy the tactics of these disciplines while offering a phenomenological experience for spectators and participants. Smith's films, objects, and installations have been featured in group exhibitions at the Studio Museum of Harlem; Houston Contemporary Art Museum; the Blanton Museum of Art, Austin; San Diego Museum of Contemporary Art; Yerba Buena Center for Art; the New Museum, New York; D21, Leipzig; and Decad, Berlin. She has had solo shows at The Kitchen, MCA Chicago; Threewalls, Chicago; Women & Their Work, Austin. Smith is the recipient of several grants and awards including the Rockefeller Media Arts Award, Creative Capital Film/Video, Chicago 3Arts Grant, and the Foundation for Contemporary Arts. Smith was born in Riverside, California and grew up in Sacramento. She earned a BA in Creative Arts from San Francisco State University and an MFA from the University of California, Los Angeles School of Theater Film and Television. She currently lives in Chicago while teaching at the Vermont College of Fine Art low-residency MFA program.
Related Program:
Cauleen Smith will give an artist talk at Art + Practice, a new art and social service organization in Leimert Park on Wednesday, March 11, 7:30pm. Art + Practice is located at 4339 Leimert Blvd. Los Angeles, CA 90008.  http://hammer.ucla.edu/blog/2014/11/art-practice/
Acknowledgements:
Los Angeles Filmforum at MOCA is supported through both organizations by the Los Angeles County Board of Supervisors through the Los Angeles County Arts Commission. Additional support of Filmforum's screening series comes from the Mike Kelley Foundation for the Arts and the Department of Cultural Affairs, City of Los Angeles. We also depend on our members, ticket buyers, and individual donors.
Los Angeles Filmforum at MOCA furthers MOCA's mission to be the defining museum of contemporary art with a bimonthly series of film and video screenings organized and co-presented by Los Angeles Filmforum—the city's longest-running organization dedicated to weekly screenings of experimental film, documentaries, video art, and experimental animation.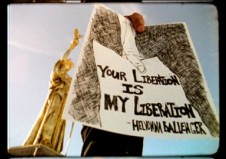 The Way Out Is the Way Two: Fourteen Short Films About Chicago and Sun Ra
(2012, Color, sound, digital video, 78 minutes)
In African and African-Diasporic cultural production, improvisation signifies mastery. The substitution of one thing for another can sometimes represent a concept more effectively than the thing itself. My recent work has been guided by research into Sun Ra's creative production process and the very nature of his melodies. The time that Sun Ra spent in Chicago was formative. He rehearsed his Arkestra, he wrote some of his most delicate and gorgeous big-band compositions here, and he engaged in intensive historical and linguistic research, in cooperation with other autodidact scholars with the aim of revising history. Sun Ra and his cohorts found ample evidence in primary sources that African thought and spirituality was central to all modern thought and science; and they aimed to prove it through research, through writings, and through art. My recent work is a celebration of Sun Ra's success in this endeavor as well as a way of expanding his legacy to include his deep and abiding love and commitment to African-American youth, to the underdog, and to the outsider. --Cauleen Smith