Yours in Sisterhood, LA premiere!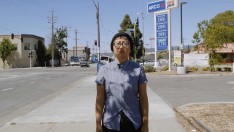 Los Angeles Filmforum presents
Yours in Sisterhood, by Irene Lusztig
Sunday, July 28, 2019, 7:30 pm
At the Spielberg Theatre at the Egyptian, 6712 Hollywood Blvd., Los Angeles, CA 90028
Irene Lusztig in person!  Los Angeles premiere!
Co-sponsored by the Women's Center for Creative Work, https://womenscenterforcreativework.com/
"Simple and staggering. The history of public feminism is restaged so as to create a new kind of contemporary public feminism. One that is intentional, intersectional, face-to-face, and handmade." – Los Angeles Review of Books
What might be revealed in the process of inviting strangers to act out and respond to 1970s feminism today? Between 2015 and 2017, hundreds of strangers in communities all over the US were invited to read aloud and respond to letters from the 70s sent to the editor of Ms. Magazine–the first mainstream feminist magazine in the US. The intimate, provocative, and sometimes heartbreaking conversations that emerge from these spontaneous performances make us think critically about the past, present, and future of feminism. Newly urgent in the aftermath of the 2016 election, YOURS IN SISTERHOOD is a collective portrait of feminism now and forty years ago–a project about time travel, embodied listening, empathy, public discourse, and the lost art of letter writing.
Tickets: $10 general; $6 students (with ID)/seniors; free for Filmforum Members. Available in advance from Brown Paper Tickets at https://yoursinsisterhood.bpt.me or at the door.
About the Filmmaker:
IRENE LUSZTIG is a filmmaker, visual artist, archival researcher, and amateur seamstress. Her film and video work mines old images and technologies for new meanings in order to reframe, recuperate, and reanimate forgotten and neglected histories. Often beginning with rigorous research in archives, her work brings historical materials into conversation with the present day, inviting viewers to explore historical spaces as a way to contemplate larger questions of politics, ideology, and the production of personal, collective, and national memories. Much of her current work is centered on public feminism, language, and histories of women and women's bodies, including her debut feature Reconstruction (2001) the feature length archival film essay The Motherhood Archives (2013) and the ongoing web-based Worry Box Project (2011).
Born in England to Romanian parents, Irene grew up in Boston and has lived in France, Italy, Romania, China, and Russia. Her work has been screened around the world, including at the Berlinale, MoMA, Museum of Fine Arts Boston, Anthology Film Archives, Pacific Film Archive, Flaherty NYC, IDFA Amsterdam, RIDM Montréal, Hot Docs, AFI Docs, and BFI London Film Festival and on television in the US, Europe, and Taiwan. She teaches filmmaking at UC Santa Cruz where she is Associate Professor of Film and Digital Media; she lives in the Santa Cruz Mountains. photo: R. Ron Jones
----------------------
Los Angeles Filmforum screenings are supported by the Academy of Motion Picture Arts and Sciences, the Los Angeles County Board of Supervisors through the Los Angeles County Arts Commission and the Department of Cultural Affairs, City of Los Angeles. We also depend on our members, ticket buyers, and individual donors.
Yours In Sisterhood
2018, HD video, color, sound, 101 minutes
Project Concept / Casting / Camera / Editing: Irene Lusztig
Sound Design / Tuning Forks: Maile Colbert
Director's Statement:  An angry woman in Atlanta talks about the harassment she experiences in public space. An aspiring policewoman complains that the police station in her small Iowa town refuses to hire qualified women. A sixteen-year-old girl haltingly comes out as a lesbian for the first time. These are just a few of the thousands of fascinating letters to the editor–far too many to publish–that arrived at the Ms. magazine office in the 70s. These letters were written by women, men, and children of all ages, from all over the country, and from across the spectrum of sexual orientation, religious, racial, and ethnic background, physical ability, and political viewpoint. Spanning deeply personal accounts of individual problems, revelations, and political struggles, these 70s letters are a powerful invocation of the second-wave feminist slogan "the personal is political." - Irene Lusztig