Limite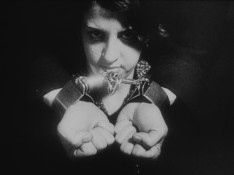 Los Angeles Filmforum presents
Limite, by Mário Peixoto – 1931 classic Brazilian experimental film
At the Spielberg Theatre at the Egyptian, 6712 Hollywood Blvd., Los Angeles CA 90028
As prelude to our Fall and Winter series Ismo Ism Ismo: Cine Experimental en América Latina (Ism Ism Ism: Experimental Film in Latin America), Filmforum presents the remarkable 1931 Brazilian experimental feature Limite.  An astonishing creation, Limite is the only feature by the Brazilian director and author Mário Peixoto, made when he was just twenty-two years old. Inspired by a haunting André Kertész photograph on the cover of a French magazine, this avant-garde silent master­piece centers on a man and two women lost at sea, their pasts unfolding through flashbacks propelled by the music of Erik Satie, Claude Debussy, Igor Stravinsky, and others. An early work of independent Latin American filmmaking, Limite was famously difficult to see for most of the twentieth century. It is a pioneering achievement that continues to captivate with its timeless visual poetry.  Possibly the Los Angeles premiere!
This film was restored by the Film Foundation.  
Presented courtesy of the World Cinema Project in collaboration with the Cineteca di Bologna.  Special thanks to Ben Crossley-Marra and Brian Belovarac, Janus Films.
Ismo Ism Ismo: Cine Experimental en América Latina (Ism Ism Ism: Experimental Film in Latin America), is a series sixteen curated screenings, hosted in a combination of screening venues, museums, galleries and community spaces located throughout Southern California. Screenings will take place from September 2017 until January 2018 as part of Pacific Standard Time: Los Angeles/Latin America (PST: L.A./L.A.) 
Ism, Ism, Ism will be the first major exhibition in the United States to include a broad range of experimental cinema from Latin America and will introduce U.S. audiences to a selection of rare cinematic masterworks in combination with resources that will help audiences better understand and discuss these films' history and aesthetics. Many of the works in the series are largely unknown in the United States and most screenings will include national and area premieres.  To make this project possible, Filmforum has collaborated with scholars and curators in Argentina, Brazil, Colombia, Cuba, Ecuador, Mexico, Uruguay, San Francisco, and Switzerland.  Check back as this exciting effort progresses.     
Tickets: $10 general admission; $6 students (with ID)/seniors; free for Filmforum members.
Tickets available at http://limite.bpt.me or at the door
For more event information: www.lafilmforum.org, or 323-377-7238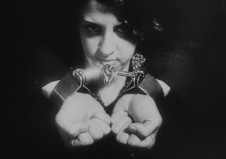 Limite
By Mário Peixoto
1931, Brazil, b& w, 1.37:1, 120 minutes
"When the magazine Filme cultura conducted a poll in 1968 on the best Brazilian films of all time, Limite ranked tenth, even though the film had been out of circulation for over thirty-five years and completely inaccessible for almost a decade. Limite was long consigned to a game of telephone, yet it was precisely that trajectory that granted it a fate most Brazilian silent films never had. Like Greed (1924), Citizen Kane (1941), A Brighter Summer Day (1991), or Hard to Be a God (2013), it is a rare cult film that lives up to its mythology, a singular work born out of peculiar insularity. When seen today, the film still seems to open doors to cinematic territories that remain vastly unexplored. This historical missing link can really be understood only through this prism, a legacy of decay, missed connections, and passionate reinvention….
"Limite is both poetry and prose; a metaphor about the inexorability of the human condition as much as it is an experience of tactile memories, salty wind and sunburnt skin. The film reveals depth by adhering to the surface, finding common ground for Robert Flaherty's direct approach (the near absence of makeup, the fraying costumes, the merciless glow of the sun) and Man Ray's exploration of film as a flat canvas (of fabric, of sand, of newspaper headlines). The shots alternate between perspectives, using the camera as a polyphonic narrator: it can "see" as a character, as the wind, as the wheel of a train, creating a rhythmic experience that aspires to transcend physicality yet is always pulled back to the physical world, much like the stranded boat." -- Fábio Andrade, https://www.criterion.com/current/posts/4627-limite-memory-in-the-present-tense