Experimenta India: Films from the Indian Avant-Garde 2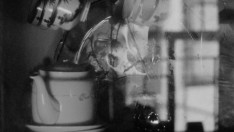 Los Angeles Filmforum presents
Experimenta India: Films from the Indian Avant-Garde Program 2

At the UCLA Film & Television Archive, Billy Wilder Theatre, UCLA Hammer Museum,  10899 Wilshire Blvd, Los Angeles, CA 90024
Artists/curators Shai Heredia & Shumona Goel in person!
Note the change from our usual location, day, and time!
Los Angeles Filmforum is thrilled to present two distinct programs of historical and contemporary experimental Indian films curated by filmmakers Shai Heredia and Shumona Goel who will be in person from India for these two unique and rare screenings.
Despite a long and internationally celebrated cinematic tradition, the Indian avant-garde is much lesser known to American audiences than the many canonical works of Indian feature filmmaking.  With generous support from the Mike Kelley Foundation for the Arts, Filmforum has invited Shai Heredia and Shumona Goel to present their own acclaimed works along with a specially curated selection of short films that will attempt an abbreviated  survey of India's experimental cinematic landscape.  Their joint visit to Los Angeles to share and discuss their and other artists' work is an incredibly rare opportunity not to be missed!
Over two different programs, a necessarily fractional but illuminating view of the extensive and eclectic Indian avant-garde will be traced by our guests, spanning 1960s experimental classics by artists such as Pramod Pati to contemporary artists working today.
More information on the individual film lineups will be announced soon, but we are pleased to already confirm that two multi-award-winning short films by Heredia and Goel - I AM MICRO (2010) and AN OLD DOG'S DIARY (2015) - will be included in the programs.
Filmforum is also extremely pleased to collaborate with the  UCLA Film & Television Archive in presenting tonight's program 2. 
Tickets: $10.00 advance; or at the door for
General admission:  $9.00; Seniors:  $8.00; UCLA Alumni Association Members:  $8.00
Non-UCLA students:  $8.00; UCLA students and Filmforum members:  Free (see policy)
Available by credit card in advance thru the UCLA Film & Television Archive website at https://www.cinema.ucla.edu/events/2017/08/28/experimenta-india or at the door.
For more event information: https://www.cinema.ucla.edu/events/2017/08/28/experimenta-india  or 323-377-7238
Biographies
Shumona Goel is a Mumbai based artist working in film, video and photography. After finishing her BA in Film from Bard College, New York, Shumona completed her MA in Anthropology from School of Oriental and African Studies, London. She has directed and produced several documentaries, short films and commercials since.
Her films have been screened at numerous film festivals and since 2008 she has been exploring expanded forms of cinema. Shumona especially enjoys working with low-tech, outdated formats such as VHS cassettes and slide projections. She is the recipient of the Emerging Artist Award 2008 from the Foundation for Indian Contemporary Art.
Shai Heredia is a filmmaker and curator of film art. She founded Experimenta - the international festival for experimental cinema in India - in 2003 in Mumbai. Over the years, she has rapidly developed the festival into a significant international forum for artists' film and video. Shai has also curated experimental film programmes for various film festivals. Shai holds an MA in documentary film from Goldsmiths College, London. She is currently a Programme Executive at the India Foundation for the Arts, Bangalore.
---------------------------
This program is supported by the Mike Kelley Foundation for the Arts; the Los Angeles County Board of Supervisors through the Los Angeles County Arts Commission; the Department of Cultural Affairs, City of Los Angeles; and Bloomberg Philanthropies. We also depend on our members, ticket buyers, and individual donors.
CAMERA THREAT by Bernd Lützeler
2017, color, sound, 29min. Los Angeles premiere!
Somewhere in the dreary nooks of Mumbai's film industry, Camera Threat explores the ambivalent relationship this film city has with the moving image. Seated on a casting couch, two actors are getting stuck in impromptu conversations on the side effects of a world that no longer bothers to tell facts from fiction.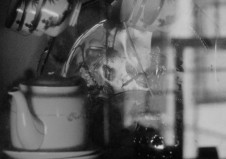 AN OLD DOG'S DIARY by Shumona Goel & Shai Heredia
2015, b/w, sound, 12min.
An Old Dog's Diary assembles, in puzzle-piece evocations, a portrait of an artist. The film links fragments of his writings, letters and drawings that are charged with memories of an unsettled life.
NOON DAY DISPENSARY by Priya Sen
2014, color, sound, 27min. Los Angeles premiere!
Filmed at the government run free dispensary at Savda-Ghevra Resettlement Colony in Delhi, as part of a fellowship exploring urban resettlement, this video was amongst several others that were produced spontaneously, attempting to reclaim the style and philosophies of cinema verite. Through the 'performance' of the filmmaker and her frame, it bears witness to a moment in the transition between being illegal occupants of the city, to being legally resettled, and the range of negotiations and subjectivities that accompanies this shift.
I AM 20 by SNS Sastry
1967, b/w, sound, 20min.
Twenty years after India's independence, the filmmaker travels across the country and interviews its youth, those born in 1947. What does independence mean to them? What are their dreams?