This is the City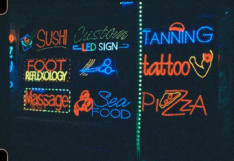 Filmmakers Thom Andersen, Clay Dean and Programmer Madison Brookshire in Person!
Los Angeles is perhaps the most photographed, yet least understood city in the world. For all of the countless images, it is as though few people have actually seen the city well enough to depict it. Coinciding with A New Sculpturalism: Contemporary Architecture from Southern California, Los Angeles Filmforum at MOCA presents a program of recent films that break this mold, and in so doing document the changing landscape of the city in the 21st century. Thom Andersen, Alexandra Cuesta, and Clay Dean use poignant and at times even poetic images of buildings, immigrant neighborhoods, deteriorating signage, and readymade still lifes to give us a sense of place as well as the uncanny. Serving as an elegiac prologue to this recent efflorescence of observational cinema is Kent MacKenzie's heartbreaking Bunker Hill 1956, a rich documentary memorializing the site whose destruction preceded downtown's current incarnation as a corporate office block (and home to MOCA).
Los Angeles Filmforum at MOCA furthers MOCA's mission to be the defining museum of contemporary art by adding a bimonthly series of film and video screenings organized and co-presented by Los Angeles Filmforum—the city's longest-running organization dedicated to weekly screenings of experimental film, documentaries, video art, and experimental animation.
Los Angeles Filmforum at MOCA is supported through both organizations by the Los Angeles County Board of Supervisors through the Los Angeles County Arts Commission; the Department of Cultural Affairs, City of Los Angeles; and at MOCA by Catherine Opie.
Bunker Hill 1956
Directed by Kent MacKenzie (1956, 16mm, b/w, sound, 18 min.)
Before making his landmark feature The Exiles, Kent MacKenzie produced this intelligent and sensitive portrait of the Bunker Hill neighborhood, which was already in 1956 under very serious threat of total redevelopment and eradication. The film focuses in particular on the single, elderly pensioners who lived in the neighborhood, and proposes that far from being a slum, Bunker Hill was a very defined and beloved community. —Mark Toscano
Despedida (Farewell)
Directed by Alexandra Cuesta (2013, 16mm, color, sound, 10 min.)
Shot in Boyle Heights in East Los Angeles, this transitory neighborhood resonates with the poetry of local resident Mapkaulu Roger Nduku. Verses about endings, looking and passing through open up the space projected. A string of tableaus gather a portrait of a place and compose a goodbye letter to an ephemeral home. —AC
Not West of Western
Directed by Clay Dean (2011, 16mm, b/w, sound, 13.5 min)
Walking within parameters that define the heart of Los Angeles, Not West of Western explores the cross section of still photography and cinema while at the same time calling attention to the unique cross-cultural landscape of the city. —CD
Get Out of the Car
Directed by Thom Andersen (2010, 16mm, color, sound, 35 min.)
Get Out of the Car is a city symphony film in 16mm composed from advertising signs, building facades, fragments of music and conversation, and unmarked sites of vanished cultural landmarks (including El Monte Legion Stadium and the Barrelhouse in Watts). The musical fragments compose an impressionistic survey of popular music made in Los Angeles (and a few other places) from 1941 to 1999, with an emphasis on rhythm'n'blues and jazz from the 1950s and corridos from the 1990s. The music of Richard Berry, Johnny Otis, Leiber and Stoller, and Los Tigres del Norte is featured prominently. —TA