Kevin Jerome Everson: More New Films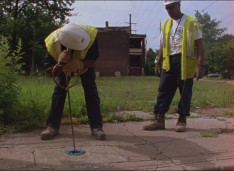 Los Angeles Filmforum presents
Kevin Jerome Everson: More New Films
Sunday, May 5, 2019, 7:30 pm
At the Spielberg Theatre at the Egyptian, 6712 Hollywood Blvd., Los Angeles, CA 90028
Kevin Jerome Everson in person!
Kevin Jerome Everson is one of the most prolific, important experimental filmmakers currently working. The kind of artist who thinks through the particular problems of cinema by making it, his indefatigable output perfectly fits Manny Farber's description of "termite" art as having "no sign that the artist has any other object in mind other than eating away the immediate boundaries of his art, and turning these boundaries into conditions of the next achievement." Everson's films, by turns light and deeply affective, are never not alive. Because of his near-constant innovation, each new film surprises. Everson's themes, though clearly identifiable, are never forced; they emerge organically through the course of his work. Among its many achievements, his oeuvre is one of the most significant records of contemporary African American life. Los Angeles Filmforum is delighted to welcome back Everson with the second program this week of recent works by Everson, including many premieres, with the artist in attendance.
Tickets: $10 general; $6 students (with ID)/seniors; free for Filmforum Members. Available in advance from Brown Paper Tickets at https://everson2.bpt.me or at the door.
For more information: www.lafilmforum.org or 323-377-7238.
Another screening with Everson is at MOCA on Thursday May 2, 2019.  More information at https://www.moca.org/program/filmforum-at-moca-presents-kevin-jerome-everson
All film stills copyright Kevin Jerome Everson; courtesy the artist; Trilobite- Arts DAC;Picture Palace Pictures.
Kevin Jerome Everson (b.1965, Mansfield, Ohio) was born and raised in Mansfield, Ohio. He has a MFA from Ohio University and a BFA from the University of Akron and is Professor of Art at the University of Virginia, Charlottesville. Everson was awarded the 2012 Alpert Award for Film/Video; his films has been the subject of mid-career retrospectives at Cinema du Reel/Centre Pompidou (March 2019); Glasgow Short Film Festival (March 2018); Harvard Film Archive (Feb. 2018); Tate Modern, London, UK (Fall 2017); Modern and Contemporary Art Museum, Seoul, Korea (Feb. 2017); Viennale (2014); Visions du Reel, Nyon, Switzerland (2012), The Whitney Museum of American Art, NY (2011) and Centre Pompidou, Paris in 2009. His work has been featured at the 2008, 2012, 2017 Whitney Biennials and the 2013 Sharjah Biennial and the 2018 Carnegie International, Pittsburgh. Along with critic Greg DeCuir Jr., Everson co-curated the 2018 Flaherty Seminar.
Everson's paintings, sculptures, and photographs--and films, including nine features(Spicebush, 2005; Cinnamon, 2006; The Golden Age of Fish, 2008; Erie, 2010; Quality Control, 2011; The Island of St. Matthews, 2013; Park Lanes, 2015; 8903 Empire, 2016; Tonsler Park, 2017) and over 140 short form works--have been exhibited internationally at film festivals including Sundance, Toronto, Venice, Rotterdam, Berlin, BFI/London, AFI, Oberhausen; cinemas, galleries, museums and public and private art institutions, including ICA, Philadelphia; Whitechapel, London; Wexner Center for the Arts, Columbus, OH; Museum of Modern Art, New York; & REDCAT, Los Angeles.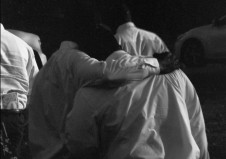 Sister
(2019, 2:18, b&w, silent)
Los Angeles premiere!
Mary Louise Everson Humphries Tubbs' grandsons lay her to rest.
Eason
(2016, 15:00, color, sound)
Los Angeles premiere!
Part of the one-hundred anniversary of the great Black migration in Philadelphia Pennsylvania, and commissioned by the
Scribe Center, Eason is loosely based on the life of James Walker Hood Eason (1886-1923) a long-time member of the UNIA of Philadelphia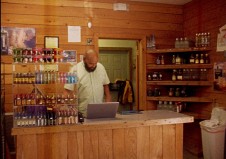 The Barrel
The Barrel (2019, 5:21, color, sound) is about a proprietor of a liquor store in Mississippi taking inventory.
Los Angeles premiere!
Union
Union illustrates the Virginia Union University football working together. (2019, 3:00, color, silent)
Los Angeles premiere!
Sound That
Sound That is about the employees of the Cleveland Water Department on the hunt for leaks in the infrastructure in
Cuyahoga County. (2014, 11:40, color, sound)
Traveling Shoes
(2019, 7:00, b&w, sound)
Traveling Shoes is based on the hit record by the Mansfeld, Ohio based gospel group, The Brown Singers.  Los Angeles premiere!
Richland Blue
(2019, 4:29, b&w, sound)
Los Angeles premiere!
Richland Blue is about the films produced by the corrupt Richland County police in the 1960s and 1970s. Two in particular: a stag film and a shoplifting public service announcement featuring an African American woman the police had arrested for shoplifting.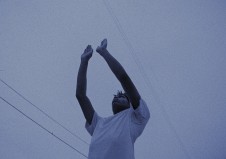 IFO
(2017, 9:50, b/w, sound) Los Angeles premiere!
IFO is about three famous UFO sightings over Mansfield, Ohio. 
Ears, Nose and Throat
(2016, 10:10, color, sound)
Los Angeles premiere!
During an Ears, Nose and Throat examination, Shadeena Brooks recounts a horrible event she eyewitnessed.