May Days (Grands soirs et petits matins), by William Klein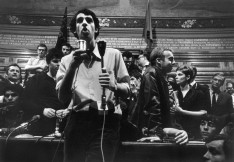 Los Angeles Filmforum presents
1968: May Days (Grands soirs et petits matins), by William Klein
Sunday, May 27, 2018, 7:30 pm
At the Spielberg Theatre at the Egyptian, 6712 Hollywood Blvd., Los Angeles CA 90028
Part of 1968: Visions of Possibilities
Introduced by Ed Dimendberg!
A documentary about May 1968. Shot in black and white with a hand-held camera, this is the most precious, balanced and disturbing account we have of the spirit of May '68.
At the request of students studying at the Sorbonne, William Klein filmed events in the Latin Quarter of Paris. This footage was intended to be used as part of an umbrella film about May 1968 which, due to multiple dissensions, could never be completed at the time. The film is given over to the people, students, militants, union activists, those who in daily life barely have any contact with each other who can suddenly express themselves. We listen to workers, housewives, waiters, store owners, immigrants, school-children, pensioners, dissatisfied yuppies, repentant bosses, angry young men and women of every type and political tendency, whose passionate discussions ebb and flow across the city. Good intentions, rumors, revelations, wild dreams and speeches, incisive and far-fetched analyses, dramatic turns of events, plots, confessions, crises of conscience, good and bad trips and psychodramas. Talking and talking into delirium.
A consummate street photographer, William Klein dived into the middle of les événements of May '68 in France. But instead of documenting the action, with its barricades and running battles, he focused on the utopian rhetoric of revolution uttered in discussions, crowded meetings, and through megaphones. Blink and you'll miss Alain Resnais, Jacques Rivette, Marguerite Duras and other notables amidst the thronged engagés.  In French with English subtitles.
Edward Dimendberg is Professor of Humanities at the University of California, Irvine.  He has published extensively on film and the built environment.  This coming year he will be a fellow of the J.S. Guggenheim Memorial Foundation and the Consortium Scholar at the Getty Research Institute.  He is currently writing a book entitled The Los Angeles Project: Architectural and Urban Theories of the City of Exception. 
INFO: www.lafilmforum.org , 323-377-7238
Tickets: $10 general; $6 students/seniors; free for Filmforum members.  Available in advance at https://maydays.bpt.me or at the door. 
Screening:
May Days (Grands soirs et petits matins), by William Klein
France, 1978, 16mm transferred to digital, b&w, sound, 98 min. 
"SM: I'm excited the Quad is showing your less well-known work about 1968, Grand Soirs and Petit Matins (May Days).
"WK: In French, the title Grand Soir "the revolution" and Petit Matins — "the hangover" — allowed me to show what was happening. I was very sympathetic to the students, but critical of fantasy. The students who occupied the Sorbonne wanted to make a real revolution but they never got anywhere. They were in the process of upturning their government, and they almost succeeded. But I was skeptical over the idea of a student revolution becoming a general one, because I saw what was happening. In France, the universities work in a way that's not like they work in America — the professors have their lectures, they're photocopied, students can buy them for a few francs, and there can never be any discussion between the lecturers and the students. The French system of university was very reactionary — when you talk about Daniel Cohn-Bendit, you have to know that his 22nd of March movement wanted the students to have a say in the running of the university, and that's how the movement started. It became a national thing; general movements followed. I filmed the events day by day, and the film was edited in six months.
"SM: I had read about it being four hours, originally — the Quad cut is just over an hour and a half.
"WK: Well, listen: life goes on. You do one thing, then you do another. Maybe the original was four hours, and there's another, shorter version that's more useful — okay?" —  from "I'm Disillusioned All the Time": William Klein on His Legendary Film Career, by Steve Macfarlane, Hyperallergic, 
"A rousing 90-minute documentary on May '68, William Klein's Grands noirs & petits matins observes both students and workers protesting in the streets and the activities of the various assemblies and committees within the Sorbonne. Although it risks reifying and fetishizing the revolutionary past, the film offers an invaluable and comprehensive vision of this rupture in everyday reality. Klein gained such exceptional access to the Sorbonne by chance. In an interview elsewhere, he states that he was smoking outside a suburban ciné-club when "a bunch of students from the Sorbonne came by and said, 'Listen, we're sick of having all these camera crews come to the Sorbonne and say, 'We're Dutch or Norwegian television,' we don't know whether they're cops or not, so we want to have Cinema Sorbonne. Who would be willing to be Cinema Sorbonne? I was standing there and I said, 'I'll do it.'" The film covers the last week of May and the beginning of June, so it focuses less on the origins of the revolutionary movement than on the difficulties of maintaining it in the face of growing internal and external divisions. Except for intertitles that briefly note the date and location, the film lets the footage speak for itself, and speak it does. For the entire 90 minutes, people restlessly debate the reformist limitations of the unions and the Communist Party, argue over whether workers or students "lead" the revolution, and bark out messages to noisy crowds. René Viénet's Enragés and Situationists and Gregoire & Perlman's Worker-Student Action Committees are rather helpful for understanding the context of these discussions, as well as for clarifying the organization of the various groups that Klein wanders into in the Sorbonne. Of course the film shows a number of general assemblies, but it also documents different action committees making plans in meetings (Marguerite Duras even appears on one committee) or carrying out everyday necessities within the occupied university, such as providing childcare, preparing food, and schooling adolescents in revolutionary theory." – Brian Raiski, http://retentionalfinitude.blogspot.com/2010/02/william-klein-grands-soirs-petits.html
William Klein:
New York native William Klein's innovative view of camera processes has challenged prevailing notions of "good photography." He graduated from high school at age fourteen and was enrolled at the City College of New York when he joined the Army in 1945. After his demobilization in Paris, he stayed to study art with Fernand Léger, and while there he met several other artists, including the American painters Ellsworth Kelly and Jack Youngerman. In the early 1950s, Klein began making experimental abstract photographs of his paintings while they were in motion. These pictures led to a job offer from Alexander Liberman at Vogue, and Klein returned to New York in 1954. While doing fashion photography for Liberman, Klein worked on what would become his classic photographic book, Life Is Good and Good for You in New York: William Klein Trance Witness Revels (1956), which he designed, wrote, and typeset. Klein received the Prix Nadar in 1957 for this book, and followed it with three more expressive portraits of cities: Rome (1958), Moscow (1962), and Tokyo (1964). Shortly after ending his contract with Vogue in 1965, he stopped making still photographs, returned to Paris, and devoted himself to filmmaking, Among his many films are Cassius the Great, Muhammad Ali the Greatest, and The Little Richard Story. Klein resumed still photography part-time in 1978.
Klein photography of the 1950s was unusual for its time: grainy, blurry, high-contrast photographs--qualities generally considered defects in the popular photographic community. Klein not only accepted but cultivated these qualities by using a 35-millimeter camera, slow film, and a wide-angle lens, for both his fashion photography and his personal work. His approach set a precedent for many street photographers of the 1960s, whose work draws upon many of his innovations. -- Lisa Hostetler, International Center of Photography, https://www.icp.org/browse/archive/constituents/william-klein?all/all/all/all/0
---------------------------
This program is supported by the Academy of Motion Picture Arts & Sciences; the Los Angeles County Board of Supervisors through the Los Angeles County Arts Commission; the Department of Cultural Affairs, City of Los Angeles. We also depend on our members, ticket buyers, and individual donors.
Los Angeles Filmforum is the city's longest-running organization dedicated to weekly screenings of experimental film, documentaries, video art, and experimental animation. 2018 is our 43rd year.
Memberships available, $70 single, $115 dual, or $50 single student
Contact us at lafilmforum@yahoo.com.
Find us online at http://lafilmforum.org.
Become a fan on Facebook and follow us on Twitter @LosAngFilmforum!