1968: Black Panthers and Black Power
Sunday, March 25, 2018, 7:30pm
Los Angeles Filmforum presents
1968: Visions of Possibilities, part 1 – Black Panthers and Black Power
At the Spielberg Theatre at the Egyptian, 6712 Hollywood Blvd, Los Angeles, CA 90028

Over the course of the year, Filmforum will present a variety of films reflecting the turbulent global events of 1968, films made in that time, and works reflecting on the long-term effects and disappointments of the activist efforts and violent responses.  From the assassinations of Martin Luther King, Jr and Robert Kennedy to the Democratic Convention and 1968 presidential election in the US, to the strikes in France in May and the Prague Spring and Soviet crushing of it, these films of and on 1968 utilize many voices and techniques to show an era that seemed lost but perhaps now cycles back to our consciousness and actions.
Our first screening in the series first looks at the real Black Panthers and their actions in Oakland, through their own film, and through the view of an outside sympathetic observer, Agnès Varda.  Two lesser known works remind us of the cultural and student actions of the year.  San Francisco State: On Strike covers the student efforts, led by students of color but joined by the full spectrum, to expand the educational possibilities at a state university.  And in Newark, New Jersey, Amiri Baraka (then still going by the name Leroi Jones), made an experimental documentary of the theatrical and political actions of African-Americans in the city that year.  Thought lost for many years, one copy of the film turned up at the Harvard Film Archive in 2014 and is now transferred and available for view, its vibrant colors and consciousness-raising intact for our generation.  Certainly the first screening in Los Angeles since the 1970s, and possibly the LA premiere.  Curated by Alison Kozberg and Adam Hyman
Tickets: $10 general; $6 for students/seniors; free for Filmforum members. Available in advance from Brown Paper Tickets at https://bpt.me/3373885 or at the door.

For more information: www.lafilmforum.org or 323-377-7238
Black Panthers
Directed and written by Agnès Varda
1968, 16mm transferred to digital, color, sound, 28 min.
Agnès Varda turns her camera on an Oakland demonstration against the imprisonment of activist and Black Panthers cofounder Huey P. Newton. In addition to evincing Varda's fascination with her adopted surroundings and her empathy, this perceptive short is also a powerful political statement.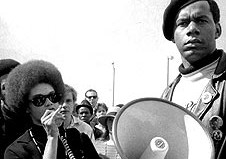 Black Panther
1969, 16mm transferred to video, b&w, sound, 14 min.
A film that the Black Panthers used to promote their cause. Shot in 1969, in Oakland, San Francisco and Sacramento, this exemplar of 1960s activist filmmaking traces the development of the Black Panther organization. In an interview from jail, Minister of Defense Huey P. Newton describes the origins of the Panther Party, Eldridge Cleaver explains the Panthers' appeal to the Black community, and Chairman Bobby Seale enumerates the Panther 10-Point Program as Panthers march and demonstrate.
San Francisco State: On Strike
1969, 16mm transferred to video, b&w, sound, 20 min.
Ethnic studies courses are common today, but that hasn't always been the case. In many ways, multicultural education can be traced back to San Francisco in 1968-1969. In one of the most high-profile student actions of the 1960s, students at San Francisco State University went on strike, shutting down the campus for six months. University president S.I. Hayakawa called in the police, who busted heads and arrested hundreds in an attempt to restore control of the campus. But the strike didn't end until the school acceded to student demands and created the first ethnic studies department at an American university. This film, shot by the students and their allies, is a classic primary source document of the 1960s.
The New-Ark
Directed by Amiri Baraka
1968, 16mm transferred to Blu-ray, color, 25 min.
Recently rediscovered, and possibly the Los Angeles premiere!
Amiri Baraka (formerly LeRoi Jones) was commissioned by the Public Broadcast Laboratory of National Public Television to make a documentary, and he bravely set out, along with cinematographer James Hinton, to document Black Power in Newark, New Jersey. Beginning as a city-symphony of Newark streets, buildings and people set to wordless chanting, The New-Ark quickly arrives at its political imperatives: Black Power must be accomplished through nationalism, and "a nation is organization." The film focuses on black education, urban public theater and political consciousness-raising inside and outside of Spirit House—Baraka's black nationalist community center. Lost for years and recently rediscovered at Harvard in 2014, The New-Ark was restored and preserved by the Harvard Film Archive.