The Site of Memory: Enframed Histories as Ritual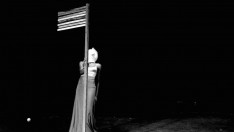 Los Angeles Filmforum presents
The Site of Memory: Enframed Histories as Ritual
At The Egyptian Theater, 6712 Hollywood Blvd, Los Angeles, CA 90028
In Person: filmmakers dana washington, Suné Woods and Lisa Diane Wedgeworth, with curators Jheanelle Brown and Darol Olu Kae
The Site of Memory: Enframed Histories as Ritual provides a cursory look at Black women film and video artists from or working in Southern California. These filmmakers are using the visual medium to mediate memory with cultural objects that intervene into different histories—both personal and collective—and attempt to reclaim, trouble, and/or reimagine the past. The filmmakers included in this program are at different stages in their careers and varied in discipline: some can be considered filmmakers and photographers while others are multidisciplinary artists who primarily work in installations in museum and gallery spaces. We are attempting to stage an intergenerational conversation with older works present in this program for historical interrogation and temporal context. —Jheanelle Brown and Darol Olu Kae, guest programmers
Tickets: $10 general admission; $6 students (with ID)/seniors; free for Filmforum members.
Tickets available in advance at http://bpt.me/2961773 or at the door.
Biographies
Callie Mae Nichole Lyons is a dancer and filmmaker based in Los Angeles, California with upbringings in Augusta, Georgia. Trained extensively in modern dance, she experiments with compositional dance tools as a means to heighten kinesthetic sensations in film praxis. In addition to making films, she continues to work both domestically and internationally with Brooklyn based choreographer, Jonah Bokaer. She received her B.A. in Dance and Business Marketing from Loyola Marymount University, her M.F.A. in Dance and New Media from NYU's Tisch School of the Arts and currently working on her second M.F.A. in Film Production from the University of Southern California's School of Cinematic Arts.
A veteran of independent film and video, Zeinabu irene Davis has produced numerous award winning works. Her vision is passionately focused on the depiction of African American women - their hopes, dreams, past and future. Her latest work, a dramatic feature film entitled Compensation uses silent cinema techniques to portray two inter-related love stories that offer a view of Black Deaf culture. Her interests include altering and diversifying the terrain of mass media, film history, world cinema, and folklore. She frequently writes and lectures on African and African American cinema.
Jamilah Sabur was born in Saint Andrew Parish, Jamaica and lives and works in Miami. Sabur received her BFA in Interdisciplinary Sculpture from Maryland Institute College of Art in 2009 and an MFA from University of California San Diego in 2014. Recent exhibition and screening venues include REDCAT, Los Angeles; MoMAPS1, NY; Armory Art Center, Palm Beach; and HistoryMiami Museum.
Cauleen Smith is an interdisciplinary artist whose work reflects upon the everyday possibilities of the imagination. Operating in multiple materials and arenas, Smith roots her work firmly within the discourse of mid-twentieth-century experimental film while also drawing on third world cinema and science fiction. Smith earned a BA in Creative Arts from San Francisco State University and an MFA from the University of California, Los Angeles School of Theater Film and Television. She is currently based in Chicago and serves as visiting assistant professor at University of Illinois, Chicago. Her films, objects, and installations have been featured in group exhibitions at Museum of Contemporary Art, Chicago, Studio Museum of Harlem, Houston Contemporary Art Museum; Yerba Buena Center for Art; the New Museum, New York; D21 Leipzig and Decad, Berlin. She has had solo shows for her films, drawings, and installations at Center for Contemporary Art and Culture, Portland, Oregon; Contemporary Arts Center, UC Irvine; Art Institute of Chicago; MCA Chicago, and Threewalls, Chicago. Smith is the recipient of several grants and awards including the Rockefeller Media Arts Award, Creative Capital Film/Video, Herb Alpert Award in the Arts in Film and Video, and is the 2016 inaugural recipient of the Ellsworth Kelly Award. She is represented by Corbett vs. Dempsey, Chicago and Kate Werble, New York. 
"you see my work, you see my spirit."
dana washington is a multidisciplinary artist from Buena Park, California. By employing
imagery, narrative storytelling, and imagining Black Utopian life, her works riff on Blackness, gender-identity formation, memory, and magical realism. Working in artistic mediums of literature (composition), photography, cinema, and installation, dana is continuing her research and practice as a Master of Fine Arts candidate at the University of California, San Diego.
Lisa Diane Wedgeworth is a Los Angeles-based multi-disciplinary artist whose work is rooted in storytelling. Informed by personal narratives, her work takes form as painting, video, installation, photography and archived oral histories. Wedgeworth earned both her MFA and BA degrees in Studio Art from California State University, Los Angeles. Her work has been shown in one-person and group exhibitions at AWOL, El Sereno; the Nan Rae Gallery, Burbank; 18th Street Arts Complex, Santa Monica; and in Los Angeles at Charlie James Gallery, Autonomie Projects, Papillion Art, the Luckman Fine Art Gallery, L.A. Freewaves, and at the California African American Museum. She is a 2017 Woman's Building Animating the Archives Fellow.
Suné Woods is an artist living in Los Angeles. Her work takes the form of multi-channel video installations, photographs, and collage. Woods' practice examines absences and vulnerabilities within cultural and social histories. She also uses microsomal sites such as family to understand larger sociological phenomenon, imperialist mechanisms, and formations of knowledge. She is interested in how language is emoted, guarded, and translated through the absence/presence of a physical body. She has participated in residencies at Headlands Center of the Arts, Vermont Studio Center, The Center for Photography at Woodstock, and Light Work in Syracuse. Woods is a recipient of the Visions from the New California initiative, The John Gutmann Fellowship Award, and The Baum Award for an Emerging American Photographer.
Organized by Jheanelle Brown and Darol Olu Kae
Jheanelle Brown is a film producer, programmer, and arts educator who is committed to honoring, expanding, and empowering Blackness onscreen.
Darol Olu Kae is a filmmaker, archivist, and scholar based in Los Angeles focusing on the complexities and possibilities of a black film aesthetic.
---------------------------
This program is supported by the Los Angeles County Board of Supervisors through the Los Angeles County Arts Commission; the Department of Cultural Affairs, City of Los Angeles; and Bloomberg Philanthropies. We also depend on our members, ticket buyers, and individual donors.
why you always talk about Freedom// there is no Explanation
By dana washington (a film by black daughters)
2016, Digital video, black-and-white, sound, 1 minute
Inspired by a telephone conversation with a friend regarding Freedom, feelings, and the impact social media have on millennials' psycho-emotional rationale. Narrated by dana washington.
Storytelling: lucid dream
By dana washington (a film by black daughters)

2016, Digital video, black-and-white, sound, 1 minute
The convergence of self-realization and hypothetical romance through lucid dream memory recall. Soundtrack by Ben Webster and Oscar Peterson, "When Your Lover Has Gone." Narrated by dana washington.
Untitled (Home Depot)
By Lisa Diane Wedgeworth

2016, Digital video, silent, black-and-white, 6 minutes, 46 seconds
Wedgeworth recounts an experience at Home Depot that recalls memories of objects and the descriptive language that have been used to qualify her body specifically and the female body in general from a distinctly male perspective.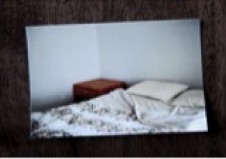 Würzburg
By Suné Woods
2013, Single channel video, dimensions variable, 1 minute, 26 seconds
Würzburg, named for a city in Germany occupied by the United States after WWII. Children born from relationships with American soldiers and German women were often given up for adoption, encouraged both by the German government (refusing mothers public assistance) and the US Army (by denying paternity claims by African American fathers). Learning of this history inspired my desire to explore how two strangers briefly share time and space. Language, both German and English, in this piece I use to articulate what can be felt through voice and what is often lost in translation. —Suné Woods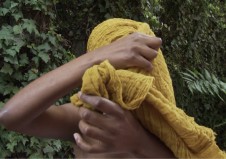 Grigri
By Callie Mae Nichole Lyons
2017, Digital video, 5 minutes
A woman contends with vague recollections of darkness and life. –Jheanelle Brown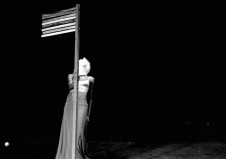 Playing Possum
By Jamilah Sabur
2012, Single-channel video, 9 minutes, 5 seconds
A love letter to death. "Elijah" by Mahalia Jackson was playing in the studio and I slipped into a trance, the only goal was 'becoming.' When a possum is under threat it plays dead to avoid death. The space in the studio became a world I felt close to, I was underwater on the moon. In composing the video during the editing process, I composed a score for the first two-thirds but used American composer, Jon Forshee's score "Sinew" as the structure to edit the video, which appears in the last third of the video, where the exploration is the spatialization of sound. I wanted to create an atmosphere in the video that appear to be like the changes in ambient pressure, like what happens to a body that slips into the cold airless void—when the human body is suddenly exposed to the vacuum of space or deep water—sudden depressurization.
—Jamilah Sabur
Cycles
By Zeinabu irene Davis
1989, 35mm to digital video, sound, 17 minutes
Rasheeda Allen is waiting for her period, a state of anticipation familiar to all women. Drawing on Caribbean folklore, this exuberant experimental drama uses animation and live action to discover a film language unique to African American women. The multilayered soundtrack combines a chorus of women's voices with the music of Africa and the diaspora-including Miriam Makeba, acapella singers from Haiti and trumpetiste Clora Bryant.
Daily Rains
By Cauleen Smith
1991, 16mm to digital video, 12 minutes
Adult Black women remember childhood experiences with racism and their resultant coming-to-consciousness. —Jheanelle Brown