L.A. OLA: Mimosas
L.A. OLA, the American Cinematheque, and Los Angeles Filmforum present
Mimosas, by Oliver Laxe
At the Spielberg Theatre at the Egyptian, 6712 Hollywood Blvd., Los Angeles CA 90028
Mimosas, winner of the Grand Prize at the Cannes Critics' Week 2016, with director Oliver Laxe in person!

Tickets: $12 general admission; $8 for American Cinematheque and Filmforum members.
Tickets available at http://www.fandango.com/egyptiantheatrehollywood_aaofx/theaterpage?date=5/21/2017
or at the door
For more on L.A. OLA, visit http://laolashowcase.com/
For more event information: http://www.americancinemathequecalendar.com/content/mimosas-0
or call 323.466.3456
L.A. OLA has provided Los Angeles with a window into the most innovative cinema from Spain for two consecutive years.  Mimosas, winner of the Grand Prize at the Cannes Critics' Week 2016, will be the closing film for this third edition of the Spanish showcase. Director Oliver Laxe will present his film in person at the Egyptian Theater. Other four films will complete the 2017 feature program of L.A. OLA: Oleg and the Strange Arts by Andrés Duque; No Cow on the Ice by Eloy Domínguez Serén; Agata's Friends by Alba Cros, Marta Verheyen, Laura Rius, and Laia Alabart and That feeling by Juan Cavestany, Pablo Hernando, and Julián Génisson. All feature films will be preceded by a short film curated in collaboration with renown Spanish international Short Film Festival Curtocircuito.  For full info on L.A. OLA, visit http://laolashowcase.com/
One of the main novelties of this 2017 edition will be the addition of a new unique venue: the Rooftop Cinema Club at The Montalbán, a state-of-the-art outdoors theater with wireless headphones located at the heart of Hollywood.  In addition to the screenings, L.A. OLA Los Angeles programming will include music performances, master classes and a panel discussion titled 'Women in the US and European Independent Film Industries'
The Spanish filmmaking scene is emerging as one of the most fertile and successful in Europe with a new generation of young Spanish filmmakers who are winning great acclaim at prestigious international film festivals such as Locarno, Berlin, Rotterdam, and Cannes. Despite their critical success, these groundbreaking Spanish films have struggled to gain access to the traditional distribution channels. L.A. OLA aims to create a bridge between Spain and the U.S., giving exposure to all these extraordinary films in such culturally relevant cities as Los Angeles and NY. The showcase is a not-to-be-missed event for devotees of contemporary world cinema and a meeting point for two continents.
L.A. OLA is a project of La Panda Productions and Playtime Audiovisuales, in partnership with Spain Fresh and Curtocircuito, directed by Rocio Mesa. L.A.OLA is organized with the support of Consulate General of Spain in Los Angeles, Acción Cultural de España AC/E, Trade Commission of Spain ICEX, Institut Ramon Llull and ELMA; and the collaboration of SPAIN arts and culture, Rooftop Cinema Club at The Montalbán, The American Cinematheque, Los Angeles Filmforum and The Echo Park Film Center.
"Fajr"
(2016, 12 min. Dir. Lois Patiño). In the Moroccan desert, night dilutes forms and silence slides through sand. Dawn then starts to draw silhouettes of dunes while motionless figures punctuate the landscape. From night's abstraction, light returns dimension to space and volume to bodies. Stillness concentrates gaze. The adhan - Muslim call to prayer - sounds, and immobility begins to irradiate. And now the bodies are those that dissolve into the desert.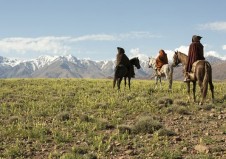 Mimosas
Dir: Oliver Laxe (2016, Grasshopper Film, 96 min, Spain/Morocco/France/Romania/Qatar)
Director Oliver Laxe's new film is a breathtakingly shot "Eastern Western," which follows a caravan carrying a dying sheikh into the Moroccan Atlas Mountains. The elderly sheik's last wish is to be buried with his loved ones in the village where he was born. But death does not wait, and without their leader, the company grows fearful and entrusts the body to two men who agree to bring it to its final destination. Meanwhile, in another world, a mysterious young man is chosen to find the caravan. Winner of the Nespresso Grand Prize at Cannes Critics' Week 2016, among other international awards.