Underground Movies, program 2: Spaces of Extraction
Sunday November 14, 4:00 pm Pacific Standard Time followed by a live Q&A with curators Jenny Perlin and Leo Goldsmith and filmmakers.
Please note that the show time starts at 4 pm, and the films will play one time only. They will not be available after the screening.
Caves, sewers, subways, mines, bunkers, crypts—the planet's real and mythic subterranean spaces have served a capacious array of functions, as sources of fossil fuels and imaginative speculation alike. This series of programs explores how moving-image artists have tackled these hidden worlds—through documentary observation into their murky depths, performative bodily engagement, abstraction, archival montage, and computer graphics. Drawing together films from a historically and geographically diverse field—from early cinema to contemporary artists' moving image; from the Americas, Asia, and Europe— "Underground Movies" charts a unique aesthetic terrain through which to explore larger questions of human's material and psychological relation to the planet's substructure—as a space to be reshaped and exploited, but also as one in which to imagine ourselves anew. —JP &L
Programmed by Jenny Perlin and Leo Goldsmith
Ticketing for Underground Movies program 2: Sliding Scale, requested $12 for general admission, $8 students/seniors, $0 for Filmforum members, at https://watch.eventive.org/undergroundmovies/play/617a20ddcd4b3c0078d559d7
Guest Programmers:
Leo Goldsmith is Visiting Assistant Professor of Culture and Media at Eugene Lang College, The New School. He is a co-author of Robert Stam's Keywords in Subversive Film/Media Aesthetics (Wiley, 2015) and the author of a book on the British filmmaker Peter Watkins (Verso, forthcoming). He is a frequent contributor to 4Columns, Reverse Shot, and The Brooklyn Rail, whose film section he co-edited from 2011 to 2017. A curator and film programmer, he currently serves as an advisor to the programming team of the New York Film Festival.
Jenny Perlin makes 16mm films, videos, and animations. Her films work with and against the documentary tradition, incorporating innovative stylistic techniques to emphasize issues of truth, misunderstanding, and personal history. Her projects look closely at ways in which social machinations are reflected in the fragments of daily life. Perlin's work has been shown in numerous exhibitions and film festivals, including at the Whitney Museum of American Art, the Guggenheim Museum, the Museum of Modern Art, the New York Film Festival, the Berlin Film Festival, the Rotterdam Film Festival, and others.
----------------------
Los Angeles Filmforum screenings are supported by the Los Angeles County Board of Supervisors through the Los Angeles County Department of Arts & Culture, the Department of Cultural Affairs, City of Los Angeles, the National Endowment for the Arts, the Mike Kelley Foundation for the Arts, the California Community Foundation, and the Academy of Motion Picture Arts & Sciences. We also depend on our members, ticket buyers, and individual donors.
Program 2: Spaces of Extraction
TRT 60 min.
Alma Silueta en Fuego (Silueta de Cenizas)
By Ana Mendieta
1975, Super-8mm film transferred to high-definition digital media, color, silent, 3:07
Ana Mendieta Filmworks No. 41 (GP1196)
From Mendieta's Siluetas series, this film depicts the artist's silhouette as a ring of fire in the dirt.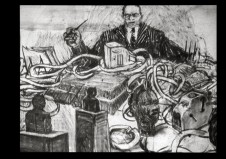 Mine
By William Kentridge
South Africa, 1991, 16mm film transferred to video; 5 min. 50 sec.
Courtesy the artist and Marian Goodman Gallery
A journey into the mines provides a visual representation of a journey into the conscience of Kentridge's invented character, Soho Eckstein, the white South African property owner who exploits the resources of land and black human labour which are under his domain. (Tate)
William Kentridge was born in 1955 in Johannesburg, South Africa where he currently lives and works. Often drawing from socio-political conditions in post-apartheid South Africa, William Kentridge's work takes on a form that is expressionist in nature. For Kentridge, the process of recording history is constructed from reconfigured fragments to arrive at a provisional understanding of the past—this act of recording, dismembering and reordering crosses over into an essential activity of the studio. His work spans a diverse range of artistic media such as drawing, performance, film, printmaking, sculpture and painting. Kentridge has also directed a number of acclaimed operas and theatrical productions.
Recent major exhibitions of Kentridge's work have been shown at Kunstmuseum Basel, Switzerland (2019); and a traveling show which opened at the Whitechapel Gallery, London in 2016 and travelled to subsequent venues, including the Louisiana Museum, Copenhagen, Denmark and the Museum der Moderne, Salzburg (2017). In 2016 his 500 meter frieze Triumphs and Laments was presented along the banks of the Tiber River in Rome. Notes Towards a Model Opera, shown at the Ullens Center in Beijing, China (2015) travelled as Peripheral Thinking to The National Museum of Modern and Contemporary Art, Seoul (2016). A major traveling exhibition, Fortuna, toured multiple venues in Latin America from 2012-2015. Kentridge has participated in Documenta (2012, 2002, 1997) as well as the Venice Biennale (2015, 2005, 1999 and 1993).
Olhe bem as montanhas / Look closely at the mountains 
By Ana Vaz
Brazil, 2018, HD, color, sound, 30 min.
Southwest Brazil and the Nord-Pas-de-Calais region in France are imaginatively superimposed in Ana Vaz's montage, which examines the ghostly traces of human activity on landscape—both of rapacious extractive capitalism and of the eradication of indigenous peoples.
Ana Vaz is an artist & filmmaker whose films, installations & performances speculate upon the relationships between myth & history, self & other through a cosmology of references & perspectives. Assemblages of found & shot materials, her films combine ethnography & speculation in exploring the f(r)ictions imprinted upon cultivated & savage environments. A graduate from the Royal Melbourne Institute of Technology & Le Fresnoy, Ana was also a member of the SPEAP (School of Political Arts), a project directed by Bruno Latour. Recent screenings of her work include the NYFF, TIFF, Courtisane, Cinéma du Réel (Grand Prix) & specific focuses dedicated to her work at the Flaherty Seminar (USA) and Doc's Kingdom (Portugal). Her work has featured in major group shows such as the Moscow Biennial of Young Art & the Dhaka Art Summit. In 2015, she received the Kazuko Trust Award presented by the Film Society of Lincoln Center in recognition of artistic excellence and innovation in her moving-image work.
Coal Face
By Alberto Cavalcanti
UK, 1935, 25mm, black and white, sound, screened as a digital file, 11 min.
The first influential film to be made by the GPO Film Unit, Coal Face continued the unit's experimentation with sound effects and music with its score by Benjamin Britten and poetic voiceover written by W. H. Auden, which belie the film's origins as a government-sponsored film about the importance of coal-mining to Britain's industry and subversively suggests its devastating human and ecological consequences.
Alberto Cavalcanti (1897-1982) was a Brazilian-born filmmaker whose career spanned half a century and at least half a dozen countries. Beginning as a set designer in the 1920s, Cavalcanti became a member of the Parisian avant-garde among artists including Marcel l'Herbier and Louis Delluc. His early films – including the pioneering "city symphony" Rien que les heures (1926) – led to an invitation, in 1934, from John Grierson to join the GPO Film Unit in London, where he worked as a producer, director, sound supervisor, editor, scriptwriter and art director, and later as head of the Unit upon Grierson's departure in 1937. He later directed films for Ealing Studios and Companhia Cinematografica Vera Cruz in Brazil. He continued making films until the late 1970s, working in East Germany, France, Israel, and elsewhere.
The Blood of Stars
By Raqs Media Collective
India, 2017, HD, color, sound, 13 min.
Los Angeles premiere
The Blood of Stars invites us to think about the relation between the presence of iron — a fugitive from the stars, sleeping deep inside the earth — and the veins of warm-blooded mammals. Meanwhile, it reads meteorites for clues about the stains at the edge of every sharp blade that cuts into flesh, and registers resonances that ricochet between mining, militarism and the mutations that mark a remote landscape. (RMC)
Raqs Media Collective (Jeebesh Bagchi, b.1965, New Delhi, Monica Narula, b. 1969, New Delhi, Shuddhabrata Sengupta, b. 1968, New Delhi) have been variously described as artists, media practitioners, curators, researchers, editors and catalysts of cultural processes. Their work is located at the intersections of contemporary art, historical enquiry, philosophical speculation, research and theory, often taking the form of installations, online and offline media objects, performances and encounters. Raqs follow their self-declared imperative of 'kinetic contemplation' to produce work that demands the viewer look anew at what they take for granted. Myths and histories of diverse provenances, a deep ambivalence towards modernity and a quiet but consistent critique of the operations of power and property inform their diverse oeuvre.