Ism, Ism, Ism: Bilingual Aesthetics: Negotiations Between Languages
Berkeley Art Museum Pacific Film Archive and Los Angeles Filmforum Present
Ism, Ism, Ism: Bilingual Aesthetics: Negotiations Between Languages
Tues - Thurs, November 10-12, 2020 All Day
Online via Berkeley Art Museum • Pacific Film Archive, Berkeley
https://bampfa.org/event/bilingual-aesthetics-negotiations-between-languages
Livestream conversation at Thursday, November 12, 7 PM PST: Co-curator Jesse Lerner with filmmakers Ximena Cuevas, Alex Halkin, Poli Marichal, and Bruno Varela
INFO: www.lafilmforum.org, 323-377-7238
Watch this program on your TV, computer, or mobile device through our streaming partner, Eventive, beginning November 10, 2020
Tickets: Rental fee: $12; discounted fee for BAMPFA members: $8. You will need to log in or create an Eventive account. Members: to receive your discount, you must log in to Eventive with the same email address you use to receive BAMPFA member communications. https://watch.eventive.org/bampfa/play/5f4d7a7f5bfba50071d27291
Ism, Ism,Ism: Experimental Cinema in Latin America concludes with this critical look at cinematic investigations around issues of languages and communication. Language is a site of social, cultural and geographic agency. Hundreds of languages are spoken in Latin America, beyond the Spanish and Portuguese imposed by the Conquest. In the context of the Conquest of the Aztec Empire, the role of la Malinche, Hernán Cortéz' translator, interpreter, and lover, was a central one, and she remains a potent and contested figure. This program explores the movement between languages as a manifestation of identitary pluralities. Unleashing the multiplication of heritage and affiliation in our contemporary landscape, these films reveal language as a will to power. In Bilingual Aesthetics the failure of language only makes language's success all the more sweet (Sommer).
The program ranges from explicit negotiations about land ownership in The Land Belongs to Those Who Work It (Chiapas Media Project, Mexico, 2005), in which the dialogue switches between Spanish and Tzeltal, to a more abstract exploration of a religious Inca celebration of change and new beginnings such as Pawqartampu (Felipe Esparza, Peru, 2015). The chief of the Guarani Mimbiá tribe narrates the extinction of the Tupinambá tribe in Sérgio Péo's Ñanderu Panorâmica Tupinambá (Brazil, 1991). Vincent Carelli and the Centro de Trabalho Indigenista have for many years used video as a tool for activism and intercultural communication in remote Amazonian regions, as the short documentary A arca dos Zo'é illustrates vividly. Poli Marichal in Dilemma I: Burundanga Boricua combines animation, documentary footage, and hand-painted film questioning the official representations of Puerto Rico as the Shining star.
This screening is part of Los Angeles Filmforum's screening series Ism, Ism, Ism: Experimental Cinema in Latin America (Ismo, Ismo, Ismo: Cine Experimental en América Latina). Ism, Ism, Ism is an unprecedented film series —the first in the U.S.—that surveys Latin America's vibrant experimental production from the 1930s through today. Revisiting classic titles and introducing recent works by key figures and emerging artists, Ism, Ism, Ism takes viewers on a journey through a wealth of materials culled from unexpected corners of Latin American film archives. Key historical and contemporary works from Argentina, Brazil, Bolivia, Chile, Colombia, Cuba, Ecuador, Mexico, Paraguay, Peru, Uruguay, Venezuela, Puerto Rico and the United States are featured. The online screenings in Fall 2020 will conclude the touring portion of Ism, Ism, Ism. www.ismismism.org
Ism, Ism, Ism is accompanied by a bilingual publication (from University of California Press) placing Latino and Latin American experimental cinema within a broader dialogue that explores different periods, cultural contexts, image-making models, and considerations of these filmmakers within international cinema.
Ism, Ism, Ism was originally part of Pacific Standard Time: LA/LA, a far-reaching and ambitious exploration of Latin American and Latino art in dialogue with Los Angeles that occurred in 2017-18. Explore more at www.ismismism.org

Lead support for Ism, Ism, Ism is provided through grants from the Getty Foundation.
Significant additional support comes from the Andy Warhol Foundation for Visual Arts, the National Endowment for the Arts, and the Mike Kelley Foundation for the Arts.
Pacific Standard Time is an initiative of the Getty. The presenting sponsor is Bank of America.
Promotional Support for these online screenings from WNDX Festival of Experimental Film, Winnipeg; Experiments in Cinema, Albuquerque; Lightbox Film Center, University of the Arts, Philadelphia.
---------------------------
Los Angeles Filmforum screenings are supported by the Los Angeles County Board of Supervisors through the Los Angeles County Department of Arts & Culture, the Department of Cultural Affairs, City of Los Angeles, the Wilhelm Family Foundation, the Academy of Motion Picture Arts & Sciences, and the American Cinematheque. We also depend on our members, ticket buyers, and individual donors.
Los Angeles Filmforum is the city's longest-running organization dedicated to weekly screenings of experimental film, documentaries, video art, and experimental animation. 2020 is our 45th year.
Memberships available, $75 single, $125 dual, or $40 single student. Contact us at lafilmforum@yahoo.com. www.lafilmforum.org.
Become a fan on Facebook and follow us on Twitter @LosAngFilmforum #lafilmforum and on Instagram @lafilmforum
Meeting Ancestors / A Arca dos Zo'é
Vincent Carelli and Dominique Gallois (Video in the Villages), 1993, 22 min., color, sound, video screened digitally, Brazil
Ñanderu Panorâmica Tupinambá  
Sérgio Péo, 1991, 8 min., color, sound, 16mm transferred to digital, Brazil.
The Land Belongs to Those Who Work It
Chiapas Media Project, 2005, 15 min., color, sound, digital, Mexico.
Pawqartampu
Felipe Esparza, 2015, 8 min., b&w, sound, digital, Peru.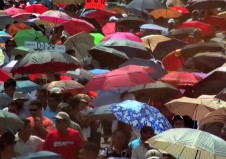 Estela 
Bruno Varela, 2012, 8min., b&w/color, sound, Super8 and digital transferred to digital, Mexico.
Estamos Para Servile (We're Here to Serve You)
Ximena Cuevas, 1999, 02:40 min., color, sound, video, Mexico.
Dilemma I: Burundanga Boricua 
Poli Marichal, 1990, 18 min., color, sound, Super 8, transferred to digital, Puerto Rico.