The Festival of (In)appropriation #11
Los Angeles Filmforum at the Egyptian presents
The Festival of (In)appropriation #11
Sunday, December 8, 2019, 7:30 pm
At the Spielberg Theatre at the Egyptian, 6712 Hollywood Blvd., Los Angeles CA 90028
In person: Filmmakers Kristy Guevara-Flanagan and Kate Lain, artist Terry Braunstein, and co-curator Greg Cohen!
Collage or compilation. Found footage film or recycled cinema. Remix or détournement. Whatever one might call it, the practice of incorporating preexistent media into new artworks engenders novel juxtapositions, new ideas, and latent connotations… often entirely unrelated to the intentions of the original makers. In that regard, such works are truly "inappropriate." Indeed, the act of (in)appropriation can reveal unimagined relationships between past and present, here and there, intention and subversion, artist and critic, and perhaps even compel us to reexamine what it means to be the "producer" or "consumer" of visual culture itself. Fortunately for our purposes, the past decades have witnessed the emergence of countless new kinds of audiovisual material available for artistic (in)appropriation. In addition to official state and commercial archives, resources like vernacular collections, home movie repositories, and digital archives now provide the artist with a wealth of fascinating matter to reprocess, repurpose, and endow with new meaning and resonance.
Founded in 2009 and curated by Jaimie Baron, Greg Cohen, and Lauren Berliner, the Festival of (In)appropriation is a yearly showcase of contemporary, short-form, audiovisual works that appropriate existing film, video, or other media and redeploy them in "inappropriate" and inventive ways. The Festival's 11th edition gathers a self-reflexive experimental biopic, a surreal Frankenstein collage animation, a YouTube-sourced musical supercut, a queer reframing of Mexican and Hollywood films, an acousmatic exploration of online beauty standards, a canine-based critique of capitalism, a playful quantum animation of old 16mm film, an interrogation of the dismantling of the major opposition newspaper in Hungary, a deconstruction of our popular culture obsession with female corpses, and a performative rejection of the gender politics of a cult film.
"Los Angeles is a city in a constant state of reinvention, its hybrid identities formed by the melding and layering of different cultures and histories atop one another. It is appropriate, then, that it is the birthplace of the Festival of (In)Appropriation, a showcase of experimental films that employ appropriation, collage, archival and found footage, mashups, and remixes." -- See this article by Matt Stromberg on this latest edition of the Festival, just published in Hyperallergic: https://hyperallergic.com/531520/festival-of-inappropriation-los-angeles-filmforum/
Watch this conversation about Festival of (In)appropriation #8 between Curator Greg Cohen and film scholar Constance Penley at UCSB's Carsey-Wolf Center (10/27/2016): https://vimeo.com/191083847
Read this review of Festival of (In)appropriation #7 (2015) in Artillery magazine: http://artillerymag.com/festival-inappropriation-7/
Check out this interview by Laura Wissot with curators Jaimie Baron and Greg Cohen in Filmmaker magazine: https://filmmakermagazine.com/84086-the-festival-of-inappropriation-6-at-los-angeles-filmforum/
Note the change in ticketing for our events at the Egyptian Theatre starting with this program.   Advance paid tickets will be reserved through the American Cinematheque site; Filmforum members will reserve through Brown Paper Tickets.  At the theatre on the night of the show, tickets will be available through the Egyptian Theatre ticket window.
Tickets: $12 general; $8 students (with ID)/seniors; $8 for American Cinematheque members; free for Filmforum Members. Paid tickets available in advance through the American Cinematheque from Fandango at https://www.fandango.com/egyptian-theatre-hollywood-AAOFX/theater-page?mode=general&q=90028 or at the door.
Filmforum member tickets available through Brown Paper Tickets at https://festivalofinappropriation.bpt.me or at the door. 
Fandango Sales:
https://www.fandango.com/egyptian-theatre-hollywood-AAOFX/theater-page?mode=general&q=90028 
Please note that student/senior tickets are not available online. Please bring your student ID and/or California ID or license to the box office to receive the discount. 
Filmforum members will reserve in advance through Brown Paper Tickets. All Filmforum member reservations will be administered to by Filmforum.
At the theatre on the night of the show, tickets will be available for purchase from the Egyptian Theatre box office. Filmforum members will pick up their tickets from the box office as well. The list will close four hours prior to showtime. Available Filmforum member tickets will be available at the box office on the day of the event.
The box office opens 90 minutes prior to showtime. More information about American Cinematheque ticketing can be found here: http://www.americancinematheque.com/information/
For more information: www.lafilmforum.org or 323-377-7238.
She Collage
By Kate Lain
US, 2015, digital video, color, sound 9:55
She Collage is part response to the work of California-based collage artist Terry Braunstein, part reflection on the practice of art-making. Like Braunstein's art, the film is itself a collage—in this case, frame-by-frame hand-manipulated images of Braunstein, paper cutout stop motion animation, archival footage, and an assemblage of sounds. (Kate Lain)
The Edge of Alchemy
By Stacey Steers
US, 2017, digital video, color, sound, 19:00
The actors Mary Pickford and Janet Gaynor are seamlessly appropriated from their early silent features and cast into a surreal epic with an upending of the Frankenstein story and an undercurrent of hive collapse. The third film in a trilogy examining women's inner world, this handmade film is constructed from over 6,500 collages. Music by Lech Jankowski of the Brothers Quay. (Stacey Steers)
Lorde – Supercut (Supercut)
By Duncan Robson
US, 2017, digital video, color, sound, 3:44
This unofficial music video for Lorde's "Supercut" from the 2017 album Melodrama is made from covers found on YouTube and Instagram, revealing the diversity of Lorde's fans as they earnestly channel themselves through Lorde's song and the internet.
La Mesa
By Adrian Garcia Gomez
US, 2018, digital video, color, sound, 9:45
La Mesa explores the intersections of memory, identity and queer desire. It recreates fragmented and romanticized stories of a childhood in rural Mexico as told by the filmmaker's father. These disjointed vignettes are interwoven with queered reenactments of scenes from popular culture. The filmmaker casts himself in the old Mexican films and American Westerns he grew up watching with his family in California. He appears as the romantic lead opposite the male actors, including Pedro Infante, Mexican national hero and the filmmaker's childhood crush. The animations are laid over footage of the old family home in Mexico which now sits alone, slowly being consumed by the surrounding countryside. By centering queer desire in his family's history, the filmmaker validates his childhood experiences while challenging popular representations of masculinity as well as traditional notions of power and vulnerability. (Adrian Garcia Gomez)
Am I Pretty?
By Jennifer Proctor
US, 2017, digital video, color, sound, 10:00
A visually silent film appropriating audio from YouTube videos uploaded by tween and teen girls primarily in 2012 as part of a meme. In these videos, the young women entreat viewers to evaluate whether or not they are pretty and post their responses in the comments. Am I Pretty? seeks to call attention to the act of spectatorship invoked in these videos, and what results when the visual basis for judgment is withheld – an acousmatic reduction through the denial of the promised image. (Jennifer Proctor)
Mark Zuckerberg's Dog
By Hawk Martha
US, 2017, digital video, color, sound, 1:34
A very serious critique of capitalism centered on the canine-in-chief of Facebook. (Jaimie Baron)
Light Plays
By Anne-Marie Bouchard
Canada, 2017, digital video, color, sound, 7:17
Old footage from 16mm film is scratched, drawn upon, experimentally animated with a quantum dots solution. The film seems at first about sound, the moon, and exotic birds, but it is also about narration, experimentation, and playfulness. (Anne-Marie Bouchard)
8th October 2016
By Péter Lichter
Hungary, 2017, digital video, color, sound, 2:00
The title of the film is the date on which the editorial staff of the Hungary´s largest opposition newspaper, Népszabadság, was fired. The filmmaker tore up copies of that day's issue, layered them, and then turned them into an urgent collage expressing his yearning for the free expression of opposition viewpoints. The visible edges of the film emphasize the impossibility of presenting information in a complete context. (Péter Lichter)
What Happened to Her
By Kristy Guevara-Flanagan
US, 2016, digital video, color, sound, 14:00
What Happened to Her is a forensic exploration of our cultural obsession with images of the dead woman on screen. Interspersing found footage from films and police procedural television shows and one actor's experience of playing the part of a corpse, the film offers a meditative critique on the trope of the dead female body. The visual narrative of the genre, one reinforced through its intense and pervasive repetition, is revealed as a highly structured pageant. Concurrently, the experience of physical invasion and exploitation voiced by the actor pierce the fabric of the screened fantasy. The result is recurring and magnetic film cliché laid bare. (Kristy Guevara-Flanagan)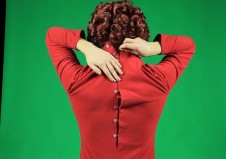 me and my army
Byy sair goetz
US, 2017, digital video, color, sound, 9:00
me and my army re-imagines the experiences of the actress Adrienne Corri — most famous for her role as a rape victim in Stanley Kubrick's A Clockwork Orange — as feminist performance art. (sair goetz)