Salomé, a film by Teo Hernandez, Scored live by Dorian Wood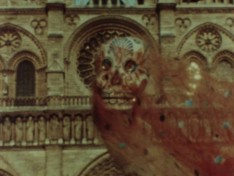 Los Angeles Filmforum & Dirty Looks present
Salomé, a film by Teo Hernandez, Scored live by Dorian Wood
Thursday December 5, 2019, 7:30 pm doors; screening starts at 8 pm
At the Philosophical Research Society, 3910 Los Feliz Boulevard, Los Angeles, CA 90027
Note the change in location & ticketing.
Co-presented by the French Film & TV Office, Consulate General of France, and the Philosophical Research Society
Tickets: $20; Filmforum Members $15, available on Restless Nights at restlessnites.com/salomedorianwood or at the door
More info at
https://www.facebook.com/events/2944194768942531/
www.lafilmforum.org or 323-377-7238.
The Mexican-born filmmaker Teo Hernández (1939-1993) embarked on a self-imposed exile to Paris in the late 1960s and became part of the super8 film movement, L'Ecole du Corps. loose-knit group of filmmakers used film to elliptically document and emulate the body in movement.  Filmforum included a couple of Hernández's astonishing short films in our series Ism, Ism, Ism: Experimental Cinema in Latin America.  Hernández's reworking of Oscar Wilde's Salomé is similarly impressionistic, moving over the surface of fabrics and architecture with as much care as it weaves its story arc. The film was initially projected at varying speeds, with differing soundtracks provided by the filmmaker, who requested that it be shown late in the evening, to best induce its dream-like trance upon audiences. 
 We bring you Salomé in 2019 with an original soundtrack performed by Dorian Wood, marrying the operatic evocations of Wood's singular voice with Hernandez's baroque cinematography in the unique architecture of the Philosophical Research Society.
 An underrepresented figure in the European gay counterculture, Hernandez was the subject of a solo exhibition in early 2019 at Villa Vassilieff, Paris, in association with Centre Pompidou.  The curator concluded, "similar to shamanism, Hernández's cinematographic technique explores other ways of seeing, hearing, and ultimately other bodies that may provoke another way to feel, to re-create and to re-write the world." - https://amis.centrepompidou.fr/en/activite/teo-hernandez-shatter-appearances/
Teodoro Hernández was an artist, filmmaker and writer, born in Hildago (Mexico).  During his architecture studies at the National Autonomous University of Mexico,  he founded the Experimental Cinematography Center (CEC). In 1966, he settled in Paris. With his fellow cine-artists Michel Nedjar, Jacques Hautbois aka Jakobois and Gaël Badaud, he created the experimental film collective MétroBarbèsRochechou Art. In 1984, Centre Pompidou mounted a retrospective of his work. Teo Hernández was also a photographer and writer. Hernandez passed away from HIV/AIDS related complications on the August 22, 1992. He produced more that 100 films, most of them in Super 8. Shortly before dying, Teo Hernández bequeathed his film work and personal files to Michel Nedjar, who donated them to Centre Pompidou for its conservation and dissemination.
Artist Dorian Wood seeks to glorify both the sanctity and irreverence of intimacy. They revel in challenging the artist-audience separation, using subject matter informed by their own position in society as a non-binary person of color and an autodidact. Their work has been showcased in concert halls and performance spaces around the world, including at such institutions as The Broad (Los Angeles), LACMA (Los Angeles), The Stone (NYC), MASS Gallery (Austin), Kulturhuset (Stockholm), and the City Hall of Madrid.
Founded in 1975, Los Angeles Filmforum promotes a greater understanding of media art, and the role of the artists and curators who create and present it, by providing a forum for independently produced, noncommercial work which has little opportunity of reaching the general public. Filmforum is currently the longest-running venue in Southern California dedicated exclusively to the ongoing, non-commercial exhibition of independent, experimental, and progressive cinema.
Dirty Looks Inc is a platform for queer film, video and performance founded in 2011 by Bradford Nordeen. Using film and time-based art to illuminate queer histories and liminal spaces across Los Angeles and New York City, Dirty Looks traces contemporary queer aesthetics through historical works, presenting quintessential GLBTQ film and video, alongside up-and-coming artists and filmmakers. Dirty Looks exhibits a lineage of queer tactics and visual styles for younger artists, casual viewers and seasoned avant-garde filmgoers, alike. A nebulous collective, we have worked closely with Karl McCool, Clara López Menéndez, in addition to over 50 guest curators, through our month-long, city-spanning festival Dirty Looks: On Location.
Over the course of eight years, Dirty Looks has staged screenings at The Museum of Modern Art, The Kitchen, The Hammer, Participant Inc, White Columns, ONE Archives, Artists Space and Judson Memorial Church. DL began regular Los Angeles programming in January 2015, instating a national reach for our programs. This is further bolstered by our Dirty Looks Volume series, which accumulates writing and ephemera that reflects our year-round programming in slim publications issued annually.
----------------------
Los Angeles Filmforum screenings are supported by the Los Angeles County Board of Supervisors through the Los Angeles County Arts Commission and the Department of Cultural Affairs, City of Los Angeles. We also depend on our members, ticket buyers, and individual donors.
Los Angeles Filmforum is the city's longest-running organization dedicated to weekly screenings of experimental film, documentaries, video art, and experimental animation. 2019 is our 44th year.
Coming Soon to Los Angeles Filmforum:
Dec 8 - The Festival of (In)appropriation #11, at the Egyptian Theatre
Memberships available, $70 single, $115 dual, or $50 single student
Contact us at lafilmforum@yahoo.com
Find us online at http://lafilmforum.org.
Become a fan on Facebook and follow us on Twitter @LosAngFilmforum and on Instagram at LAFilmforum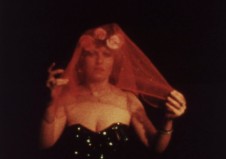 Salomé
Salomé
By Teo Hernandez
1976, Super 8mm blow up to 16mm, color, sound, 65 min.
Screening on 16mm.