My First Film, by Zia Anger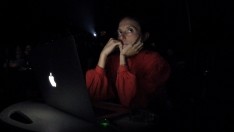 MEMORY, Los Angeles Filmforum, and Cinema Guild present
My First Film, A Live Cinema Presentation by Zia Anger
Friday, November 22, 2019, Doors Open 7:30pm. Show Starts 8pm
At the Downtown Independent, 251 S Main Street, Los Angeles
""A cathartic collective experiment in what it might mean to challenge failure, recalibrate it, and reclaim it anew."" -- Matt Turner, Sight & Sound
""A reclamation of a 'failed' work and a rebuke of the independent film industry's standards for success, My First Film plies the formal limits of a theatrical experience."" -- Sarah Salovaara, Filmmaker Magazine
""Defies convention, challenging what a film can be and how an artist can relate to their audience."" -- Dana Reinoos, HyperAllergic
""I have attended dozens, maybe hundreds, of talks about the lack of women feature film directors — an issue I care deeply about. But after a while, they all sound the same. Zia Anger has figured out a new way to discuss these issues, in an incredibly moving, personal, and creative way."" -- Miriam Bale, Indie Memphis Artistic Director
"Anger confronts one of the principal frustrations of independent filmmaking: the creation of a film that fails to get any release at all. Anger made such a film, "Gray," between 2010 and 2012, and in "My First Film," she does something about it—and, in the process, creates an altogether new and daring work of art." -- Richard Brody, "An Extraordinay Performance at MetrographL Zia Anger's My First Film, The New Yorker, https://www.newyorker.com/culture/the-front-row/an-extraordinary-performance-at-metrograph-zia-angers-my-first-film
The  international tour of Zia Anger's MY FIRST FILM concludes on Friday November 22 in Los Angeles.  In this expanded cinema performance the artist attempts to recount the stories behind her lost and abandoned work - including her first feature.
From Zia Anger, "Last year I Googled myself. I found my IMDB page, which listed my first attempt at a feature film as still being in "post-production." In the interest of mitigating the risk of any potential financiers coming along and seeing that I had a film from 2012 still unfinished I emailed IMDB to ask if they could remove the listing. It had been automatically added when I used Withoutabox to apply to festivals and without proper release, the entry sat in limbo. I never heard back, and a month later I checked my page again, and was surprised to learn that instead of removing the listing, they had labeled it 'abandoned' in red italic letters.
"My First Film" explores this "abandoned" mythos - from expired Instagram stories, to the nearly-finished feature I made in grad school. It erases the line drawn between a filmmaker's body and body of work. Lasting roughly 75 minutes, MY FIRST FILM reimagines the relationship between the audience, the filmmaker, the movie theatre, and the cinematic narrative, as I weave a narrative using real-time text, spontaneous Google searches, audience directives and AirDrops."
INFO: http://memory.is/my-first-film , www.lafilmforum.org
TICKETS Tickets:  $18 General Admission, $10 LA Filmforum Members, $10 Students (with ID).  Available in advance at  https://www.brownpapertickets.com/event/4437070
or at the door
Trailer: https://memory.is/my-first-film/trailer
Zia Anger works in moving images. In 2018 she began touring a new solo performance that traces the last ten-years of her lost and abandoned work, titled "My First Film". Her most recent short MY LAST FILM premiered at the 53rd New York Film Festival. In 2015 her short I REMEMBER NOTHING had its world premiere at New Directors/New Films and its international premiere at Festival del film Locarno. She has made music videos for various artists including:  Mitski, Beach House, Maggie Rogers, and Jenny Hval; the latter of whom she also toured with - as a performer and stage director. Her work has been written about in various publications including: Filmmaker Magazine, The New York Times, Pitchfork, Mubi, and The New Yorker.
In 2016 Zia participated in the Sundance Institutes Screenwriter's Intensive. In 2015 Zia was included in Filmmaker Magazine's "25 New Faces of Independent Film" issue. She is a 2015 fellow in film/video from the New York Foundation for the Arts. In 2008 she was the recipient of the Panavision New Filmmaker Grant for her short film LOVER BOY.  Anger graduated with a BA/BS from Ithaca College and an MFA at the School of the Arts Institute in Chicago. 
From 2010 to 2012, Zia made a micro-budget feature film ALWAYS ALL WAYS, ANNE MARIE in her hometown with some of her best friends and non-actors. Nobody saw the feature. She applied to nearly 50 festivals and it was rejected from every one. Did you know when nobody sees your first feature you're still considered a first time filmmaker?
About MEMORY
MEMORY is an independent artist-driven motion picture studio specializing in producing and curating innovative, thought-provoking works that push the formal boundaries of their medium. Focused on discovering and mentoring new diverse voices, MEMORY creates and showcases these new compositions on and off-line.
Sebastian Pardo and Riel Roch-Decter founded MEMORY at the start of 2014 and together have produced and distributed award-winning fiction and non-fiction films, as well as having curated and hosted film-related events. These projects have premiered in renowned international festivals such as  Venice, Berlinale, IFFRotterdam, Locarno, TIFF, SXSW, True / False, and AFI Fest. The films have played at prestigious institutions such as MoMA PS1, Tate Modern, MOCA, Gavin Brown Enterprise, ICA Miami, Lincoln Center, and the Harvard Film Archive, while MEMORY has hosted events at New York's Metrograph Theater, Sundance Film Festival, Phi Centre and Montreal's Museum of Art.
MEMORY has collaborated with multi-hyphenate filmmakers and artists to bring their debut films to fruition, such as: Celia Rowlson-Hall (Choreographer), Carson Mell (Animator), Dean Fleischer-Camp (Hard to Explain), Theo Anthony (Photo Journalist), and Leilah Weinraub (Fashion Design). In 2016 MEMORY was named one of Filmmaker Magazine's 25 New Faces of Independent Film, and in 2017 their film RAT FILM, by Theo Anthony, was nominated for a Gotham Award for Best Documentary Feature. Their most recent project SHAKEDOWN by Leilah Weinraub premiered at the 68th Berlin Film Festival. Website: https://memory.is
About Cinema Guild
Cinema Guild is a premier distributor of international cinema, independent films and documentaries, whose recent releases include Lucio Castro's END OF THE CENTURY, Hong Sangsoo's HOTEL BY THE RIVER and the Academy Award®-nominated HALE COUNTY THIS MORNING, THIS EVENING. Upcoming theatrical releases include Wang Xiaoshuai's CHINESE PORTRAIT and Angela Schanelec's I WAS AT HOME, BUT… Website: http://www.cinemaguild.com
 ----------------------
Los Angeles Filmforum screenings are supported by the Los Angeles County Board of Supervisors through the Los Angeles County Arts Commission and the Department of Cultural Affairs, City of Los Angeles. We also depend on our members, ticket buyers, and individual donors.
Los Angeles Filmforum is the city's longest-running organization dedicated to weekly screenings of experimental film, documentaries, video art, and experimental animation. 2019 is our 44th year.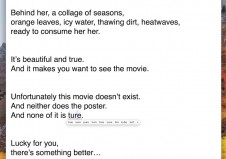 My First Film
A Live  Cinema Presentation by Zia Anger
2019, video, color, 70-80 minutes
From memoirs to director's commentary, the tradition of self-reflection in the film industry is nothing new. Self-reflection serves as a means for a director to further explain the significance of their work. In many cases, it functions as a distancing tactic—creating a dissonance between the filmmaker at present and their naïve former self. However, these reflections on the finished work are often as polished as the film itself, rendering the director's ideas practiced and stale. MY FIRST FILM repeatedly examines my first, and only, feature-length narrative film through an interactive live cinema performance. Each rendition contains new revelations and nuanced narrative shifts that build on both the original work and its accumulating commentary. The audience is encouraged to reconsider the formal limits of where a film begins and ends, to see that a film is only as fixed as the world around it. —Zia Anger