Ism, Ism, Ism: Views from outside (La mirada foránea)
Sunday, December 10, 2017, 7:30pm
Los Angeles Filmforum presents
Ism, Ism, Ism: Views from outside (La mirada foránea)
At the Spielberg Theatre at the Egyptian, 6712 Hollywood Blvd, Los Angeles, CA 90028
Filmmaker Dalia Huerta in person from Mexico!
INFO: www.lafilmforum.org, 323-377-7238
A travelling shot, in which the camera moves horizontally and smoothly through space, is a basic element of film language. Filmmakers themselves often find that they have to travel, either to visit production locations and to attend film festivals.  This program takes these as points of departure: the sensations of movement, displacement, exile, as well as not understanding what's being said, being out of place, and entering into foreign exchanges. Leandro Katz takes a rigorous, deceptively simple approach to a roll of super-8 film shot on the periphery of an archaeological site in Guatemala.  This modest short film conflates the preoccupations of structural film, the fundamental tension between still photography and the illusion of cinematic movement, and the complex calendric calculations of the ancient Maya architects of the nearby ruins of Quiriguá. At the celebrated film festival on the Mediterranean coast, the self-exiled superochero Michoacano Téo Hernández didn't simply feel out of place; he also created a space from which he could critique the media spectacle unfolding around him. A generation later, Dalia Huerta follows the circulation of commodities around the globe, especially that archetypical Latin American export, the banana, and weaves together an idiosyncratic essay about the values associated with these objects, while Macarena Cordiviola takes the writings of French modernist poet Blaise Cendrars on a road trip and José Luis Bongore visits southern Colombia, a region impacted by violence, illicit commerce, and civil conflict.
Tickets: Free. Available in advance from Brown Paper Tickets at https://bpt.me/3172062 or at the door.
For more information: 323-377-7238 or www.lafilmforum.org
Dalia Huerta is a cinematographer and documentary filmmaker. Registers art from and for artists and museums. Has made several formal film studies in Mexico, The Netherlands and Cuba. Was supported by CECA (Jalisco) in 2007 and 2010 on film and video making and won the grant for post production IMCINE 2015. Her work has been selected, exhibited and awarded at film festivals around the world.
This sceening is part of Los Angeles Filmforum's screening series Ism, Ism, Ism: Experimental Cinema in Latin America (Ismo, Ismo, Ismo: Cine experimental en América Latina). Ism, Ism, Ism is an unprecedented, five-month film series—the first in the U.S.—that surveys Latin America's vibrant experimental production from the 1930s through today. Revisiting classic titles and introducing recent works by key figures and emerging artists, Ism, Ism, Ism takes viewers on a journey through a wealth of materials culled from unexpected corners of Latin American film archives. Key historical and contemporary works from Argentina, Brazil, Bolivia, Chile, Colombia, Cuba, Ecuador, México, Paraguay, Perú, Uruguay, Venezuela, Puerto Rico and the United States will be featured. Many of the works in the series are largely unknown in the United States and most screenings will include national and area premieres, with many including Q&A discussions with filmmakers and scholars following the screening. The film series will continue through January 2018 at multiple venues, organized by Filmforum. www.ismismism.org
Ism, Ism, Ism is accompanied by a bilingual publication, Ism, Ism, Ism / Ismo, Ismo, Ismo: Experimental Cinema in Latin America (Jesse Lerner and Luciano Piazza, editors, University of California Press, 2017) placing Latino and Latin American experimental cinema within a broader dialogue that explores different periods, cultural contexts, image-making models, and considerations of these filmmakers within international cinema. Available worldwide, https://www.ucpress.edu/book.php?isbn=9780520296084.
Ism, Ism, Ism is part of Pacific Standard Time: LA/LA, a far-reaching and ambitious exploration of Latin American and Latino art in dialogue with Los Angeles. Explore more at www.ismismism.org, lafilmforum.org, and www.pacificstandardtime.org.
Lead support for Ism, Ism, Ism is provided through grants from the Getty Foundation.
Significant additional support comes from the Andy Warhol Foundation for Visual Arts, the National Endowment for the Arts, and the Mike Kelley Foundation for the Arts.
Pacific Standard Time is an initiative of the Getty. The presenting sponsor is Bank of America.
Los Angeles Station
Leandro Katz, 1976, 10 min., 16mm transferred to digital, color, silent, Argentina/Guatemala/USA
Portrait of a small community living by the railroad tracks in the banana plantation region of Quiriguá, Guatemala. Originally a single take, this film is composed of alternating equal numbers of moving frames and frozen frames as the camera tracks alongside the train station.
Olvidó usted algo?
Dalia Huerta, 2012, 28 min., super 8 transferred to digital, color, sound, Mexico.
California premiere
Ultimos Brillos
Macarena Cordiviola, 2008, 9:38, Super 8 transferred to digital, color, sound, Argentina.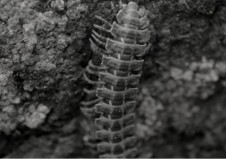 Soga de Muerto
Felipe Esparza, 2015, 6:26, digital, b&w, sound, Peru.
Nariño
José Luis Bongore, 2014, 8 min., digital, color, sound, Colombia/Spain.