Ism, Ism, Ism: Diego Rísquez' Amérika Trilogy, part 1: Bolivar, Tropikal Symphony
POSTPONED INDEFINITELY DUE TO LACK OF A SCREENABLE COPY.  PLEASE CONTACT US FOR INFORMATION.

Los Angeles Filmforum and Acropolis Cinema present
Ism, Ism, Ism: Diego Rísquez' Amerika Trilogy, part 1: Bolivar, Tropikal Symphony
In person: Dr. Isabel Arredondo.  Please note Diego Risquez won't be able to attend.  Also note that due to fading of the extant prints, we are screening from a digital version. for this program.

INFO: www.lafilmforum.org, 323-377-7238
In the 1980s, the multifaceted artist, painter and filmmaker from Venezuela, Diego Rísquez, undertook the daunting project of a trilogy about the real and mythical histories of the Latin American continent and made his first feature film: Bolivar, Tropikal Symphony, which became the first Super 8 film to be selected for the Directors' Fortnight at the Cannes Film Festival. We screen it tonight in what might be its Los Angeles premiere.
"With stunningly rich and complex visual images, Rísquez' films eschew all dialogue yet present a coherent and critical reinterpretation of Venezuelan history." —Ana M. López
The second film of the trilogy, Orinoko, Nueva Mundo, is screening Sunday afternoon at the Autry Museum of the American West at 4 pm.  www.lafilmforum.org
The third film of the trilogy, Amérika, Terra Incógnita, originally shot in Super 16mm and later blown up to 35mm, is composed like tableaux vivants offering a visual journey into the reverse perspective of European colonialism—the journey of a captive Indian into the Spanish court.  It screens Monday at REDCAT at 8:30 pm.  http://tinyurl.com/yb97cawu
Note that you DO NOT need to have seen earlier parts in the trilogy to see later parts.  There is not a continuous narrative.
Diego Risquez's visit made possible by the generous support of the Mike Kelley Foundation for the Arts.
Tickets: $10 general; $6 for students/seniors; free for Filmforum members. Available in advance from Brown Paper Tickets at https://tropikalsymphony.bpt.me or at the door.
For more information: visit www.lafilmforum.org or call 323-377-7238.
Acropolis Cinema is a nonprofit screening series and microcinema dedicated to bringing classic and contemporary experimental films and undistributed features to screens across Los Angeles. www.acropoliscinema.com
Diego Risquez (b. 1949, Juan Griego, Venezuela) is a multifaceted artist, painter and filmmaker, who has been actively working in the film world for the past five decades. One of the most significant auteurs of experimental cinema in Venezuela, Diego Rísquez Cupello (born December 15, 1949, in Juan Griego, Venezuela) studied social communication at the Universidad Católica Andrés Bello, but left to devote himself to the theater, taking acting classes with Levy Rosell. In 1974, he moved to Paris where he joined Emilio Galli's theater company. In addition to his career as an actor, he worked as a photographer for the Galerie Atica. Returning to Caracas in 1975, he got involved in painting and sculpture and completed his first super 8 shorts. He achieved international recognition the experimental trilogy on the European conquest of South America, His first feature, Bolívar, sinfonía tropical (Bolívar, Tropical Symphony, 1979) was showcased at Directors Fortnight at the Cannes Film Festival, first in 1981 (in super-8), then in 1982 (blown up to 35mm). His second feature, Orinoko, Nuevo Mundo (Orinoko, New World), was also presented at Directors Fortnight in 1984 – as was Amérika, Terra Incógnita, the third part of the Trilogy, in 1988.
Selected Filmography:
El entierro de los valores (The burial of values, 1970)
El misterioso secuestro de las gafas negras (The mysterious abduction of the sunglasses, 1973)
A propósito de Simón Bolívar (With regard to Simón Bolívar, 1976)
Poema para ser leído bajo el agua (Poem to be read under water, 1977)
A propósito de la luz tropical (With regard to the tropical light ,1978)
Bolívar, sinfonía tropikal (Bolívar, Tropical Symphony, 1979)
A propósito del hombre (On the subject of man, 1979)
Orinoko, nuevo mundo (Orinoko, New World, 1984)
Amérika, terra incógnita (1988)
Karibe con tempo (Karibe with time, 1994)
Manuela Sáenz (2000)
Francisco de Miranda (2006)
Reverón (2011)
El malquerido (2015)
John King in Magic Reels shares his thoughts on why Risquez became an international cult figure:  "Risquez shows an expansive imagination in creating sweeping, sensual, painterly canvases with very few resources: basic equipment and a group of non-professional actors, mainly friends, who take on the roles of emblematic figures of history and myth."
Isabel Arredondo is Full Professor of Spanish at SUNY Plattsburgh. She received her Ph. D. in Hispanic Languages and Literatures from the University of California, Berkeley in 1992. In 2009 she received an M.A. in Film Studies from the Mell Hoppenheim School of Cinema at Concordia University, Montreal. In 2014 she published a book on the representation of mothers in classical and feminist Mexican cinema entitled Motherhood in Mexican Cinema 1941-1991. Her previous book, "Palabra de Mujer": Historia oral de las directoras de cine mexicanas (1988-1994) (2001), contains interviews with Mexican women filmmakers. Entitled In Our Own Image (2013) in English the book is also available at Digital commons http://digitalcommons.plattsburgh.edu/modernlanguages/1/.  Among her many articles is "El cine de Diego Rísquez: Entre la plástica y el cine. Una mirada semiótica, estética e histórica." In collaboration with Dr. Emperatriz Arreaza and Magister arid García. (2010)
This screening is part of Los Angeles Filmforum's screening series Ism, Ism, Ism: Experimental Cinema in Latin America (Ismo, Ismo, Ismo: Cine experimental en América Latina). Ism, Ism, Ism is an unprecedented, five-month film series—the first in the U.S.—that surveys Latin America's vibrant experimental production from the 1930s through today. Revisiting classic titles and introducing recent works by key figures and emerging artists, Ism, Ism, Ism takes viewers on a journey through a wealth of materials culled from unexpected corners of Latin American film archives. Key historical and contemporary works from Argentina, Brazil, Bolivia, Chile, Colombia, Cuba, Ecuador, México, Paraguay, Perú, Uruguay, Venezuela, Puerto Rico and the United States will be featured. Many of the works in the series are largely unknown in the United States and most screenings will include national and area premieres, with many including Q&A discussions with filmmakers and scholars following the screening. The film series will continue through January 2018 at multiple venues, organized by Filmforum. www.ismismism.org
Ism, Ism, Ism is accompanied by a bilingual publication, Ism, Ism, Ism / Ismo, Ismo, Ismo: Experimental Cinema in Latin America (Jesse Lerner and Luciano Piazza, editors, University of California Press, 2017) placing Latino and Latin American experimental cinema within a broader dialogue that explores different periods, cultural contexts, image-making models, and considerations of these filmmakers within international cinema. Available worldwide, https://www.ucpress.edu/book.php?isbn=9780520296084.
Ism, Ism, Ism is part of Pacific Standard Time: LA/LA, a far-reaching and ambitious exploration of Latin American and Latino art in dialogue with Los Angeles. Explore more at www.ismismism.org, lafilmforum.org, and www.pacificstandardtime.org.
Lead support for Ism, Ism, Ism is provided through grants from the Getty Foundation.
Significant additional support comes from the Andy Warhol Foundation for Visual Arts, the National Endowment for the Arts, and the Mike Kelley Foundation for the Arts.
Pacific Standard Time is an initiative of the Getty. The presenting sponsor is Bank of America.
---------------------------
This program is supported by the Los Angeles County Board of Supervisors through the Los Angeles County Arts Commission; the Department of Cultural Affairs, City of Los Angeles. We also depend on our members, ticket buyers, and individual donors.
Los Angeles Filmforum is the city's longest-running organization dedicated to weekly screenings of experimental film, documentaries, video art, and experimental animation. 2017 is our 42nd year.
Memberships available, $70 single, $115 dual, or $50 single student
Contact us at lafilmforum@yahoo.com.
Find us online at http://lafilmforum.org.
Become a fan on Facebook and follow us on Twitter @LosAngFilmforum!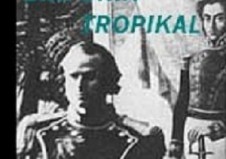 Bolivar, Tropikal Symphony
Diego Risquez
1984, 35mm, 103 min., color, sound, Venezuela. Screening on 35mm!