Roberta Friedman & Grahame Weinbren: String Theory
Sunday October 25, 2015, 7:30 pm
At the Spielberg Theatre at the Egyptian, 6712 Hollywood Blvd., Los Angeles CA 90028
Roberta Friedman & Grahame Weinbren in person!
String theory fulfills a long sought after goal of theoretical physics: to describe a single basis for the whole of material reality, a 'theory of everything.' If this desire isn't poetic enough by itself, the notion that the elementary components of the universe are tiny vibrating strings is an inspiration. String Theory and Superstring Theory are, so they say, "good mathematical models for Nature at the smallest distance scales." And smallest is indeed the word for it: the average size of a string is theorized to be about a millionth of a billionth of a billionth of a billionth of a centimeter.
For Roberta Friedman and Grahame Weinbren, the image of strings and vibration as the basis of everything is a good model for their collaborative work over the years. They are interested in vibrations and resonances, the music of human behavior and social relations, and the way these notes and chords form themselves into larger structures, sometimes stories, other times symphonies, sonatas, or 12 bar blues.
For more event information: www.lafilmforum.org, or 323-377-7238        
Street parking is discouraged on Thursday nights due to towing in the area. Paid parking is available behind LACE in the lot off Wilcox.
Tickets: $10 general, $6 students/seniors; free for Filmforum members.  Available by credit card in advance from Brown Paper Tickets at http://bpt.me/2374264 or at the door.
Friedman and Weinbren will be presenting additional, different screenings at REDCAT on Monday October 26 and at the Echo Park Film Center on Saturday October 31.
Acknowledgements:
Z'ev, the graffiti writer in the Erl King photographs
Anthony Forma, who shot most of our films
Sheldon Friedman, who is indispensible on many of our productions
Black Maria Inc., our fiscal sponsor
Jon Gibson, who graciously loaned his loft to shoot Bertha's Children
Roberta Friedman is a filmmaker and producer with work that spans a large assortment of film and video productions shown widely in the United States and Europe. Projects have ranged from artistic, experimental works to narrative features, television documentaries and series.   She is a founding board member of the iota fund that supports abstract animation, and most recently has been producing a series of video installations called Cosmopolis: 49 Waltzes for the World about the disappearing sounds in cities on the cusp of change including New York, Beijing, Cairo, and Detroit.   She began her media career in radio and had a long running show on KPFK in Los Angeles.
Friedman has an MFA in Film from California Institute of the Arts, and is currently an associate professor and coordinator of the Film Program in the School of Communication & Media at Montclair State University in New Jersey.

Grahame Weinbren is a filmmaker, writer and editor. His art practice includes interactive installations, artists' cinema, and experimental documentaries. His writings about cinema, media art, and philosophical issues generated by emerging technologies are widely published. He is the senior editor of the Millennium Film Journal and a member of the graduate faculty of the School of Visual Arts in New York City. He studied Philosophy at University College London and SUNY Buffalo.
Working together at CalArts in the 1970s, Friedman and Weinbren explored mathematical structures, film as music, movie syntax and avant-garde narratives with a singular wit in their early films before turning to multimedia and interactive video installation, of which The Erl King (1983–86, Whitney Biennial 1987) was a groundbreaking example. They have continued to collaborate while also working individually.
Post Future Past Perfect
(1978/2004, hybrid 16mm / digital media, 11 min.)
Los Angeles Premiere!
Filmed in our studio New York in 1978, with ink marks hand drawn on the 16mm print according to algorithms, painted on the walls, then discovered by the camera, then re-marked with 'virtual' tools on digital media almost 30 years later.
"Father Don't You See?"
(1983-85 / 2003, DVD / SD video, 5 min.)
Los Angeles Premiere!
(Extracted from The Erl King interactive cinema work and reworked for DVD in 2003). This short piece exposes a parallel between the "Burning Child Dream" described by Freud and the Goethe "Erlkoenig" narrative poem, set to music by a very young Schubert.
Terms of Analysis
Terms of Analysis
(1982, 16mm, 15 min.)
with composer / trombonist James Fulkerson
Made in collaboration with composer/trombonist James Fulkerson, who appears throughout the film. Though we didn't know it at the time, this was our last 16mm film. Looking askance at some of the terms used in film and media analysis of the time (many of them still alive in academic jargon), is set against personal, life-transforming events and documentation of change — of seasons, of living and working spaces, and of two cities.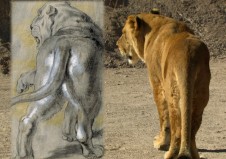 The Lions of Peter Paul Rubens
The Lions of Peter Paul Rubens
(2008, HD media, 10 min.)
Los Angeles premiere!
Investigating the painting Daniel in the Lions Den by Peter Paul Rubens. Commissioned by National Gallery of Art, Washington DC
Like Rubens, we had only one male lion to work with (Felix), who was cajoled into adopting the poses of every lion in the Rubens painting. Unlike Rubens' models, there were two lionesses at Hollywood Animals, and they are both in the film. Among other things, this film highlights the lions' eye-lines as well as the always fascinating relationship of representation to reality.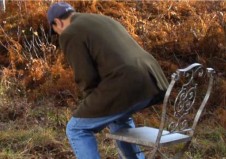 Straight from Bertha
Straight from Bertha
(2015, Hybrid: 16mm, video, HD video, 42 min. total)
Los Angeles Premiere!
I – Bertha's Children (1976, 7 min.)
II - Bertha's Grandchildren (2009, 9.5 min.)
III – Bertha's Great Grandchildren (2015, 26 min.)
Straight from Bertha is a non-linear intimate portrait of an extended American family. The film's 'subjects' are descendants of Bertha Gorman, filmmaker Roberta Friedman's great aunt, with acerbic commentary by Norma Passy, Bertha's 85 year old niece. We meet Bertha's adult children in 1976 in a Soho loft, Bertha's adult grandchildren in 2005 on a New York rooftop, and Bertha's adult great-grandchildren in 2012 in the Millennium Film Workshop, under demolition and about to close its doors forever.