Horse Money, by Pedro Costa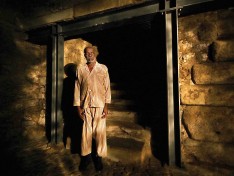 Los Angeles premiere!
At the Spielberg Theatre at the Egyptian, 6712 Hollywood Blvd., Los Angeles CA 90028
Los Angeles premiere!  Introduced by Thom Andersen
Filmforum concludes its 40th year with the Los Angeles premiere of Portuguese filmmaker Pedro Costa's latest film.  HORSE MONEY, a follow-up to his renowned COLOSSAL YOUTH, follows Costa regular Ventura on an odyssey that is part horror film, part fever dream, and utterly unique. The time is now, a numbing and timeless present of hospital stays, bureaucratic questioning, and wandering through remembered spaces… and suddenly it is also then, the mid '70s and the time of Portugal's Carnation Revolution, when Ventura got into a knife fight with his friend Joaquim. HORSE MONEY is a self-reckoning, a moving memorialization of lives in danger of being forgotten, as well as a piercingly beautiful work of modern cinema.  Filmmaker Thom Andersen will introduce the screening.
Interview with Pedro Costa about Horse Money, by Neil Bahadur, from Film Comment:
http://www.filmcomment.com/blog/interview-pedro-costa/
Interview with Pedro Costa, video, at Locarno:
https://www.youtube.com/watch?v=quEkZp3x1Qw
Pedro Costa - Born in Lisbon, Costa left his course of studies in History to attend classes taught by the poet and filmmaker Antonio Reis at the Lisbon Film School. His first film, O SANGUE (BLOOD), had its world premiere at the Venice Film Festival in 1989. CASA DE LAVA, his second feature, shot in Cabo Verde, was shown in Cannes, Un Certain Regard, in 1994.  His other features include BONES, IN VANDA'S ROOM, and COLLOSAL YOUTH (currently available in the US as a box set from the Criterion Collection), NE CHANGE RIEN, and WHERE DOES YOUR HIDDEN SMILE LIE?, a documentary on the work of Daniele Huillet and Jean‐Marie Straub. Recently he directed the SWEET EXORCIST, a segment of the omnibus feature CENTRO HISTORICO with Manoel de Oliveira, Aki Kaurismaki and Victor Erice.
For more event information: www.lafilmforum.org, or 323-377-7238         
Tickets: $10 general, $6 students/seniors; free for Filmforum members.  Available by credit card in advance from Brown Paper Tickets at http://horsemoney.bpt.me  or at the door.
Horse Money
Portugal, 2014, HD, 104 min.
In Portuguese with English subtitles. Distributed by Cinema Guild
"The charismatic Ventura, star of 2006's Colossal Youth, unites once again with writer/director Pedro Costa in this enigmatic parable of poverty, politics and persistence. Apparently playing a version of himself, Ventura drifts through disparate periods of his life – from the 19-year-old Cape Verdean immigrant picked up by the Portuguese revolutionary army in the 70s to the 60-year-old now wandering the corridors of what may be a hospital or a cavernous dungeon.
"An inky blackness fills the screen from which faces, fingers and bodies emerge, evoking a netherworld between the here and the hereafter. Perhaps Ventura is a ghost, his life as yet unlived, his past and future indistinguishable. In one scene, he is caught in an elevator with a stone soldier, a living sculpture of the 1974 "carnation revolution", who speaks to him in a silent tongue, challenging his account of his own life. Elsewhere, he meets a widow who has come to Lisbon to bury her husband and raises the spectre of "perdition". In the film's most arresting sequence, Ventura is stopped in the darkened streets clad only in his underwear, flanked by armed militia front and side, a tank at his rear, his raised hands shaking back and forth, the symptom of a nervous disease that seems to signify both surrender and defiance.
"With its whispered dialogue and otherworldly bureaucracy, this remains elliptical and mysterious; best to let the film's mesmerising tableaux descend upon you in the dreamy darkness, then sift its haunting memories for precise meaning in the hours, days and weeks that follow." – Mark Kermode, The Guardian, http://www.theguardian.com/film/2015/sep/20/horse-money-review-pedro-costa-ventura-mysterious-parable-kermode
"The movie insists on having the audience, like Ventura, pass through madness to reach catharsis." – Ben Kenigsberg, NY Times, http://www.nytimes.com/2015/07/24/movies/review-horse-money-a-surreal-voyage-into-the-past.html?_r=0