Akosua Adoma Owusu: Triple Consciousness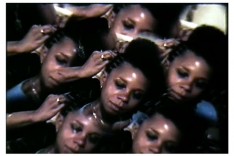 Sunday Sept 27, 2015, 7:30 pm
At the Spielberg Theatre at the Egyptian, 6712 Hollywood Blvd., Los Angeles CA 90028
Akosua Adoma Owusu in person!
Filmforum welcomes Akosua Adoma Owusu, a filmmaker with Ghanaian parentage whose films have screened worldwide. Her investigation of African and African-American experiences, particular but not exclusively of what has traditionally been assigned to the domestic sphere and then ignored, consistently engage with their artistry, humor, and beauty.  Her work ranges with its varied use of direct animation, found footage, and staged scenes to examine the construction of historical memory and cultural identity.  For this program, she has selected several additional films -- by Len Lye, Ken Jacobs, Kevin Jerome Everson, and Ayoka Chenzira -- that inform or influence her artistic approaches.  She also currently has work on display in the exhibition The Art of Hair in Africa at the Fowler Museum at UCLA, and at Art + Practice in Leimert Park.
For more event information: www.lafilmforum.org, or 323-377-7238           
Tickets: $10 general, $6 students/seniors; free for Filmforum members.  Available by credit card in advance from Brown Paper Tickets at http://bpt.me/2253325 or at the door.
Akosua Adoma Owusu is a filmmaker with Ghanaian parentage whose films have screened worldwide in prestigious film festivals, museums, galleries, universities and microcinemas since 2005.  One of ArtForum's Top Ten Artists and one of The Huffington Post's 30 Contemporary Artists under 40, Owusu has exhibited worldwide, including at the Museum of Modern Art, The Studio Museum in Harlem, Rotterdam, Centre Pompidou and London Film Festival. She is a 2013 MacDowell Colony Fellow and a 2015 Guggenheim Fellow.
Her company Obibini Pictures produced award-winning films including Afronauts, and Kwaku Ananse, which received the 2013 African Movie Academy Award for Best Short Film and was nominated for the 2013 Golden Bear prize at the Berlinale. The French Cesar Film Academy Golden Nights Panorama program included Kwaku Ananse in Best Short Films of the year. Focus Features Africa First, Art Matters and The Sarah Jacobson Film grant supported Kwaku Ananse in 2012. She was a featured artist at the Robert Flaherty Film Seminar in 2010 and received the Africa First award sponsored by Focus Features in 2011.  Her most recent exhibitions include Prospect.3: Notes for Now in New Orleans, America Is Hard to See at the Whitney Museum of American Art in New York, and The Art of Hair in Africa at the Fowler Museum in Los Angeles. http://www.fowler.ucla.edu/exhibitions/fowler-focus-art-hair-africa
She also has two films currently on exhibition at Art + Practice in Leimert Park, through November 21. http://artandpractice.org/calendar/njideka-akunyili-crosby-the-beautyful-ones/
She has M.F.A. degrees in Film/Video and Fine Art from California Institute of the Arts and received her BA degree in Media Studies and Art with distinction from the University of Virginia, where she studied under the mentorship of prolific avant-garde filmmaker, Kevin Jerome Everson. http://akosuaadoma.com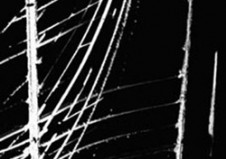 Free Radicals
By Len Lye
1958, revised 1979, 16mm, b/w, 4 min.
In arguably his greatest film, Lye reduces the medium to its most basic elements by scratching designs on black film. He used a variety of scribers ranging from dental tools to an ancient Native American arrowhead, and synchronized the images to traditional African music (a field tape of the Bagirmi tribe). The film won second prize in the International Experimental Film Competition, which was judged by Man Ray, Norman McLaren, Alexander Alexeiff and others at the 1958 World's Fair in Brussels. In 1979 Lye further condensed the film by dropping a minute of footage. Stan Brakhage described the final version as "an almost unbelievably immense masterpiece (a brief epic)." – Harvard Film Archive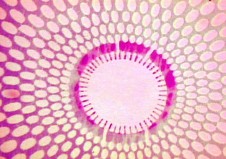 Intermittent Delight
By Akosua Adoma Owusu
2007, 16mm film and digital video, screening from digital, 5 min.
"The intersection of identity and cultural appropriation is at the heart of Akosua Adoma Owusu's video Intermittent Delight. This carefully constructed work juxtaposes close-ups of batik textiles, fashion and design from the 1950s and 1960s, images of men weaving and women sewing in Ghana, and fragments of a Westinghouse 1960s commercial—aimed to instruct women on the how-to of refrigerator decoration. Constructed from a combination of 1960s Afrobeat, traditional Asante Adwoa music, and field recordings of West African men and women during production of cloths and garments, the soundtrack pulls the piece together and imbues it with a jolty and festive tone. The work touches upon the idea of feminism's uneven geographical and historical development, and the nuances of labor conditions women face depending on where they live." - New Langton Arts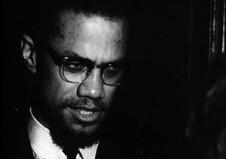 Perfect Film
By Ken Jacobs
16mm or DVD, black and white, 22 min
TV newscast discard 1965; reprinted as found (maybe in Canal St. bin, I forget) with exception of boosting volume second half. A lot of film is perfect left alone, perfectly revealing in its un- or semi-conscious form. I wish more stuff was available in its raw state, as primary source material for anyone to consider, and to leave for others in just that way, the evidence uncontaminated by compulsive proprietary misapplied artistry, 'editing', the purposeful 'pointing things out' that cuts a road straight and narrow through the cine-jungle; we barrel through thinking we're going somewhere and miss it all. Better to just be pointed to the territory, to put in time exploring, roughing it, on our own. For the straight scoop we need the whole scoop, or no less than the clues entire and without rearrangement. O, for a Museum of Found Footage, or cable channel, library, a shit-museum of telling discards accessible to all talented viewers/auditors. A wilderness haven salvaged from Entertainment. --K. J.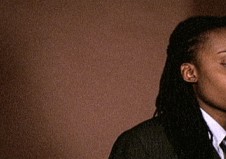 Emergency Needs
By Kevin Jerome Everson
2007, 16mm film, color, sound; 7 min.
The material for Emergency Needs (2007) derives from a news conference held by the first African- American mayor of a large city, Carl B. Stokes of Cleveland, in response to a violent outbreak of civil unrest in the summer of 1968. Known as the Glenville Shootout after the African-American working-class neighborhood where the incident took place, the crisis began the night of July 23 when a firefight broke out between the Cleveland police and a radical black nationalist group under surveillance, leaving seven dead and many more wounded. Riots and looting ensued. Stokes promptly called in the National Guard to restore order, and the following day ordered all white officers out of Glenville, to be replaced by African- American ones. Everson presents archival footage from the Stokes press conference alongside a reenactment performed by a woman, cutting between the two or arranging them in split screen. Inspired by Robert Rauschenberg's "identical" 1957 paintings Factum I and Factum II, where the unity of content inspires reflection on the difference of technique, Emergency Needs invites close consideration of gesture and performance at the Stokes press conference. By means of this duplication, and the imposition of new rhythmic patterns, Everson enlivens a historical document, resurrecting the conditions, tasks, and gestures of a vital moment in time by repositioning them in the present. - NATHAN LEE, 2008 Whitney Biennial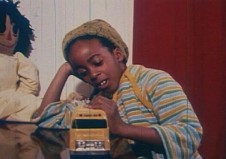 Bus Nut
By Akosua Adoma Owusu
2014, 16mm film and Super-8 transfer to video, 7 min.
'Bus Nut' re-articulates the 1955 Montgomery Bus Boycott, a political and social protest against US racial segregation on the public transit system of Montgomery Alabama and its relationship to an educational video on school bus safety. An actress re-stages a vintage video while reciting press conference audio of Rosa Parks on a recreated set in New York City.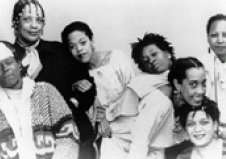 Hair Piece: A Film for Nappy-Headed People
By Ayoka Chenzira
1985, color, 16mm/DVD, 10 min.
An animated satire on the question of self-image for African American women living in a society where beautiful hair is viewed as hair that blows in the wind and lets you be free. Lively tunes and witty narration accompany a quick-paced inventory of relaxers, gels and curlers. Such rituals are all-too familiar to African American women-and indeed to all women confronted with an unattainable ideal of beauty. This short film has become essential for discussions of racism, African American cinema and empowerment. Used by hundreds of groups as diverse as museums, churches, hospitals and hair stylists.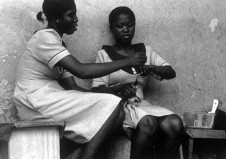 Me Broni Ba
By Akosua Adoma Owusu
2009,16mm film and digital video, screening from digital, 22 min.
Me Broni Ba is a lyrical portrait of hair salons in Kumasi, Ghana. The tangled legacy of European colonialism in Africa is evoked through images of women practicing hair braiding on discarded white baby dolls from the West. The film unfolds through a series of vignettes, set against a child's story of migrating from Ghana to the United States. The film uncovers the meaning behind the Akan term of endearment, me broni ba, which means "my white baby."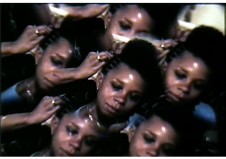 Split Ends, I Feel Wonderful
By Akosua Adoma Owusu
2012, 16mm film transfer to video, 5 min.
A woman attaches a hair piece; black women in hair salons get their hair plaited; and a woman models on a yellow turban. Compiling and manipulating 1970s era found footage of black women in salons in New York, 'Split Ends, I Feel Wonderful' examines image and iconography in African-American hairstyles. Tom Berman Award for Most Promising Filmmaker, Ann Arbor Film Festival