Los Angeles Filmforum at MOCA presents Eve Luckring: With What Tongue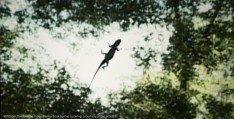 Eve Luckring in person, along with Madison Brookshire, Carmina Escobar, Sharon Kim, Aniela Perry, and Argenta Walther!
With What Tongue is a multi-media event presenting live music and the world premiere of Eve Luckring's The Junicho Video-Renku Book, a series of videos based on a 17th century Japanese form of poetry. As a conversation between visual, sonic, and verbal fields, the program breaks down boundaries between these categories and cross-fertilizes them. Elegant, raw, and humorous, these works encourage an active attentiveness as they combine into a time-based collage.
Tickets: $12 general admission; $7 students with valid ID
Tickets available in advance at http://www.brownpapertickets.com/event/258310
FREE for MOCA and Los Angeles Filmforum members; must present current membership card to claim free tickets
INFO 213/621-1745 or education@moca.org
PARTICIPANT BIOS:
Madison Brookshire is an artist and filmmaker who frequently collaborates with musicians and composers. He has screened his work at the Toronto International Film Festival, the New York Film Festival, International Film Festival Rotterdam, Bradford International Film Festival, Migrating Forms, Exploratorium, Los Angeles Filmforum, REDCAT, and the Hammer Museum. He has also had solo exhibitions at Parker Jones, Culver City and Presents Gallery, Brooklyn; has been in group shows at the Torrance Art Museum; Gallery 400, Chicago; and Heliopolis, Brooklyn; and has had performances at the wulf., The Lab, Betalevel, TBA Festival, and Artists' Television Access.
Carmina Escobar is a vocalist, sound, and intermedia artist from Mexico City whose work focuses on the interrelationship of physical, social, and memory spaces to the body, voice, and sound. She has been awarded grants by the Fondo Nacional para la Cultura y las Artes (National Fund for the Arts) of Mexico and the MidAtlantic Arts Foundation and has collaborated on recordings for the labels Abolipop Records (Mexico), Cotton Good Archive (England), Mathka (Poland) y Edge Tone Records (USA). Escobar performs and presents her work frequently in Mexico and internationally. Currently she is the vocalist and co-artistic director, along with Alexander Bruck and Carlos Iturralde, of [liminar], one of the most innovative experimental new music ensembles in Mexico.
Sharon Kim is a voice artist based in Los Angeles. She explores vocal sounds and possibilities, and she applies them to a wide range of music such as baroque, opera, contemporary, experimental, electronic, and musical theatre. She has performed in solo and ensemble concerts in venues such as RedCat, Walt Disney Hall and the wulf., Los Angeles; Spectrum, New York; El Paso Opera and Chamizal National Memorial, Texas; Jang Chun Art Hall and Yeoungdeungpogu Theatre in Seoul, South Korea. Kim received her MFA from California Institute of the Arts.
Eve Luckring's work takes form in video, sound, photography, poetry, and installation. Her work questions the assumptions—and experiments with the boundaries—that define place, body, and habit. Currently, she has been translating traditional Japanese poetic forms into the visual realm to renegotiate the binaries of nature/culture, subject/object, and self/world. Luckring's videos and installations have been exhibited internationally in traditional art venues (e.g. European Media Arts Festival, Germany; Video Bardo, Buenos Aires, REDCAT, and the Museum of Contemporary Art, Los Angeles; Lance Fung Gallery, New York; Pacific Film Archive, Berkeley, CA, Surrey Art Gallery, Vancouver) as well as in public spaces (Ekaterinburg, Russia; Sante Fe, New Mexico; Shanghai, China). Site-specific projects have addressed the social mechanisms at play in places such as porn shops, institutional community rooms, elevators, and nightclubs. Her poetry has been published in numerous journals and anthologies, most recently in Haiku in English: The First Hundred Years, W. W. Norton & Company.
Aniela Perry has been performing and teaching in the Los Angeles area for 14 years. She received her BFA in performance and her MFA in performance and composition from CalArts. She has participated in the Banff Centre's Chamber Music Residency, master classes with Rohan de Saram, Lawrence Lesser and John Walz, and has collaborated with composers such as Morton Subotnick, James Tenney, John Zorn, Sofia Gubaidulina, Gavin Bryars, Pauline Oliveros, and others. In 2013, her trio somete developed a chamber opera in collaboration with architects and curators, Frank Escher and Ravi Gunewardena for the MAK Center. In July, Perry produced and performed in a program of music by women composers at the Ann and Jerry Moss Theater in Santa Monica, CA.
Argenta Walther is a California-based vocalist who relishes performing a wide repertoire spanning from the Medieval period to the Contemporary. Walther has been honored to appear as a soloist with PARTCH, wild Up, The Choir of Saint James, Boulder Chamber Orchestra, Santa Barbara Master Chorale and MicroFest. Walther holds a Bachelor of Music from the University of California at Santa Cruz, and an MFA from CalArts, and is grateful to the many teachers who have guided her steps down the path of creative performance.
Acknowledgements:
Special thanks to Catherine Arias, Rebecca Baron, Madison Brookshire, Adele Horne, Hilja Keading, Carole Kim, Andrea Moore, Kazunori Okada, Lisa Pearson, Mady Schutzman, and Susan Silton.
This program is supported by an ARC Grant from the Center for Cultural Innovation. Los Angeles Filmforum at MOCA is supported through both organizations by the Los Angeles County Board of Supervisors through the Los Angeles County Arts Commission. Additional support of Filmforum's screening series comes from the Mike Kelley Foundation for the Arts and the Department of Cultural Affairs, City of Los Angeles. We also depend on our members, ticket buyers, and individual donors.
Los Angeles Filmforum at MOCA furthers MOCA's mission to be the defining museum of contemporary art with a bimonthly series of film and video screenings organized and co-presented by Los Angeles Filmforum—the city's longest-running organization dedicated to weekly screenings of experimental film, documentaries, video art, and experimental animation. For more on Los Angeles Filmforum, visit lafilmforum.org, or email lafilmforum@yahoo.com. For more information on MOCA, visit moca.org.
2014 is Los Angeles Filmforum's 39th year.
Memberships available, $70 single, $115 dual, or $50 single student
Contact us at lafilmforum@yahoo.com.
Find us online at http://lafilmforum.org.
Become a fan on Facebook and follow us on Twitter @LosAngFilmforum!
The Junicho Video-Renku Book
By Eve Luckring
Twelve short "twelve-tone" video-poems adapt the 17th century Japanese poetic form of renku to video. Similar to an exquisite corpse, renku uses rule-based disjunctive linking techniques for the writing of verses that journey through the everyday. From a centipede trapped in a sink to a man singing karaoke to his pet love-birds, The Junicho Video-Renku Book creates a a richly layered collage of moving image, sound, and poetry that contemplates the ever-shifting boundaries between the "natural" world and the culturally constructed.
Voices and Cello, by Morton Feldman
Performed by Sharon Kim, Aniela Perry, and Argenta Walther
Slow and quietly dissonant, this piece is a nuanced minimalist weaving of the "colors" of individual sounds.
Selections from Sixty-Two Mesostics re Merce Cunningham, John Cage
Performed by Carmina Escobar
A mesostic is a text with a keyword spelled vertically through the middle of the lines. Cage used chance operations to create these typographic "ideograms" and published them as a musical score. Instructions are given to the performer to create a cohesive "cry, shout, or vocal event" in response to each mesostic's visual elements.
Reading/Sound, by Madison Brookshire
Typewritten text and recorded sounds together create a space between presence, absence, attention, distraction, and drift.