Empire, by Andy Warhol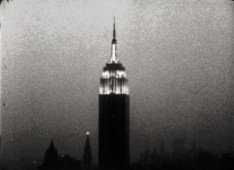 In conjunction with the exhibition, Andy Warhol: Shadows, MOCA Sunday Studio and Los Angeles Filmforum are proud to present Empire (1964), Warhol's minimalist 16mm masterpiece, in its entirety. Celebrating its 50th anniversary, this monumental achievement allows one, as Warhol said, "to see time go by." A reception will follow the screening at 7:30PM.
12noon-7:30pm. Note the change from our usual day & time
Admission Free.  Mention Empire at the MOCA box office to get a comp ticket.
For more event information: 213/621-1745 or education@moca.org

"The Empire State building is a star!" Warhol exclaimed during the six-hour film shoot for Empire, a static shot of the Empire State Building as the light gradually fades from dusk into night. Shot at sound speed but projected at silent speed, the duration is further exaggerated such that time itself seems to become the subject.

Andy Warhol (b. 1928, Pittsburg, Pennsylvania; d. 1987, New York) grew up in McKeesport, Pennsylvania. From 1945 to 1949, he studied art at the Carnegie Institute of Technology, receiving a B.A. in Pictorial Design. In 1949 he moved to New York to pursue a career as a commercial illustrator and began exhibiting drawings and paintings in the 1950s. In 1962 his first solo exhibition, Andy Warhol: Campbell's Soup Cans, was mounted at the historic Ferus Gallery in Los Angeles and later exhibited at MOCA in 2011. Thereafter his work—which spans prints, drawings, Polaroid photographs, silkscreened canvases, 16mm and Super 8 film, and writing—was widely shown nationally and abroad.

Acknowledgements:
Los Angeles Filmforum at MOCA is supported through both organizations by the Los Angeles County Board of Supervisors through the Los Angeles County Arts Commission. Additional support of Filmforum's screening series comes from the Mike Kelley Foundation for the Arts and the Department of Cultural Affairs, City of Los Angeles. We also depend on our members, ticket buyers, and individual donors.

Los Angeles Filmforum at MOCA furthers MOCA's mission to be the defining museum of contemporary art with a bimonthly series of film and video screenings organized and co-presented by Los Angeles Filmforum—the city's longest-running organization dedicated to weekly screenings of experimental film, documentaries, video art, and experimental animation.

For more on Los Angeles Filmforum, visit lafilmforum.org, or email lafilmforum@yahoo.com. For more information on MOCA, visit moca.org.
Empire
Andy Warhol. 1964, 16mm, black and white, silent, 8 hours, 5 minutes at 16 frames per second.