Los Angeles Filmforum at MOCA: A Tribute to Allan Sekula
Allan Sekula (1951-2013) was an influential artist, writer, and teacher. His works, including books, photographic sequences, written texts, slide sequences, and sound recordings, are among the most moving and incisive critiques of global capital from the latter half of the twentieth century. In 2001, he turned to digital video as yet another means to make art that critically engages the world. Los Angeles Filmforum at MOCA is proud to present a program of Sekula's work in video, with another program coming this Sunday, in tribute.
Introduced by Edward Dimendberg and Elizabeth Hesik
Tickets: $12 general admission, $7 students with valid ID
FREE for MOCA and Los Angeles Filmforum members; must present current membership card to claim free tickets
INFO 213/621-1745 or education@moca.org
Edward Dimendberg is Professor of Film and Media Studies, Visual Studies, and European Languages and Studies at UC Irvine.  He is the author of Film Noir and the Spaces of Modernity
(Harvard University Press, 2004) and Diller Scofidio + Renfro: Architecture after Images (University of Chicago Press, 2013) and the co-editor (with Anton Kaes and Martin Jay) of The Weimar Republic Sourcebook (University of California Press, 1994).
Elizabeth Hesik is a filmmaker and editor. Her documentaries Lady Trojans and The Ojai Valley have screened at festivals internationally. She edited four films with Allan Sekula - Lottery of the Sea, Gala, Short Film for Laos, and Art Isn't Fair.  She also serves as the board president for Los Angeles Filmforum.
Screening:
Tsukiji, 2001
A Short Film for Laos, 2006-2007
TRT: 88 minutes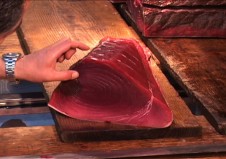 Tsukiji
2001, Digital video, color, sound; 43 minutes.
Allan Sekula: Direction, Camera, Michael Jarmon: Editing
Tsukiji is a "city symphony" film of sorts, dedicated to the largest fish-market in the world, and one of the last surviving proletarian spaces in Tokyo. A film about cutting in a double sense, it harkens back to a moment of intersection of modernism and social realism, evoking the ghost of the left-wing Japanese novelist of the 1920s and 30s, Takiji Kobayashi, author of Kani kosen (The Factory Ship) and an early victim of Japanese fascism. —Allan Sekula
"Tsukiji… was a risk for the established artist, who chose to depart from photography for the distant shores of video, a challenge that he rose to magnificently. The pacing of the video is spellbinding, with a masterful interplay between composed establishing shots and painfully intimate close-ups of fish gasping in their dying moments (some of them already without their bodies, whisked away by the swift knives of the fileters), or the lonely and vacant faces of the workers making their rounds. Sekula has a spectacular eye for visual detail, and there are many arresting moments here—from the band-saw dissection of enormous frozen tuna carcasses like chunks of birch wood, their heads stacked like cordwood in bins, or the filleting of live eels by chatting workers, or the horrific descaling of a living fish, its still-gasping mouth smeared with blood. Sekula has spoken of his work in relation to the traditions of still-life painting, and you can see why. These images—wet, sloppy with blood, scales and slime—are outrageously sensual, seducing us even as they elicit repulsion." —Sarah Milroy, Globe and Mail
A Short Film for Laos
2006-2007, Digital video, color, sound; 45 minutes
Allan Sekula: Direction, Writing, Camera, Sound
Elizabeth Hesik: Editing
You start somewhere, and you end up somewhere else. You start with something, and you end up with something else.
I imagined I would start with the Mekong. Laos is a landlocked country threaded through by a great river. The boats are like needles in the muddy currents. But no justice can be done to the river in the dry season. Only the monsoon could complete the story. Maybe later: a longer film.
During the war, some thirty years ago, I read Fred Branfman's book Voices From the Plain of Jars. No one was as relentless as he in exposing the secret American campaign that made Laos the "most bombed country on earth," and thus a laboratory for imperial strategies that are both criminal and ineffective. As an American, I felt an obligation to visit the Plain of Jars, to see what we had done there.
In the retelling, the story of the war and the "mystery of the jars" begin to intertwine. An ancient civilization forged an electrical connection to the sky and a secret magnetism brought American bombers to earth, where they were refashioned into spoons.
The ancient Greeks tell us that the god of the forge chased the young goddess of war. In Laos, the guiding spirit of the forge is a scavenger, picking up after the demons of war.
Following now the story of metal rather than the story of water, I visit the blacksmiths of Ban Had Hien. The metal now comes from old truck springs. The competition from Chinese factory-made tools is tougher by the day. How long can this village economy sustain itself?
My grandfather was a blacksmith, and I still remember after fifty years the syncopated rhythm of the hammer and the glowing prize in the grip of the tongs.
That was my first exposure to artifice in the old-fashioned sense, and thus to what art is all about.
In Laos, the rhythm of the forge is also the rhythm of the hearth, not so far from cooking over a wood fire. But there are other rhythms as well: the relentless industrial output of the brickmaking machine, the shoveling of gravel, the counting of money by young girls learning the lessons of the market, the quiet flux of voices at the river's edge as the fireboats float away on the dark river. —Allan Sekula
"Call it an essay on what the world's made of, i.e. water and fire and iron and earth. Wryly ironic, compassionate, and unprepossessingly simple." —Olaf Möller, Film Comment