Stop & Go: An Evening of Stop Motion Animation Curated by Sarah Klein
With Sarah Klein in person!
 At the Echo Park Film Center. Get caught up in the latest in stop motion animation with toys, clay, cut-outs, natural artifacts, drawings, paintings, back drops, animals, humans, and places!
The Stop & Go program features twenty-two pieces from artists across the country and around the world (Croatia, Britain, and Japan). Featured artists in the program include Ignacio Alcantara, Tommy Becker, Lilli Carré (still from For the Birds on left), Pete Davies, Samara Halperin, Meredith Holch, Sean Horchy, Stephanie Hutin, Andrew Kelleher, Lana Kim, Sarah Klein, Mike Leavitt, Michael McHam, Laurie O'Brian, Saelee Oh, Mel Prest, Clare Rojas, Judith Selby, SAF Cakovec Studio, Jen Stark, Melinda Stone, Claudia Tennyson, Aeneas Wilder, Sherri Wood, and Andrew Jeffery Wright.
"Oakland-based video artist, illustrator, and animator Sarah Klein brings it all back home with this evening of stop-motion shorts created and produced by an international group of artists and filmmakers, each of whom mold the medium to their individual stories and ideas. Micro-narratives, political commentary, and visual observations all transform via the old-fashioned, time-consuming, stop-and-go treatment." ~ Connie Hwong, Flavorpill 
"Nowadays, young filmmakers use software like Stop Motion Pro and MonkeyJam to simulate the organic, roughshod techniques of Harry Hausen, Will Vinton, or Art Clokey, but stop-motion is still not for clockwatchers. It's for those who can lose themselves in the wrinkle of an eyelid or the shift of a pencil mark, the type of person who might see beauty in the slow rise of naturally leavened bread. No surprise, then, that the curator of the "Stop & Go" animation exhibition is local 'bread artist' Sarah Klein." ~Silke Tudor, SF Weekly
 Entire Program = 1hour, 20 minutes
Camoknit
Directed by Claudia Tennyson (2008, 18 min.)
This darkly humorous view of knitting unravels the obsessive qualities and enormous popularity of the craft, which seems to coincide with the climate of fear generated by the 'war on terror'.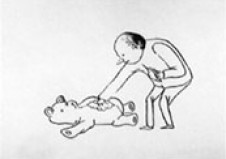 For the Birds
Directed by Lilli Carré (2004, 5:50 min.)
A high-wire act of sleepy time bears, black birds, and senior folk.
Tumbleweed Town
Directed by Samara Halperin Music by Corner Tour (1999, 16mm, 8 min.)
Find true love with Todd the Tonka cowboy on his hitchhiking adventures through the Texas desert.
Mammoth Cave
Directed by Stephanie Hutin (2005, 2:28 min)
A fantasy of toys, glitter, paper pieces and natural objects illustrate the music of Holopaw.
Squeak, Chirp, Honk
Directed by Saelee Oh & Lana Kim (2006, 1 min.)
A friendly look at one life's little troubles from a mouse's perspective.
The Courtship of the Birdman
Directed by Pete Davies Sound by Andrew Lynn & Angie Moore (2006, 1:34 min)
A timeless tale of love and loss re-told in a saga of epic proportion.
Sewing for Jesus
Directed by Sherri Wood & Ignacio Alcantara (2005, 2:20 min.)
The construction of a quilt honoring the missing American and Iraqi citizens who died in the Iraq War.
Howdy Hats
Directed by Judith Selby (1968, 0:30 min.)
A meet and greet of chapeau on the green.
Picture Perfect
Directed by Meredith Holch (2006, 7:46 min.)
Old postcards and Vermont Life magazines are used to examine the rapidly changing character of life and landscape in rural Northern Vermont.
Poop or Fleur
Directed by Melinda Stone (2003, 1:28 min)
A series of still photographs shot in order and contact printed onto 35mm film become a guessing game of sorts. Audience participation is requested to help identify what is what.
Dog Judo - Noise Box
Directed by Andrew Kelleher (2007, 1:15 min)
Rexley and Roy, two everyday dogs, both live for Judo but have very different ideas on what it is.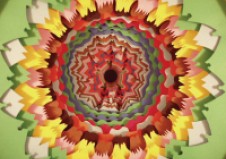 Papermation
Directed by Jen Stark Sound by Eddie Alonso (2007, 1 min) A stop motion piece of regurgitating rainbows and mysterious organic structures using intricate paper cut-outs.
Black Cat
by SAF Cakovec Studio (2006, 2:28 min.)
A darkly funny animation of some characters and their mishaps.
American Bandits
DIrected by Philippe Vendrolini (2004, 2:25)
A wild ride where altered and animated police risk life and limb in pursuit of manic deer.
Pulling Down the Sky to Give You the Sun
Directed by Tommy Becker (2005, 1:45 min.)
A celestial piece that combines raw performance, music, and costume.
The Making of the Kozik Action Figure
Directed by Mike Leavitt (2006, 1:28 min.)
Another action figure in Mike's ever-expanding Art Army.
Alarm Clock
Directed by Sean Horchy (2004, 2:15 min.)
Time makes its own music.
Untitled #90
Directed by Aeneas Wilder (2002, 1:27 min.)
Using only red tape and four architectural posts, Aeneas Wilder creates an inspired series of configurations based on addition and subtraction.
Arithmetic
Directed by Laurie O'Brien Sound by Michael McHam (2006, 4:47 min)
An adaptation of In Watermelon Sugar by Richard Brautigan with puppetry, paper cut-out animation, found sound, and homemade instruments.
Wanderlust
Directed by Sarah Klein (2008, 5:10 min.)
Daily routine motivates the modern day woman to take a trip around the world.
Ich Bin Ein Manipulator
Directed by Clare Rojas & Andrew Jeffrey Wright (2003, 4:30)
Altered, collaged and manipulated images from fashion magazines create an entirely different story.
Immigrant Song
Directed by Mel Prest (2008, 2:25 min.)
This sequence chronicles the creation of a painting from spelled-out lyrics.