Nature Preserves What The People Forget: The Films of Ute Aurand Part 1
Los Angeles Filmforum presents
Nature Preserves What The People Forget: The Films of Ute Aurand Part 1
Thursday, October 25, 2018, 8:00 pm
At the Echo Park Film Center, 1200 N. Alvarado St., Los Angeles
Los Angeles premieres, with Ute Aurand in person!
Los Angeles Filmforum is pleased to present the work of Berlin-based filmmaker Ute Aurand with the artist in attendance. Stemming from the lyrical tradition of diary filmmaking and artisanal practices, her active and playful films emphasize the natural and social worlds through intimate forms of portraiture.  She gives distinct attention to the inner dialogues of thought and the tactile experiences of women. Considered as portraits, her subjects do not reside in isolation, but move in conversation with their surroundings and with the interactive circuits of the filmmaker. Her responsive handheld 16mm camerawork creates a palpable rhythmic sensibility, while her montage brings together disparate passages of change occurring in her own life and in the lives of her subjects.
These screenings include the work of Scottish film poet Margaret Tait (1918–1999), an influential filmmaker for Aurand. Together these works draw upon the wanderings of daily life and the search for fleeting moments of presence, dropping a myopic intensification of experience in favor of an exuberant engagement with the world.
Ute Aurand (b. 1957, Frankfurt, Germany) studied filmmaking at the Deutsche Film und Fernsehakademie (dffb) from 1979 to 1985, and started producing her own films in 1981. Between 1990 and 1995, she created the series Filmarbeiterinnen-Abend at the Arsenal cinema, Berlin, featuring mostly experimental films made by women. She co-founded the monthly Filmsamstag programs (www.filmsamstag.de) that ran from 1997 to 2007. Her teaching experience includes the Experimental film class at the Hochschule für Gestaltung Zürich; Deutsche Film - und Fernsehakademie Berlin (dffb); and in 2001, 2002, and 2004 she taught for extended periods in India. In October 2008 she had a U.S. film tour with Renate Sami and Milena Gierke that went to the University of Pennsylvania, Princeton University, Harvard Film Archive, Mount Holyoke College, and Anthology Film Archives. In May-June 2009, the tour headed to Japan where they went to Waseda University, Tokyo; the Museum of Modern Art, Yokohama; and the 21st Century Museum of Contemporary Art, Kanazawa.  http://www.uteaurand.de/
Tickets: $10 general; $6 for students/seniors; free for Filmforum members. Available in advance from Brown Paper Tickets at https://uteaurand1.bpt.me or at the door.

For more information: call 323-377-7238.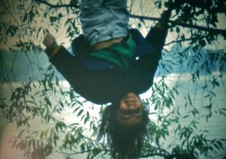 Paulina
By Ute Aurand
2011, 16mm, color, sound, 5 min.
Los Angeles premiere!
Paulina Buda is my godchild, and I have filmed her since she was very young. Filming portraits allows me to emphasize private gestures and moments beyond narration and documentation.
Portrait of Ga
By Margaret Tait
1952, 16mm, color, sound, 4.5 min.
Portrait of the film maker's mother. Filmed back on Orkney.
Half-Moon for Margaret (Halbmond für Margaret)
By Ute Aurand
Germany, 2004, 16mm, color, silent, 18 min.
Glimpses of my life. Friends, snow, two tulips, skaters on the frozen lake of my childhood, balloons in the morning sun, my godchild Paulina running up and down the hill, Ulrike's 50th birthday on the Baltic Sea, my desk in November 2003. I collect these moments, mostly edited in the camera while filming and later joined together in a new order. Each retains the immediacy of a first impression, one next to the other. "Halbmond is a meander," a friend said, "without a beginning and an end." – Ute Aurand
Colour Poems
By Margaret Tait
1974, 16mm, color, sound, 12 min.
Nine linked short films. Memory, chance observation, and the subsuming of one in the other. The titles within the film are: Numen of the Boughs, Old Boots, Speed Bonny Boat, Lapping Watter , Incense, Aha, Brave New World, Things, Terra Firma. A poem started in words is continued by the picture, part of another poem is read for the last of the nine. Some images are formed by direct-on-film animation, others are found by the camera. – Margaret Tait
To Be Here
By Ute Aurand
2013, 16mm, color, sound, 38 min.
Los Angeles premiere!
In the past ten years I visited New England many times and decided to make a film about what attracted me—like the women's colleges, the Shakers, Katharine Lee Bates and her "America the Beautiful." I traveled through the present New England evoking former idealists and visionaries. Mount Holyoke College takes a special place in my film. The impulse for my trip to the Southwest in the second half of the film also came from "America the Beautiful," which Bates wrote on her visit to Pikes Peak. While traveling west, I visited the Hopi and felt far far away from the United States of America. Nature seems to preserve what we the people forget. – Ute Aurand