In and Around a House: Ute Aurand and Margaret Tait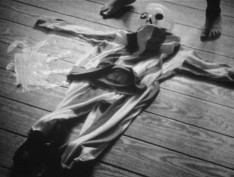 Los Angeles Filmforum presents
In and Around a House: Ute Aurand and Margaret Tait
Sunday, October 28, 2018, 7:30 pm
At the Echo Park Film Center, 1200 N. Alvarado St., Los Angeles
Los Angeles premieres, with Ute Aurand in person!
Los Angeles Filmforum is pleased to present the work of Berlin-based filmmaker Ute Aurand with the artist in attendance. Stemming from the lyrical tradition of diary filmmaking and artisanal practices, her active and playful films emphasize the natural and social worlds through intimate forms of portraiture.  She gives distinct attention to the inner dialogues of thought and the tactile experiences of women. Considered as portraits, her subjects do not reside in isolation, but move in conversation with their surroundings and with the interactive circuits of the filmmaker. Her responsive handheld 16mm camerawork creates a palpable rhythmic sensibility, while her montage brings together disparate passages of change occurring in her own life and in the lives of her subjects. For this second screening, two longer works by Margaret Tait and Ute Aurand are paired. In their breadth and structure, these films give a sense of how these filmmakers cultivate a working practice that prizes the immediate details felt around them.
These screenings include the work of Scottish film poet Margaret Tait (1918–1999), an influential filmmaker for Aurand. Together these works draw upon the wanderings of daily life and the search for fleeting moments of presence, dropping a myopic intensification of experience in favor of an exuberant engagement with the world.
Ute Aurand (b. 1957, Frankfurt, Germany) studied filmmaking at the Deutsche Film und Fernsehakademie (dffb) from 1979 to 1985, and started producing her own films in 1981. Between 1990 and 1995, she created the series Filmarbeiterinnen-Abend at the Arsenal cinema, Berlin, featuring mostly experimental films made by women. She co-founded the monthly Filmsamstag programs (www.filmsamstag.de) that ran from 1997 to 2007. Her teaching experience includes the Experimental film class at the Hochschule für Gestaltung Zürich; Deutsche Film - und Fernsehakademie Berlin (dffb); and in 2001, 2002, and 2004 she taught for extended periods in India. In October 2008 she had a U.S. film tour with Renate Sami and Milena Gierke that went to the University of Pennsylvania, Princeton University, Harvard Film Archive, Mount Holyoke College, and Anthology Film Archives. In May-June 2009, the tour headed to Japan where they went to Waseda University, Tokyo; the Museum of Modern Art, Yokohama; and the 21st Century Museum of Contemporary Art, Kanazawa.  http://www.uteaurand.de/

Tickets: $10 general; $6 for students/seniors; free for Filmforum members. Available in advance from Brown Paper Tickets at https://uteaurand2.bpt.me or at the door.

For more information: www.lafilmforum.org or 323-377-7238.
A Place of Work
By Margaret Tait
1976, 16mm, color, sound, 30 min.
A close study of one garden and house and what could be seen there and heard there within the space of time from June 1975 to November 1975. An evocation of a place (in Orkney) with lifelong associations and latterly used as a work place. A family home, from which at the time of filming, the family had long gone. My own home in childhood and off and on through the years, eventually returned to and worked in (and on). Filmed in the months before leaving it. – Margaret Tait
Terzen
By Ute Aurand
1998, color, sound, 50 min.
Terzen accumulates diary films of Aurand's daily life and travels from 1992–1998.
"I like the idea of a brief 'touch', it's not necessary to stay long to get in touch with someone or something. My approach is sometimes like a swing, to go away and come back and go away and come back again. Often I don't know the people, but even when I know them quite well, I like brief moments of communication. The same with a sound, you don't have to listen to a whole piece of music, a bit of music is enough to evoke an emotion. Emotions are echoes of an image or a sound. They stay in us. Images and sounds disappear, emotion and memory stays." - Ute Aurand in conversation with Federico Rossin. 
"Shadow speakers invite us to lift the heavy cloak of possessive networks and to let go over and over again. Bits of human sound thread themselves in and out as the inner ear fades and outer ear reconnects us here, for now, or as if we were there with you then. This equilibrium in the infinite unravels me as I travel inside the warm voice of the answering machine to land in the pollen of a flower, about to begin again…" Susan Turcot