Deconstructing Portraiture: Embodied Landscapes
Los Angeles Filmforum at MOCA presents
Deconstructing Portraiture: Embodied Landscapes
At MOCA Grand Avenue, Ahmanson Theater, 250 S. Grand Ave., Los Angeles
Filmmaker Michelle Dizon in person
Deconstructing Portraiture: Embodied Landscapes presents film and video works that employ portraiture in their formally-varied visual odes to femme embodiment and its subversive potential to evade surveillance, mourn, and heal. The works in this program take as their subjects those that reside between visibility and invisibility. In this liminal space, these bodies become landscapes - sites of social and political contention. These works by Sophia Nahli Allison, Michelle Dizon, Sondra Perry, and Zina Saro-Wiwa masterfully employ moving portraiture to both contend with troubling realities and gesture towards the triumph of memory and representation. Curated by Jheanelle Brown.
Tickets: $15 general; $10 for seniors; $8 for students with ID; free for Filmforum and MOCA members. Available in advance from Brown Paper Tickets at https://www.brownpapertickets.com/event/3504027 or at the door.

For more information: www.lafilmforum.org or 323-377-7238, https://www.moca.org/program/filmforum-deconstructing-portraiture-embodied-landscapes or 213/621-1745 or education@moca.org
----------------------
Los Angeles Filmforum at MOCA furthers MOCA's mission to question and adapt to the changing definitions of art and to care for the urgency of contemporary expression with bimonthly screenings of film and video organized and co-presented by Los Angeles Filmforum—the city's longest-running organization dedicated to weekly screenings of experimental film, video, documentary, and animation.
Education Programs at MOCA, including Contemporary Art Start and Sunday Studio, and the MOCA Teen Program, are generously supported by The Hearst Foundations, Banc of California, MOCA Projects Council, the Los Angeles County Board of Supervisors through the Los Angeles County Arts Commission, City of Los Angeles Department of Cultural Affairs, The Capital Group Companies Charitable Foundation, Edison International, Joseph Drown Foundation, The Rosalinde and Arthur Gilbert Foundation, Satterberg Foundation, Dwight Stuart Youth Fund, Michael Asher Foundation, The Kenneth T. and Eileen L. Norris Foundation, The Rhonda S. Zinner Foundation, The Winnick Family Foundation, and​ Pazia Bermudez-Silverman.
Black Girl As A Landscape
By Sondra Perry
2010, HD video, color, silent, 10 minutes
Sondra Perry's videos and performances foreground the tools of digital production as a way to critically reflect on new technologies of representation and to remobilize their potential. At once abstract and representational, the video Black Girl as a Landscape articulates Perry's stated interest in the possibility of abstraction as a way of creating dimensionality that connections individual bodies to larger visual and environmental ecologies. Performed by Dionne Lee.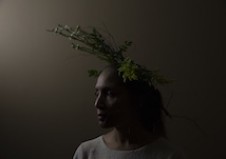 Portrait of My Mother
By Sophia Nahli Allison
Los Angeles Premiere!
2016, video, color, sound, 2 minutes
Portrait of my Mother is an ethereal and stylized short documentary about my mom's storyteller career, her journey through illness, the death of her husband and the strength she found to continue moving forward in life. Inspired by portraiture photography and reminiscent of Rembrandt paintings, Portrait of my Mother uses diptychs to create a poetic and intimate story.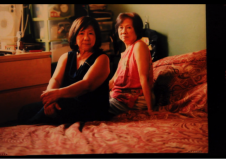 Ex Utero
By Michelle Dizon
Los Angeles Premiere!
2015, video, color, sound, 17 minutes
Ex Utero (2015) journeys through light as a source of both life and death. In this deeply personal work, I photograph my mother, my aunt, and myself in several poses, nude from the waist up. An entire generation of women in my family have had breast cancer and in this work, I understand our bodies as archives and vast geographies. Moving through the realms of photography, mammography, and radiation therapy, Ex Utero asks about the spaces of intimacy and survival.
Bodies hold memory. Bodies, like landscapes, are subject to the politics of division, scarring, removal. These images show breasts removed, half-breasts, covered breasts. The soundscape is filled with both life and death-- on the one hand, voices, where my mother and aunt speak of beauty, loss, reproductive labor, and migration; on the other hand the harsh sound of radiation therapy. Across these registers of sound and imagery, is a story of women, memory, and resilience across generations.
Phyllis: I Am Not Alone
By Zina Saro-Wiwa
Los Angeles Premiere!
2010, video color, sound, 16 minutes
The film is a moving and atmospheric portrait of a lonely woman obsessed with synthetic Nollywood dramas, that lives in the city of Lagos, Nigeria. The central device in this short experimental film is the practise and significance of wig-wearing in Nollywood film; a practise Zina has invested with deeper psychological as well as science-fiction layers. Underpinning this central idea, however, is a critique of the unforgiving treatment of single women in Nollywood and Nigeria and a meditation on loneliness and mental illness. The film is an example of what Zina has termed "alt-Nollywood", a genre she created that reworks certain narrative, stylistic and visual conventions of Nollywood film. Phyllis explores the gothic possibilities of the Nollywood aesthetic creating a new kind of low-budget atmospheric film that is very much of Nollywood and yet subverts the genre.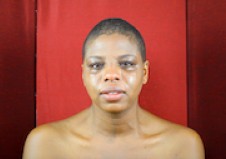 Sarogua Mourning
By Zina Saro-Wiwa
Los Angeles Premiere!
2011, video, color, sound, 12 minutes
In 2011, Zina made Sarogua Mourning, a video installation that confronted her inability to mourn her father's death and explored the relationship between performance and catharsis.
"I did not cry for ten years after my father was killed. I found his very public death difficult to mourn partly because his legacy and story belonged to the wider world and not to me, but also due to a profound dissatisfaction with the Western mourning rites I found myself having to draw on at the time of his death and the death of my younger brother before him."
The two deaths laid bare her cultural dislocation and highlighted the importance of the role of culture in attending to emotional pain. Sarogua Mourning is an attempt to construct a ritual that worked for her. Performance and art being a vital part of this ritual. For the piece, Zina took on the role of a professional mourner, shaving her head and attempting a mourning performance for her camera, engaging with the lens as much as she could.
The title of the piece arose from her research into a pre-colonial Ogoni deities. Sarogua is a rain god and also a war deity.  By sheer coincidence, Zina's father invoked the deity in a poem he wrote titled "For Sarogua" which talked of "washing away pain" and "cleansing showers".  The poem was discovered accidentally by Zina after the naming of her video piece.