Long Haulers, by Amy Reid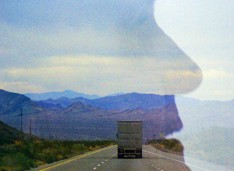 Los Angeles Filmforum presents
Long Haulers, by Amy Reid
Sunday July 30, 2023, 7:30 pm
At 2220 Arts + Archives, 2220 Beverly Blvd., Los Angeles CA 90057
Free parking on Beverly Blvd and at the church lot across the street
In person: Amy Reid
Tickets: $15 general, $8 students/seniors, free for Filmforum members
https://link.dice.fm/G3a0acfa6934
Masks are highly recommended at Filmforum shows - N95 or KN95 are available at the door
For more event information: www.lafilmforum.org, or 323-377-7238
From 77 year-old Sandi, to formerly incarcerated Lori, to guinea pig lover Tracy, Long Haulers defies stereotypes and gives a platform to women who have often been marginalized and type-casted. Sharing their sorrows and triumphs, viewers learn who these women are, and what keeps them trucking.
Long Haulers is an experimental 16mm and video feature-length documentary about three female truck drivers, Sandi, Lori, and Tracy. The film weaves together the stories of their lives to understand why they started trucking and what keeps them trucking. Riding along with these women, we learn about Lori's time in prison, Sandi's wisdom as a 77-year old trucker, and Tracy's experiences working for sexist trucking companies. Through the course of the film we become a passenger, slowly getting to know these women as they navigate across the country. From shiny profiles of women-shaped ornaments to the male-filled diners, Long Haulers provides a window into the world of trucking that reflect the sexism that dominates the industry. Long Haulers aims to provoke audiences to question gender roles and the workplace in trucking and at large.
Mapping the paths of these women's lives in relation to trucking industry, the film illustrates the reported 5.1% of female drivers in the United States that has continued to expand since the early 2000's. Understanding the truck not only as a means of income for these women but also as a place of freedom, autonomy, and self-expression, Long Haulers prompts Sandi, Lori, and Tracy to perform with their trucks in order to communicate to audiences the embedded interdependency between truck and woman. From Lori drawing out the physical dimensions of the truck as she talks about her five years in prison, to Tracy caressing her truck like the horses she trained as a child, Long Haulers enables the truck to act as a conduit for these women to share their traumas, fantasies, and dreams.
Filmmaker Amy Reid created the feature-length film while acting as a crew of one; independently filming, recording sound, editing, and raising funds to complete the project. Reid is a filmmaker whose work examines the intersections between gender, national identity, and labor. By exploring observational approaches and expanding upon formal cinematic notions of time, structure, and narrative, Reid's work questions how labor is constructed in the filmic form through feature length films, video installations, and texts. These multi-year projects, often working closely with a group—long haul female truckers, quilters, e-commerce sellers—premise upon collaboration, performance, and experimentation. Reid received her BFA from The Cooper Union in 2009 and her MFA in 2017 from the University of California, San Diego. Reid is an alumnus of The Whitney Independent Study Program. Currently she is a PhD Candidate in Film and Digital Media at the University of California, Santa Cruz where part of her dissertation work is a feature-length 16mm and video experimental film looking at women, quilting, and 19th century US history.
Preceded by Vanessa Renwick's wonderful short film "SF Hitch."
Long Haulers
2020, 74 min, color, sound, 16mm to digital, Los Angeles Premiere
Director's Statement:
"Trucking is a lifestyle and not a job." These were the sentiments that Sandi shared when I began driving with her on week-long shoots at the start of Long Haulers. Each woman I met, welcomed me into their sleeper cabins and hearts and shared how trucking has provided paths forward in their lives. The women I rode with have tenacity, courage, and resilience and I believe their stories deserve to be heard. The fact is, everything from the furniture in our house to the food we eat has most likely been transported by a truck driver. Their work makes not only one's personal life easier but makes the United States function. By giving audiences insights into the physical and emotional labor of being a trucker and the added sexism that female truckers face, I want people to look at 18-wheelers differently the next time they're on the road.
"In Long Haulers, through 16mm film experimentation, performative play, and direct observational filmmaking I try to represent the life of being a female trucker. Traveling to truck stops, distribution centers, and factories one sees the daily tasks a trucker has to do on a daily basis.
"Weaving together the stories of three truckers, Sandi, Lori, and Tracy, Long Haulers shares how each woman started trucking and what keeps them trucking. The women I worked with fled domestic violence, the stigmas of being formerly incarcerated, and mental health issues. Moving between the intimate stories of their lives in tandem with the working conditions of being a trucker, Long Haulers aims to provoke audiences to question stereotypes, sexism, and gender roles not only in trucking, but in the larger workforce of blue collar positions.
SF Hitch
By Vanessa Renwick
2012, 5 min 17 sec, super 8 and 16mm to video
"My wolf dog Zeb and I set off hitching in the early 80's from Chicago to SF to see what it's all about.
We met some beats and some freaks." - Vanessa Renwick