Flaming Creatures: Jack Smith, Barbara Rubin and the Cinematic Orgiastic, program 2
UCLA Film & Television Archive, the Hugh M. Hefner Classic American Film Program, and Los Angeles Filmforum present:
Flaming Creatures: Jack Smith, Barbara Rubin and the Cinematic Orgiastic
Sunday, July 16, 7:00 pm - Chumlum / Kusama's Self-Obliteration / Christmas on Earth
At the UCLA Film & Television Archive Billy Wilder Theater, Hammer Museum
https://www.cinema.ucla.edu/events/2023/07/16/chumlum-kusamas-self-obliteration-christmas-on-earth
Admission is free. No advance reservations. Your seat will be assigned to you when you pick up your ticket at the box office. Seats are assigned on a first come, first served basis. The box office opens one hour before the event.
On April 29, 1963, Jack Smith's Flaming Creatures (1962) had its theatrical premiere on a double bill with Ken Jacobs' Blonde Cobra (1963) as part of Jonas Mekas' screening series at the Bleecker Street Cinema in New York. The screening would prove to be a milestone in both the development of the American avant-garde and the cause of artistic freedom. The editor of Film Culture magazine and maestro of the New York underground film scene, Mekas celebrated the films' complete liberation from preconceived notions of cinematic quality, rational meaning and binary sexuality: "These are a few examples of … a free, unforced, spontaneous, liberating, newborn poetry … Their imagination, coming from deeply 'deranged' or, more truly, rearranged & liberated senses, is boundless."
In December that year, Mekas set out to honor Smith's work with a reprise midnight screening of Flaming Creatures at the Tivoli Theater at which Smith would be presented with Film Culture's annual Independent Film Award. Before the show could begin, New York City's Bureau of Licenses shut it down, prompting a spontaneous takeover of the theater led by another young filmmaker, Barbara Rubin. Inspired by Creatures, Rubin made her own debut work in 1963, Christmas on Earth, that took Smith's orgiastic camp to even more explicit heights (the 18-year-old filmmaker's original title was Cocks and Cunts). In 1964, Mekas and Ken Jacobs were convicted of showing obscene material and received suspended sentences but the proverbial cat was out of the bag. While Smith came to resent the critical straightjacket that the censorship debate imposed on his work, Flaming Creatures' captivating combination of threadbare opulence and boisterous gender fluidity opened wholly new and radical forms of cinematic expression. This program marks the 60th anniversary of that original double bill followed by an evening of works inspired by Flaming Creatures in which images and bodies slide over one another in a tumult of freedom and feeling.
Chumlum
U.S., 1963, 16mm, color, 26 min. Director: Ron Rice. With: Jack Smith, Beverly Grant, Mario Montez.
Director Ron Rice superimposes images in captivating color of theatricalized figures cavorting and lounging, swinging and swaying to a jangly, abstract score. Shot simultaneous with Jack Smith's Normal Love and featuring much of the same cast, including Mario Montez, Francis Francine and Beverly Grant (Barbara Rubin also makes an appearance), Chumlum draws us into a separate, sensuous world, one seemingly summoned into being by Smith himself who appears as a kind of magic Svengali.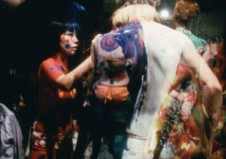 Kusama's Self-Obliteration
U.S., 1967, 16mm, color, 24 min. Director: Jud Yalkut. With: Yayoi Kusama.
The cinematic orgiastic enters the age of Aquarius with Jud Yalkut's experimental exploration of Japanese artist Yayoi Kusama's working methods and creative obsessions. In the film's section, Kusama moves like a faerie spirit transforming the natural world by applying polka dots to trees, a horse, the surface of a pond. After a brief montage of New York landmarks superimposed with dots, the second section of the film moves to a large mirrored room and a barrage of overlapping images of Kusama painting a frenzy of intermingled bodies set to a psychedelic score.
Christmas on Earth
U.S., 1963, 16mm, b&w, 30 min. Director: Barbara Rubin. With: Filmmaker's Co-op.
A cinematic orgy in more ways than one, Christmas on Earth is a multi-projector performance piece in which images of nude, painted men and women caressing and cavorting are projected beneath a close up images of painted skin and genitalia set to, as per Barbara Rubin's instructions, a wild soundtrack of rock tunes. The original images themselves are black and white with colored filters moved over the projector lens as the film unfolds. Inspired by Jack Smith's Flaming Creatures, Rubin abandons any pretense to narrative—camp or otherwise—to create a pure vision of embodied cinema.