Robert Schaller: Film as / for Music as / for Film
Sunday April 2, 2017, 7:30 pm
Los Angeles Filmforum presents
Robert Schaller: Film as / for Music as / for Film
At the Spielberg Theatre at the Egyptian, 6712 Hollywood Blvd., Los Angeles CA 90028
LA premieres! An evening of works by Robert Schaller featuring live cello by Pierre Derycz in person

For more than twenty years, Robert Schaller has been making films that are fundamentally concerned with two essential aspects of filmmaking: the materiality of the film medium itself, and the creation of "visual music" through applying the formal structures of music to filmmaking.  His approach is based on the fact that film, consisting merely of a transparent strip of plastic that can be held in the hand and seen with an unaided eye, is accessible to the artist in a direct and tactile way (which, incidentally, more technologically advanced media cannot support).  He has been a pioneer in re-envisioning the industrial model of celluloid filmmaking into an embodied human-scale practice for the individual artist who seeks greater control of the means of artistic production.  His is an anti-consumer world of filmmaking in which this work of creating and re-conceiving the materials, tools, and methods of the medium on a personal non-industrial scale is as essential to the art as are the images light casts on a screen after passing through it.

His current projects center around making silver emulsion and hand-coating it onto film, then shooting it in an imprecise handmade pinhole camera of his own design.  He shoots according to precisely composed camera scores to visually constellate the world around him into elegant and often elusive visual forms.  This evening's show features the integration of film projection of these and other works with live classical chamber music (written by himself and other collaborating composers).

Schaller lives in the mountains outside of Boulder, Colorado, where he founded and runs the Handmade Film Institute.  More of his films and writings can be seen at www.robertschaller.org, or at www.handmadefilm.org.
Cellist Pierre Derycz is a graduate of the University of Michigan, with bachelor¹s degrees in both cello performance and composition. He currently holds the position of Principal Cellist with the YMF Debut Chamber Orchestra, for which he concurrently serves as Orchestra Manager and Librarian.

Tickets: $10 general admission; $6 students (with ID)/seniors; free for Filmforum members.
Tickets available at http://bpt.me/2912642 or at the door
For more event information: www.lafilmforum.org, or 323-377-7238
InVerge Invocation
(Live Music for Cello, 2 min)
Music by Robert Schaller
Based on the opening of a collaborative performance piece from many years ago involving film and string quartet, it is here presented to introduce tonight's show.
Snow
(2017, 16mm B+W Silent, 5 min) LA premiere!
What is the future, or even the present, of snow? 2016 was officially the Earth's warmest since record-keeping began in the 1880s -- and was the third year in a row to earn that dubious honor. The beginning of 2017 saw abundant snow in the Colorado mountains, but spring has come suddenly, several weeks early, and the snow has melted at an astonishing speed. This film starts calmly, intending to dwell on the austere forms of a cold and silent winterscape, but instead is forced to follow the retreating snow up to higher altitudes, almost frenetically following as it melts and then is gone.
Walk
(2003/2010/2017, 16mm x 2, Color with Live Cello, 5 min)
Music by Robert Schaller
A journey through a never-ending forest, from nothing and into nothing. Without beginning and without end, despite its brevity.
Where are we going, anyway?
Originally for two interlocked 16mm projectors, it is here presented as a digital transfer.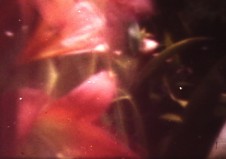 My Life As A Bee
(2002, 16mm Pinhole, Color, Silent) An imagining of a bee's eye view of a spring day in Golden Gate Park. A primitive, home-made camera reveals a world of vibrant, frenetic color, racing between flowers and losing itself in the revelry of survival and sunshine.
Through
(2016, 16mm B+W with Live Cello, 6 min)
Music by Robert Schaller
Fences are borders, edges, gateways: liminal space, demarcations between This and That. But they are inscribed on a landscape which knows nothing of the logic of division. Here, their arbitrariness is doubly swallowed up by not just agnostic fields and forests, but by a primitive homemade emulsion that almost does not "see" them. The boundaries that meant so much to those who built them dissolve into a meditative abstraction of light and sound.
In the Shadow of Marcus Mountain
(2011, 16mm B+W Silent, 6 min)
The structures of our thought filter what we see, and in fact there is no seeing apart from those structures. This film is part of an ongoing project to show where I am in a (here, natural) landscape in a way that reflects those structures of thought. It is "hypnogogic," not so much perceptually (although to some extent that too) as conceptually. Our eyes see constantly, but what do we actually notice? That vision is excessive, wasteful, even; in paring down, it becomes both more spare and more concentrated. It is also a meditation in process of how my marvelous son Marcus has changed my life and my way of being in the world, recoloring a place where I was already.
To The Beach
(1999, 16mm, Color, Sound, 10 min)
Music by John Drumheller
One hears in the call of the sea the feeling of a promise made to us before birth, that we can know the world not merely as an atlas of things seen, but rather as a continuum of felt experience in which it is impossible to distinguish between our selves and the world around us: self and other are melded into one. To the Beach explores this feeling from three vantage points, filmed (respectively) near, in, and under the sea using a variety of techniques, and registers the resulting images onto hand-made film emulsion.
I. Approaching the Shore: in which the ocean first offers its irresistible salty scent.
II. Swimming: in which we become again what we are.
III. Seeing Stars: as above, so below.
Four Delicate Concerns
(2015, 16mm, B+W, Silent, 5 min)
Made as a filmic contribution to a show based on a short story at the Chocolate Factory in New York, Four Delicate Concerns synthesizes two distinctly different envisionments of the same ritualized and abstractly sexual actions. With Michelle Ellsworth as Wonder Woman.
If Not One And One
(2000, 16mm x 3, Color, Sound, 15 min)
Music by Michael Theodore
If Not One and One is the creation of collaborators Robert Schaller, composer Michael Theodore, and performance artist Michelle Ellsworth. Images of Ellsworth create a visual tapestry on a non-silver film, with an evocative score for violin and computer-processed acoustic sounds. Loosely based on Homer's Odyssey and Gertrude Stein's Stanzas in Meditation, If not One and One offers a kinetic and visual exploration of identity in a postmodern world.
Originally the performer Michelle Ellsworth interacted with three synchronized 16mm rear-projected images, while a live violinist interacted with the electronic accompaniment. It is here presented as a single channel digital transfer with a wholly recorded score.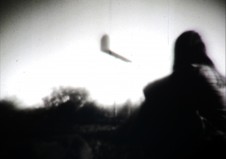 Mail
(2013, 16mm B+W with Live Cello, 10 min)
Music by Simon Christiansen
A letter from the ephemeral pinhole world, sent, written, and received. Physicality by Michelle Ellsworth and Lauren Beale, music performed by cellist Pierre Derycz.